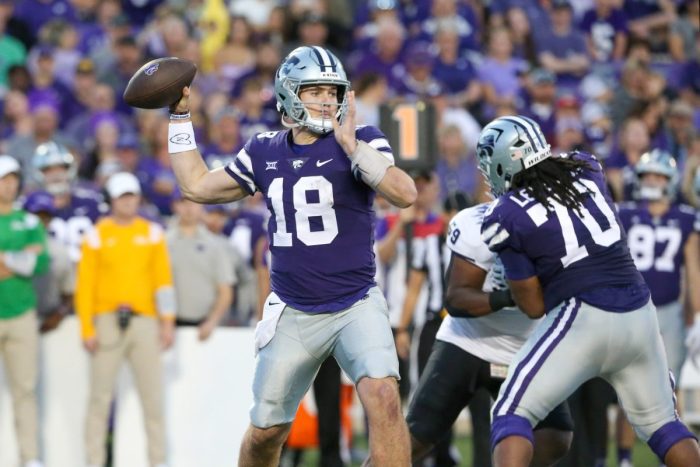 The Kansas State Wildcats hosted the Houston Cougars on Saturday in a Week 9 match up. K-State was fresh off its best win of the season over TCU, while Houston had suffered a tough home loss to Texas last week.
But on Saturday, it was all Wildcats, as KSU jumped out to a fast start scoring a touchdown on their fist drive and never looked back on their way to a dominant 41-0 win over the Cougars. Here are three thoughts on the game.
No Quarterback Rotation Today
The Kansas State Wildcats have gone about their business with a 1-2 punch of Will Howard and Avery Johnson the last two weeks with great success. But on Saturday, it was all Will Howard, who completed his first 12 passes for 140 yards and two scores. Avery Johnson did see action on the third drive of the game, but his fumble resulted in Houston getting the ball back. That was his only serious action until the game was ultimately out of reach.
But, if Chris Klieman's approach is to just ride the hot hand, it seems to be working. Howard finished 15/17 for 164 yards and two scores, while rushing nine times for 24 yards. Johnson came in to finish the game and finished 5/6 for 46 yards and one touchdown pass.
Houston Looked Hungover
Houston looked like a team that was still thinking about what could have been last week against Texas. There was the controversial ending to the game where the officials did not give Houston a first down spot, which resulted in a 4th and inches that they could not convert and effectively ended the game. Dana Holgorsen was understandably critical of the spot after the game, but he did not have his team prepared for Saturday in Manhattan, where they got manhandled from start to finish.
Kansas State scored touchdowns on four of its first five drives to put the game completely out of reach by halftime. Meantime, Houston did not have a drive longer than 31 yards the entire game.
The Cougars were dominated in every facet of the game. Houston was outgained 394 to 208, they lost the turnover battle 2-1 and had six penalties for 60 yards to K-State's one penalty for five yards. It was one to forget from start to finish for the Cougars.
Onto Texas
Kansas State just outscored its last two opponents by a combined score of 82-3. This sets up what we thought before the season was going to be one of the best, and most critical, games of the Big 12 football season in Austin next week as K-State travels to play Texas.
This game will go a long way to determining the Big 12 race. As of this writing, Texas is 3-1 in Big 12 play and takes on BYU on Saturday as 18-point favorites. But no matter the outcome of that game, next Saturday's showdown in Austin will be must-watch. K-State has aspirations of getting back to Arlington to defend its Big 12 Championship, and after the hiccup earlier in the season against Oklahoma State, there's very little margin for error in the crowded Big 12.
I already can't wait for this match up next week.