Big 12 News
How to Watch First College Football Playoff Rankings Release Show: Date, TV, Time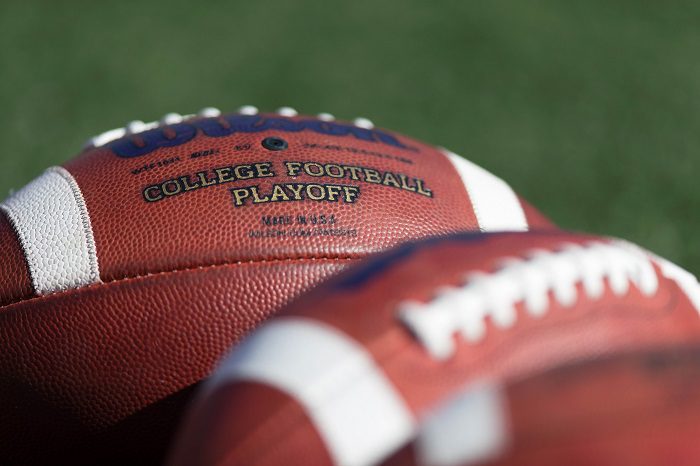 As the calendar gets set to turn to November, the College Football Playoff rankings are back in the forefront of college football fans' minds. And as we head into Week 10 of the college football season, we will finally start to get a feel for how the 2023 College Football Playoff committee is viewing the current crop of teams atop the standings.
Here's everything you need to know ahead of the first College Football Playoff rankings show, which will air at 7:00 p.m. ET/6:00 p.m. CT on ESPN.
HOW TO WATCH
Date: Tuesday, October 31
Time: 6:00 PM CT
TV Channel: ESPN
Streaming Info: ESPN app, Fubo TV
Following the announcement of Tuesday night's rankings, the CFP rankings will be released weekly at the same time each week on Tuesday at 6:00 PM. The two exceptions to the schedule will come on November 14th and December 3rd when the rankings release at 8:00 PM CT, and 11:00 AM CT respectively.
CFP ANNOUNCEMENT SCHEDULE
| | |
| --- | --- |
| DATE | TIME |
| Tuesday, October 31 | 6:00 PM CT |
| Tuesday, November 7 | 6:00 PM CT |
| Tuesday, November 14 | 8:00 PM CT |
| Tuesday, November 21 | 6:00 PM CT |
| Tuesday, November 28 | 6:00 PM CT |
| Sunday, December 3 | 11:00 AM CT |
While the formula for rankings is tough to accurately predict, the best starting point to focus on would be looking at the resumes of the Top 10 teams in the country and going from there. If the playoff were to start today, the most likely outcome would be some combination of Michigan, Georgia, Ohio State, Washington, and Florida State, who are all currently unbeaten. But of course, all of these teams still have a tough slate ahead, and Ohio State and Michigan will face off in their annual game at the end of the season.
Oklahoma was poised to be in this conversation on Tuesday, but the Sooners lost to the Kansas Jayhawks on Saturday for their first loss of the season.
Fans can tune in to watch the first CFP ranking show on Tuesday, October 31st, at 6:00 PM CT on ESPN, the ESPN app, or Fubo TV.