Baylor Bears
Big 12 Football Week 10 Power Rankings: Kansas Rising, Oklahoma Falling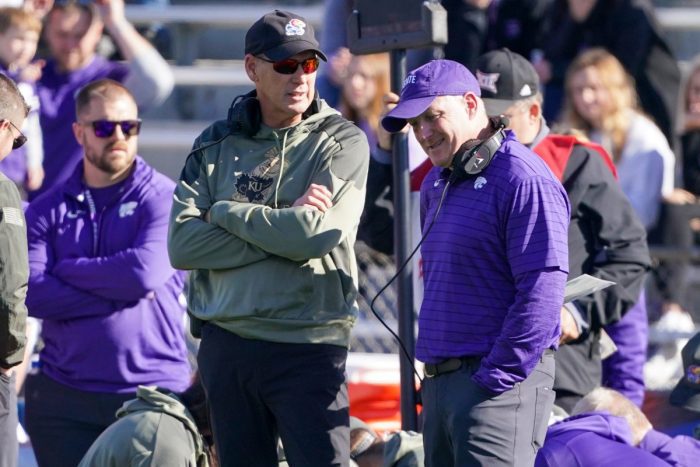 The 2023 college football season is underway with the Big 12 Conference having some wild games to highlight Week 9, including an 18-game losing streak coming to an end between Kansas and Oklahoma.
So now it's time for our Big 12 Power Rankings. Here's a reminder on how I've done this for years: It's about how your team looked and how it played, not always about if your team won or lost. Plus, last week's rankings have little impact on this week's. That's what makes this fun. These are also not predictions for the way the season will end, just Power Rankings based on the most recent performances.
So with that being said, here are our Week 10 Big 12 football Power Rankings.
1. Texas Longhorns (Last Week: 2)
The Longhorns rise to the No. 1 spot this week after having a feel-good game against BYU, who they rolled 35-6 on Saturday. Maalik Murphy had some freshman mistakes playing for the injured Quinn Ewers but held his own, and the defense was outstanding. UT got some help in the conference and now controls their path to a Big 12 Championship.
2. Kansas Jayhawks (Last Week: 6)
The Kansas Jayhawks beat Oklahoma for the first time since 1997 with their 38-33 win on Saturday. The win has completely changed the Big 12 race, as now five teams sit atop the conference standings, and Kansas is just one game back of first place. Lance Leipold continues to prove he's a winner and he's doing it without his Preseason Big 12 Offensive Player of the Year (Jalon Daniels).
3. Oklahoma Sooners (Last Week: 1)
The Sooners had every opportunity to close this one out, but were plagued by issues on both sides of the ball. Many are pointing the finger at Jeff Lebby, but the defense was far from lights out against Kansas. That being said, OU is a couple of plays away from being 5-3 (UCF/Texas), so there are things the team needs to figure out to win a league title.
4. Iowa State Cyclones (Last Week: 3)
Iowa State moves down one spot, despite their win over Baylor on Saturday. It was a dominant performance from the Cyclones, who after a 1-2 start, find themselves tied for first place heading into the final month of the season. Who would've predicted that after the Ohio loss?
5. Oklahoma State Cowboys (Last Week: 4)
Speaking of things we would have never predicted, Oklahoma State is also in the five-way tie atop the league. Tell me you had this on your bingo card after the loss to South Alabama (and I'll call you a liar). I've never seen a team make this kind of improvement in a six-week span in my time covering the Big 12. Ollie Gordon is a big reason why, but it's been a complete team effort.
6. Kansas State Wildcats (Last Week: 5)
Kansas State is dominating its opponents the last two weeks, outscoring TCU and Houston 82-3. The Cats relied only on Will Howard on Saturday, which was plenty to steamroll the Cougars. The defense hasn't allowed a touchdown in nine quarters, which has been darn impressive and come a long way from early in the season.
7. West Virginia Mountaineers (Last Week: 9)
WVU needed to snap its two-game losing streak, and that's exactly what they did on Saturday against UCF in a much-needed win. Garrett Greene continues to gain confidence as the leader of this team and rushed for three scores on Saturday in Central Florida. WVU actually got outgained in this game, but when you win the turnover battle 4-1, you're putting yourself in a good position to win.
8. TCU Horned Frogs (Las Week: 10)
TCU was on a bye this past week, but given they smashed BYU a couple of weeks ago, and BYU just got embarrassed at Texas, I decided to move TCU up two spots. Frankly, the league is strong at the top, but the further down you go, it's unpredictable, and mediocre, at best.
9. BYU Cougars (Last Week: 7)
BYU had no business being on the field with Texas on Saturday. They were dominated in every facet of the game. It hurt that top running back LJ Martin didn't play due to injury, but Kedon Slovis has looked way in over his head for quite some time, and Saturday was the worst example yet of that.
10. Texas Tech Red Raiders (Last Week: 12)
The Red Raiders had their bye week following a loss in Provo to BYU in Week 8. Tech gets to move up two places just because of what is happening with the teams ranked below them. That being said, this has been a disappointing season, but we'll find out this week in Fort Worth if Joey McGuire got through to his guys during their off time.
11. Houston Cougars (Last Week: 8)
The Houston Cougars never got off the bus in Manhattan. Or it seemed like they were still thinking about their tough loss to Texas the week prior. Whatever the excuse, it was hideous. Houston did not have a drive longer than 31 yards in this game. Not play, drive. You read that right. They were manhandled from the opening drive as KSU never looked back in this game.
12. Baylor Bears (Last Week: 13)
Baylor's season continues to unravel after losing to Iowa State. Baylor is struggling in the trenches on both sides of the ball. Frankly, I'm not sure what this team is good at. It's possible Dave Aranda's seat is going to be warming up sooner than later.
13. UCF Knights (Last Week: 11)
UCF was favored by a touchdown (no idea why) against WVU and simply could not stop the run, while also giving up the ball four times and losing the turnover battle 4-1 at home. UCF has talent, but not enough talent to overcome mistakes at this level. They may have gotten by in the AAC, but not in the Big 12.
14. Cincinnati Bearcats (Last Week: 14)
The Cincinnati Bearcats remain winless in the Big 12 after going to Stillwater, and hanging in there early, before getting blasted in the second half, including letting Ollie Gordon run for over 200 yards in the third and fourth quarters. Given Cincinnati came in with a Top-2 rushing defense in the Big 12, this was especially disappointing. Plus, the team does not have the quarterback play to compete in this league. That needs to change before the team starts racking up any wins.