Big 12 Previews
Oklahoma vs. Oklahoma State: Preview, Prediction, and Game Odds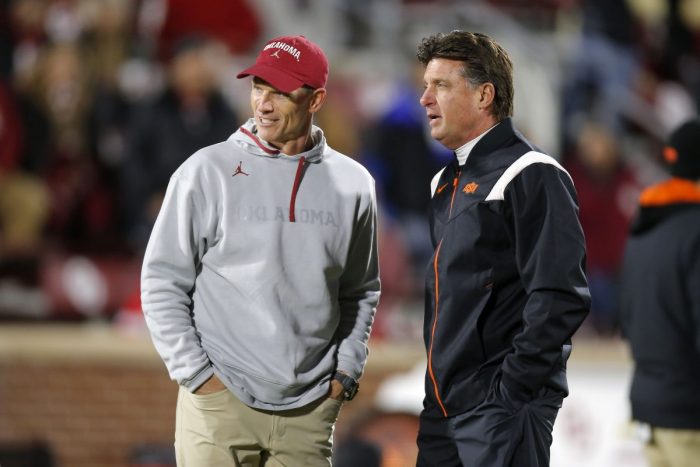 Here is everything you need to know ahead of the matchup between the Oklahoma Sooners and the Oklahoma State Cowboys.
GAME INFO
Saturday, November 4; 2:30 p.m. CT; Boone Pickens Stadium; Stillwater, OK
TV: ABC
Radio: Sooner Sports Radio (Toby Rowland, Teddy Lehman, Gabe Ikard); Cowboy Radio Network (Dave Hunziker, John Holcomb, and Robert Allen)
Records: Oklahoma 7-1 (4-1); Oklahoma State 6-2 (4-1)
Last Week: Kansas 38, Oklahoma 33; Oklahoma State 45, Cincinnati 13
Rankings: Oklahoma No. 10 (AP); Oklahoma State unranked
Series History: Oklahoma leads, 91-19-7
Last Meeting: Oklahoma 28, Oklahoma State 13 (2022)
Line: Oklahoma (-6.0)
Fun Fact: Oklahoma and Oklahoma State have played every year consecutively since 1910, making it the third longest continuously played rivalry in college football behind only Wisconsin-Minnesota (1906-Present) and Clemson-South Carolina (1909-Present). That 113-year streak will come to an end after this season though, as the Sooners and Cowboys aren't expected to play again for the foreseeable future once OU moves to the SEC in 2024.
KEY PLAYERS
Oklahoma Sooners
QB Dillon Gabriel
In Oklahoma's 38-33 loss to Kansas last weekend, it felt as if the game was taken out of Dillon Gabriel's hands. Gabriel completed 14 of only 19 attempts for 171 yards and one costly interception. Despite the minimal impact through the air, Gabriel rushed for three touchdowns and 64 yards on the day and still managed to put Oklahoma in position to win the game. On the year, Gabriel has completed 71.4% of his attempts for 2,302 yards and 19 touchdowns to four interceptions, adding 294 yards and eight scores on the ground. Heading into Bedlam, Gabriel is the most important player on the Sooners roster, without question.
LB Danny Stutsman
One of the biggest headlines of Bedlam week is going to be the availability of OU linebacker Danny Stutsman. During the first half of last week's game, Stutsman suffered an ankle injury while trying to make a play on the ball in the endzone. He taped it up and tried to return in the second half but was unable to do so, leaving Sooners' redshirt freshman Kip Lewis to go for the rest of the game. Stutsman has been one of the best linebackers in the country this season and it will be a necessity for him to be available against Oklahoma State's running game.
Oklahoma State Cowboys
RB Ollie Gordon
The NCAA's leading rusher through eight games, Ollie Gordon has been on a historic tear with 978 of his 1,087 yards coming in the last five games. The back-to-back-to-back Big 12 Offensive Player of the Week has been virtually unstoppable in Big 12 play and has gone over 250 yards on the ground in each of his last two games. With 11 of Oklahoma State's 28 total touchdowns on the year, Gordon is the engine that makes the Pokes' offense go, and right now he's a runaway freight train.
LB Nickolas Martin
The Big 12's leading tackler with 83 stops on the year, Nickolas Martin has become a do-it-all linebacker for Oklahoma State in just his sophomore year. Martin also leads Oklahoma State in sacks (5.0) and tackles for loss (11.5), ranking fourth in the Big 12 in sacks and second in the league in TFLs. With Oklahoma's offense sputtering a bit over the last couple of weeks, it'll be up to Nickolas Martin to make sure that continues on Saturday.
KEY STORYLINES
Oklahoma Sooners
Which Oklahoma team are we going to see this weekend? The one that has shown up in each of their past two games will go into Stillwater and get beat, which could send them into a tailspin after looking so good to begin the year. The Sooners have been exposed in each of the last two weeks and come into the final Bedlam for a long time with their backs against the wall. Will that galvanize the team and bring back the intensity and focus that got this team to 6-0 with a win over Texas?
Oklahoma State Cowboys
Oklahoma State's offense has run exclusively through Ollie Gordon throughout conference play, and to this point, nobody has been able to slow him down. Oklahoma ranks third in the Big 12 with only six rushing touchdowns allowed on the season, four of which came last weekend against Kansas. If the Sooners are able to slow Gordon down just enough to force Alan Bowman to make plays with his arm, how will the game look?
PREDICTION: Oklahoma 34, Oklahoma State 27
The final Bedlam in Big 12 history is going to provide one hell of a setting for the Sooners and Cowboys to do battle one last time. With the crowd rocking and Oklahoma State feeling good about how it's playing right now, I actually like OSU to jump out to an early lead in this game. However, after playing in miserable conditions last weekend, Oklahoma's offense will be eager to prove a point this weekend against a Cowboys' defense that has been susceptible to the pass. The Pokes' defense has allowed a Big 12-high 17 passing touchdowns this season and will be facing the top passing offense in the league. With eight- and nine-man boxes, Oklahoma contains Gordon just enough to force Alan Bowman to win the game, although I expect Gordon to keep his streak of 100-yard games going. In the end, this game comes down to Gabriel vs. Bowman, and I like the Sooners' gunslinger to lift OU past their in-state rival and the OU defense to hold off a late rally from the home team.