featured
Overreaction Monday: Ollie Gordon for Heisman, Kansas Can Make Big 12 Title Run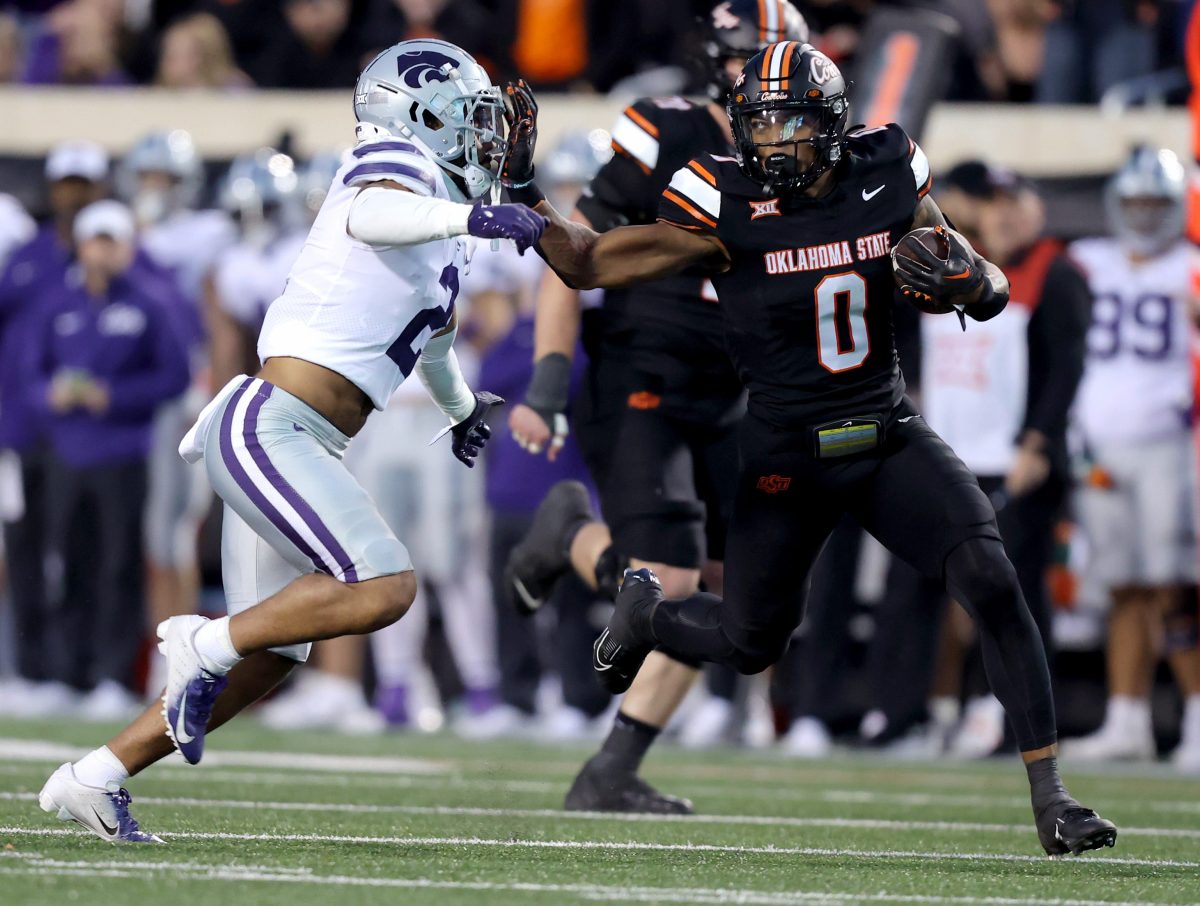 Week 9 provided a great look at what the Big 12 is going to look like at the end of the regular season, and that is one epic conference race.
Oklahoma fell from the ranks of the undefeated after losing to Kansas for the first time since 1997. Their loss created a five-way tie for first place in the conference, and there's legitimately no way to know who is going to be playing there.
There are a lot of questions that still need to be answered, but right now isn't the time to think logically.
Let's overreact to what we saw in Week 9.
Either Oklahoma or Texas Will Definitely Make the Big 12 Championship
Overreaction
Just a few weeks ago, there was a widely accepted narrative that Oklahoma and Texas were destined to meet up once again in Arlington to decide the final Big 12 Championship of their times in the league. Now, heading into Week 10, there's a real shot that neither the Sooners nor Longhorns will be in that game. OU looked lost in its game against Kansas, and with Quinn Ewers out for Texas for the foreseeable future, there's a chance they drop a game or two, starting with K-State this week.
While it appears the Sooners are slipping and Texas looks a bit different without its starting quarterback, the teams behind him are surging as the final stretch of the season approaches. Kansas State has outscored its last two opponents 82-3 and looks every bit of the Big 12 contender everyone thought they'd be to begin the year. The combination of Avery Johnson and Will Howard has proven to be a catalyst for the Wildcats' offense, which combined with their resurgent defense, makes them a very tough out at this point in the year.
Oklahoma State is running the ball down everyone's throat right now with Ollie Gordon (more on him in a bit) and has looked much better defensively as of late. Mike Gundy has seemingly figured it out again and his team is right in the mix for a Big 12 title.
Kansas, after its win over OU, is right in the mix as well at 3-2 in conference play and several big games left on the docket. Iowa State certainly isn't out of it either and is 4-1 in Big 12 play.
This final stretch of the race is going to be wild, and it might end with neither OU or Texas in Arlington.
Kansas Can Make an Improbable Run to Jerry's World
Not an Overreaction
Beating Oklahoma this weekend was potentially one of the biggest wins in KU football history. Not only did it end a crazy long losing streak to the Sooners, but it also got them to bowl eligibility for the second season in a row and gave them all the momentum in the world heading into their final four games.
Kansas' remaining schedule is as follows: at Iowa State (11/4), vs. Texas Tech (11/11), vs. Kansas State (11/18), and at Cincinnati (11/25).
The Jayhawks should be favored against the Red Raiders and Bearcats, but will be underdogs against Iowa State this weekend and likely against K-State despite being at home for the Sunflower Showdown. If KU can win the games it's supposed to and split the games against Iowa State and Kansas State, they'll be 6-3 in Big 12 play, and that gives them a shot to get to Arlington.
However, I will say that the team that just beat Oklahoma is more than capable of winning out and getting to 10-2 on the year. Beating K-State isn't something that the Jayhawks have done in 14 years, but after ending their longest losing streak to a Big 12 opponent this Saturday, why couldn't they do it again in a couple of weeks?
They do that, they're in, and the Lance Leipold hype train becomes truly unstoppable.
Ollie Gordon is a Heisman Contender
Not an Overreaction
Speaking of unstoppable, that is precisely what Oklahoma State running back Ollie Gordon has been over the last several weeks. On the year, Gordon has 141 carries for 1,087 yards and 10 touchdowns on the ground, averaging 7.7 yards per carry.
Through eight games, that's pretty good, right? What if I told you nearly 90% of his production has come in the last five games?
Over the last five contests, Gordon has amassed 978 yards and eight touchdowns on 122 carries (8.0 yards per carry). This past weekend, Gordon became the only other player in Oklahoma State history not named Barry Sanders to have back-to-back games of over 250 yards rushing with 271 yards and two scores on 25 carries against Cincinnati.
Ollie Gordon has become not just the frontrunner for the Doak Walker Award, but also a sneaky contender for the Heisman Trophy. As things sit right now, Gordon can be found with +5000 odds to win the trophy. However, if the Pokes were to beat Oklahoma, win the Big 12 Championship, and make a New Year's Six bowl at 11-2, there's a very real chance that Gordon is much higher up that list.
If Gordon was to average his current pace over a 14-game season (regular season, conference championship, bowl game), he'd finish right around 2,520 yards on the year, which would give him the fourth-most yards in a single season.
This kid is special, and with everything still in front of Oklahoma State, there's a chance his name gets even bigger over the coming weeks.