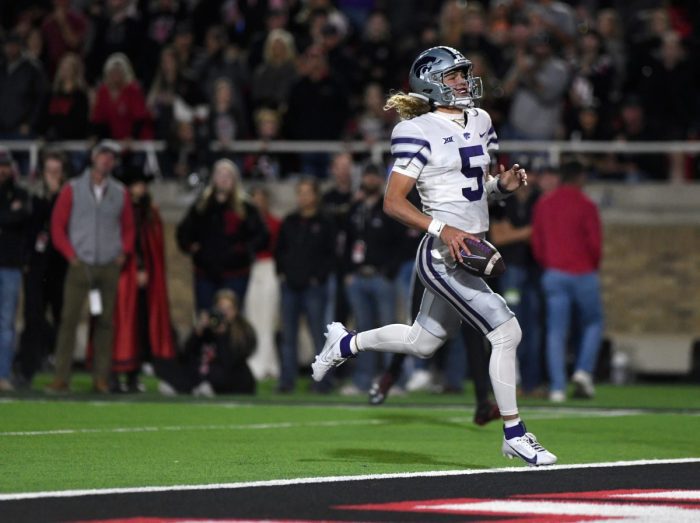 Here is everything you need to know about the upcoming matchup between the Texas Longhorns and the Kansas State Wildcats.
GAME INFO
Saturday, November 4th, 2023; 11:00 a.m. CT; Darrell K. Royal Stadium; Austin, Texas
TV: FOX
Radio: Longhorn Radio Network (Craig Way, Roger Wallace, Will Matthews); K-State Sports Network (Wyatt Thompson, Stan Webber)
Records: Texas (7-1, 4-1); Kansas State (6-2, 4-1)
Last Week: Texas 35, BYU 6; Kansas State 41, Houston 0
Rankings: Texas No. 7; Kansas State No. 25
Series History: Texas leads 13-10
Last Meeting: Texas 34, Kansas State 27 (2022)
Line: Texas (-4.5)
Fun Fact: While the series matchup is somewhat evenly split, the Texas Longhorns have won the last six matchups against the Wildcats. Kansas State head coach Chris Klieman has beaten each team in the league prior to the 2023 season, with the exception of the Texas Longhorns.
KEY PLAYERS
TEXAS LONGHORNS
QB MAALIK MURPHY
One of the most important players to watch in the entire game on Saturday is going to be freshman quarterback Maalik Murphy who is making his second career start against the defending league champions. Murphy was solid against BYU going 16-25 for 170 yards and two passing touchdowns but did finish his day with two turnovers including an interception and a fumble. Murphy was good enough to get the win against BYU on Saturday but with a massive game on the horizon with Kansas State coming to town, Murphy will have to step up.
LB JAYLAN FORD
Senior linebacker Jaylan Ford is not only one of the best players in the Big 12, he is also one of the best players in the country. Ford leads the Longhorns in tackles with 57 total but is also a versatile ball-hawking defender who has snagged two interceptions, a forced fumble, and a sack in 2023. Ford will have the task of continuing Texas' defensive success this season against one of the best teams in the conference and one of the top five rushing attacks in all of FBS football. Ford will have to be on the move a lot in Saturday's contest to slow down the rushing attack, and pace with tight end Ben Sinnott.
KANSAS STATE WILDCATS
RB DJ GIDDENS
DJ Giddens has quietly become one of the best running backs in the Big 12 this season averaging 6.2 yards per carry while boasting an impressive seven scores. The Kansas native has carried the rock 116 times this season for 722 yards and seven scores on the ground. He has also been an important member of the Wildcats' passing game adding 21 grabs for 240 yards and a score through the air. Kansas State runs a two-man backfield with the addition of Florida State transfer Treshaun Ward who will also be someone to keep an eye on in Week 10.
S KOBE SAVAGE
Senior safety Kobe Savage is the enforcer on Joe Klanderman's defense and has really turned the unit around since his switch to the middle of the field. The Texas native is tied for the team lead in tackles with linebacker Austin Moore as the duo each has recorded 43 stops this season. Savage has brought in two interceptions this season and has been a major factor in the defense not allowing a touchdown in nine straight quarters. Kansas State has outscored its opponents 103-10 in the last two-and-a-half games and a huge part of that comes from Kobe Savage.
KEY STORYLINES
TEXAS LONGHORNS
This is a massive test for Maalik Murphy. Will this be his moment or will Texas fall short once again? The Week 10 matchup between Texas and K-State is far from a Big 12 title game eliminator given the confusing nature of the league this season, but this is a game both squads desperately need. With a win, Texas will have added another victory against a ranked opponent and given itself a serious shot at earning a big to the CFB Playoff. The team is going to have to find more production out of Murphy if they hope to make that dream a reality.
KANSAS STATE WILDCATS
Will Chris Klieman cross off the list before Texas leaves? Before the 2022 season, Klieman had beaten each team in the Big 12 Conference outside of Texas, and with one more opportunity as members of the Big 12 Conference, will this be Chris Klieman's moment? The Wildcats have an opportunity to put their name back on top of the conference with a win over the seventh-ranked Longhorns and if anyone is ready for the moment, it's a Chris Klieman-led team.
PREDICTION: KANSAS STATE 35, TEXAS 27
While Vegas may feel strongly about the possibility of the Longhorns emerging as CFB Playoff contenders, I believe Chris Klieman and the defending Big 12 Champs will end those hopes on Saturday in Austin. Texas has one of the best rushing attacks in the country but has a bit of a question mark at the quarterback position with Maalik Murphy starting his second career game. Kansas State's defense is built to stop the run and hasn't given up a touchdown in weeks. This game comes down to momentum and I think Kansas State has all the right things going their way as they hit the road.