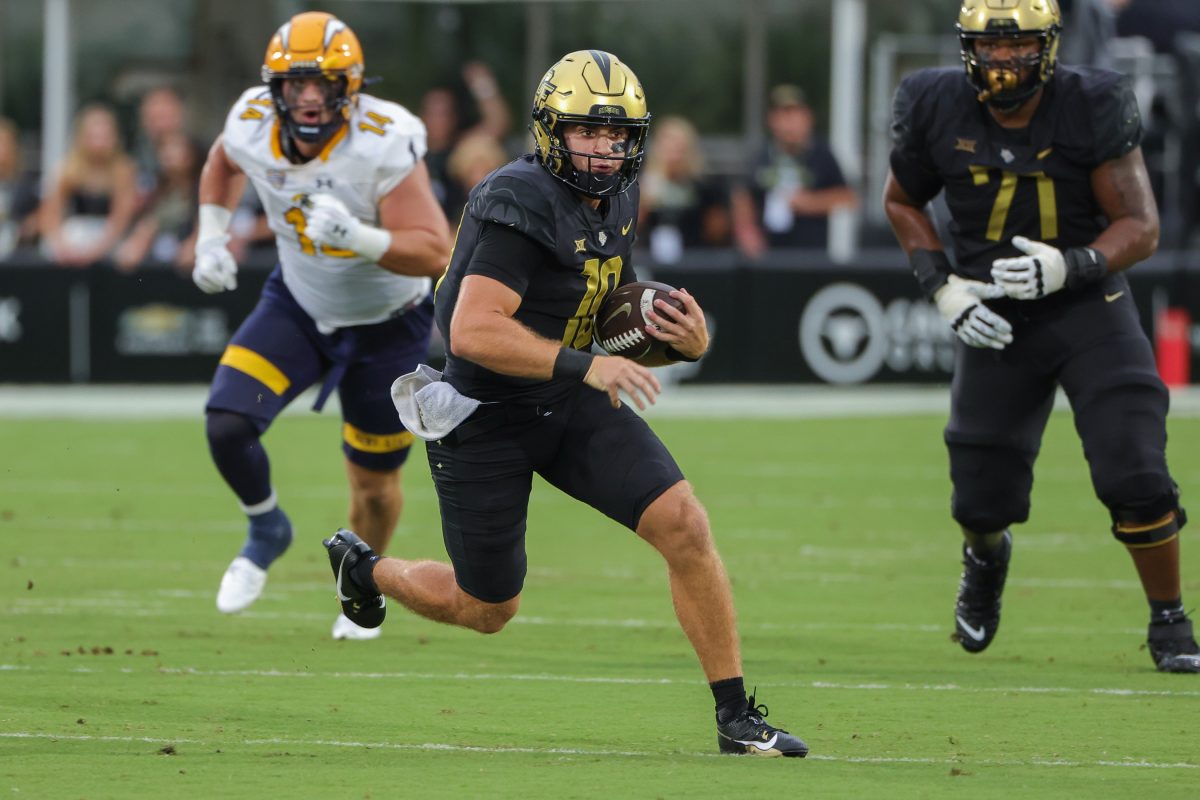 Here is everything you need to know about the upcoming matchup between the Cincinnati Bearcats and the UCF Knights.
GAME INFO
Saturday, November 4th, 2023 2:30 p.m. CT; Nippert Stadium; Cincinnati, Ohio
TV: FS1
Radio: Bearcats Sports Network (Dan Hoard, Jim Kelly Jr., Mo Egger); AM 740/FM 96.9 The Game (Marc Daniels, Gary Parris, Scott Adams)
Records: Cincinnati (2-6, 0-5); UCF (3-5, 0-5)
Last Week: Oklahoma State 45, Cincinnati 13; West Virginia 41, UCF 28
Rankings: N/A
Series History: Series tied 4-4
Last Meeting: UCF 25, Cincinnati 21 (2022)
Line: UCF (-3.5)
Fun Fact: Both UCF and Cincinnati are looking for their first win in conference play, and whichever team loses would become the last of the four new addition Big 12 schools to earn a conference win.
KEY PLAYERS
CINCINNATI BEARCATS
QB EMORY JONES/BRADY LICHTENBERG
Cincinnati has had a lot of issues in the 2023 season on both sides of the ball, but one of the biggest areas in need of improvement is quarterback play. Both Emory Jones and Brady Lichtenberg took snaps in Week 9 against Oklahoma State and while neither quarterback looked very flashy with big play capability, this offense will not go if the player under center does not step up. Whether that be Jones or Lichtenberg, someone has to answer the call soon.
S DESHAWN PACE
Cincinnati's senior safety DeShawn Pace is a many of many talents and a versatile skillset. Pace is the leading tackler on his team with 50 total stops this season but also boasts a multitude of other impressive stats. Pace has recorded 1.5 sacks, one forced fumble, and four pass breakups. Despite the record not reflecting it in the win column, UCF's rushing attack is one of the best units in the country. The Knights are currently fourth in the nation with 227 rushing yards per game, and if Cincinnati hopes to hang on, Pace will have to make some plays in the run game.
UCF KNIGHTS
QB JOHN RHYS-PLUMLEE
UCF quarterback John Rhys-Plumlee is now a few weeks off from his injury and is starting to make some of the plays that the Knights need in order to win games. Plumlee did have a tough week against West Virginia throwing three interceptions in the contest but was still able to drive the Knights down the field finishing with 274 yards passing and three touchdowns. While both teams have struggled since moving to the Big 12, John Rhys-Plumlee should be the best quarterback on the field on Saturday and he will need to show up for Gus Malzahn's squad to earn their first conference win.
LB JASON JOHNSON
Senior linebacker Jason Johnson is the definition of a run-stopper. The Illinois native is one of the top tacklers in the entire Big 12 Conference with 72 stops in 2023. Johnson led his team with 129 total tackles in the previous season which were the 10th-most of any player in college football last season. Johnson is on pace for another stellar year as he currently has the third-most tackles of anyone in the Big 12 Conference only trailing Oklahoma's Danny Stutsman and Oklahoma State's Nickolas Martin.
KEY STORYLINES
CINCINNATI BEARCATS
Quarterback. Can Emory Jones lead the Bearcats to a conference win, or will a chance need to be made? Jones has had a decent at-best season so far with 139 completions for 1,601 yards and a touchdown to interception ratio of 13-9. While sophomore quarterback Brady Lichtenberg hasn't seen the field a whole lot for the Bearcats this year, if the team drops to 0-6 in conference play, the quarterback room needs to be addressed.
UCF KNIGHTS
Can you get in the win column? I would be lying if there was another bigger storyline to follow. Both Cincinnati and UCF enter their Week 10 matchups at 0-5 in conference play. Is this your game to prove that Gus Malzahn still has it? The adjustment to the Big 12 Conference wasn't easy for any of the new four schools, but now that John Rhys-Plumlee is back in action, will he get the job done?
PREDICTION: UCF 41, CINCINNATI 35
Despite the offenses somewhat being more focused on the run game than the passing game, I expect this game to be a bit high-scoring. While games between winless opponents in conference play can be tough to judge given the circumstances with each team, in a somewhat even playing field, I'll take the team with the better quarterback and the coaching advantage. RJ Harvey and Johnny Richardson should have big days on the ground, while John Rhys-Plumlee and Javon Baker get it done through the air.