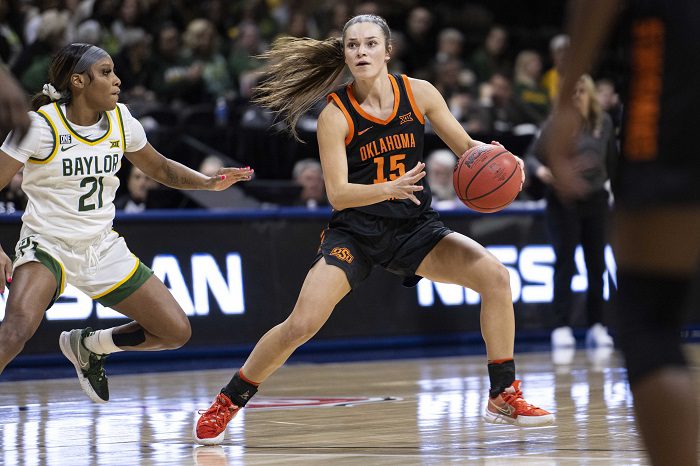 The transfer portal is just a way of life now in college basketball and the Big 12 is no difference as it enters the 2023-24 women's basketball season.
How teams approach the transfer portal is just as important as how they approach recruiting. Landing the right transfer can mean the difference between making the NCAA Tournament and advancing in the NCAA Tournament. Or, for some teams, it can make the difference in reaching the Final Four.
Big 12 teams worked hard in the transfer portal this offseason and here is the best transfer each school landed.
Baylor
Yaya Felder
Felder could be the perfect scoring guard to complement Sarah Andrews. The 5-foot-8 guard played two seasons for Ohio and averaged 22 points per game last season, as she earned All-Mid-American Conference honors. She also averaged 5.1 rebounds and 4.0 assists. She scored at least 20 points all but three games last season.
BYU
Lauren Davenport
The Cougars could use some help on the wing, and the 5-foot-11 guard who transferred in from Boston University should help. She was the Terriers' most improved player last season with 5.9 points in nearly 20 minutes per game. She should find a way to get more run with the Cougars this season.
UCF
Kaitlin Peterson
Peterson comes to the Knights from Indiana, where she only played six games but averaged 4.0 points per game. The 5-foot-9 guard was a high-volume scorer in high school, as she scored nearly 3,000 points in high school at Eufaula, Ala., and was ranked a Top 100 recruit by All Star Girls Report and Prospects Nation.
Cincinnati
Destiny Thomas
Cincinnati's first-year coach, Katrina Merriweather, got a transfer from her former school in Thomas, a 6-foot-4 center who played 33 games and made 18 starts last season for Memphis. She averaged 4.7 points and 5.8 rebounds and was named to the American Athletic Conference All-Freshman Team. She should get more playing time with the Bearcats.
Houston
N'Yah Boyd
Boyd brings valuable Big 12 experience to the Cougars, even though she played at UTEP last year. But the 5-foot-6 guard showed her ability to score last season, as she averaged 11.6 points, 3.5 assists and 3.1 rebounds per game. She has the ability to be a double-digit scorer for the Cougars as a senior this season.
Iowa State
Isnelle Natabou
Natabou is 6-foot-5 and brings the same qualities Stephanie Soares brought to the Cyclones last season. Natabou had a quality track record at Sacramento State, where she was a two-time Big Sky Conference award winner and averaged 15.8 points and 9.4 rebounds last season. She'll be counted on right away.
Kansas
Skyler Gill
Gill might be a longer-term play for the Jayhawks, who are loaded in the backcourt. But the 5-foot-10 junior played North Alabama where she was a two-time ASUN Conference Defensive Player of the Year (2022, 2023) and All-ASUN Second Team selection. She averaged 10.3 points, 8.5 rebounds, 3.0 blocks and 2.6 assists for her UNA career.
Kansas State
Zyanna Walker
Walker didn't get to play much at Louisville last year, where she averaged 2.8 points in five games before opting to transfer. But in going to Manhattan she'll be much closer to home. The 5-foot-8 Wichita, Kan., guard is a former Kansas Gatorade Player of the Year.
Oklahoma
Lexy Keys
Keys was the only transfer OU took in, she's a valuable get. The 5-foot-7 senior guard transferred in from arch-rival Oklahoma State after she averaged 9.5 points and 3.9 rebounds last season. She emerged as one of OSU's best defenders. She'll add outside shooting, along with that defense, to a team that lost significant pieces from last season.
Oklahoma State
Kennedy Fauntleroy
OSU took in three valuable transfers, including Quincy Noble and Chandler Prater. But Fauntleroy could make the biggest impact. As a freshman at Georgetown she was named Big East Freshman of the Year after finishing as the Hoyas' second-leading scorer at 10.9 points per outing. The 5-foot-7 guard also averaged 3.9 rebounds, 2.9 assists and 2.4 steals per game.
TCU
Sydney Harris
New TCU coach Mark Campbell took in a cadre of transfers, and Harris could be the most impactful of the bunch. The 6-foot-1 guard/forward from Central Michigan was the MAC Freshman of the Year averaged 17.4 points per game last season. She also earned All-MAC Third-Team honors. She played nearly 36 minutes a game last season.
Texas
Tionna Herron
Herron was the Longhorns' only transfer and given how stacked their roster is she might not play much. The 6-foot-4 freshman from DeSoto, Texas, signed with Kentucky before the 2022-23 season but needed open heart surgery and missed the season. She opted to transfer to Texas once she recovered.
Texas Tech
Jordyn Merritt
Merritt brings Texas Tech athleticism and height in the pivot. The 6-foot-3 senior Florida transfer averaged 7.1 points and 5.4 rebounds and was named All-SEC Freshman in her first year with the Gators three seasons ago. In her 2021-22 season she averaged 10.1 points per game. She's dealt with injuries in previous seasons.
West Virginia
Jordan Harrison
Harrison is one of two SFA transfers that followed their coach, Mark Kellogg, to Morgantown. The 5-foot-6 sophomore guard was the WAC Newcomer of the Year last season and averaged 12.1 points, 5.0 assists, 3.7 rebounds and 2.1 steals per game. She knows exactly what Kellogg wants on both sides of the floor and will likely run the point.
You can find Matthew Postins on Twitter @PostinsPostcard