featured
Five Big 12 Teams Debut in Initial 2023 College Football Playoff Rankings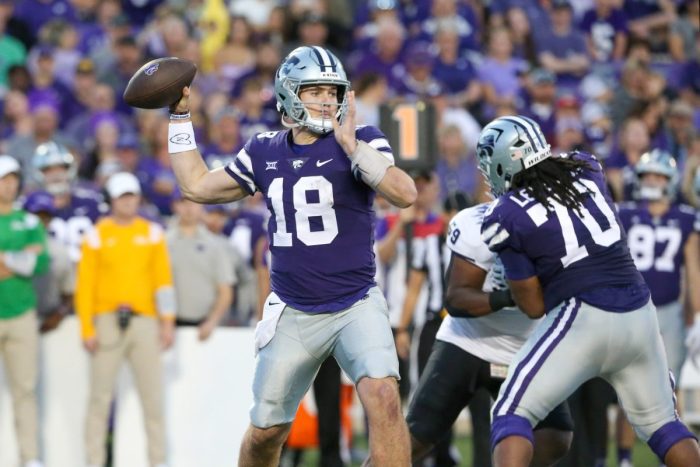 The first iteration of the 2023 College Football Playoff rankings was released on Halloween night, with five teams from the Big 12 making the cut in the debut Top 25.
Texas (7-1, 4-1) was the highest-ranked team in the CFP poll, coming in at No. 7 after a 35-6 win over BYU this past Saturday. The Longhorns appear to be without Quinn Ewers for the foreseeable future, making their future a bit cloudy. However, they don't have time to look at what's to come past this week, as they'll face one of the hottest teams in college football this Saturday.
Kansas State (6-2, 4-1) will travel to Austin for a major showdown with all kinds of Big 12 title implications and will do so as the No. 23 team in the CFP rankings. The level of domination that the Wildcats have shown over the past two weekends is hard to ignore, and it appears to have had an impact on the CFP committee.
Oklahoma (7-1, 4-1) is the second-highest-ranked Big 12 team in this week's poll, coming in at No. 9. The Sooners dropped their first contest of the year last weekend in Lawrence and with that fell from what likely would've been a top-five ranking in this poll. Instead, they come in ninth and the beneficiary of that Week 9 loss is Kansas (6-2, 3-2) who comes in at No. 21 in the first CFP rankings of the year. The Jayhawks have a huge game this weekend in Ames against Iowa State, and a win there would push them into a tie for third place in the Big 12 standings.
Oklahoma State (6-2, 4-1) is the fifth-ranked Big 12 team in the initial rankings, checking in at No. 22 on Tuesday night. After struggling to find a starting quarterback and losing to South Alabama in their third game of the year, the Pokes have really turned things around and looked dominant in recent weeks with Ollie Gordon catching fire. The Pokes will face their biggest test of the season on Saturday when Oklahoma comes to town for the final Bedlam game in Big 12 history.
Here's a look at the complete College Football Playoff rankings ahead of Week 10.
Ohio State (8-0)
Georgia (8-0)
Michigan (8-0)
Florida State (8-0)
Washington (8-0)
Oregon (7-1)
Texas (7-1)
Alabama (7-1)
Oklahoma (7-1)
Ole Miss (7-1)
Penn State (7-1)
Missouri (7-1)
Louisville (7-1)
LSU (6-2)
Notre Dame (7-2)
Oregon State (6-2)
Tennessee (6-2)
Utah (6-2)
UCLA (6-2)
USC (7-2)
Kansas (6-2)
Oklahoma State (6-2)
Kansas State (6-2)
Tulane (7-1)
Air Force (8-0)