BYU Cougars
HCS Roundtable: Biggest Winners and Losers In Week 9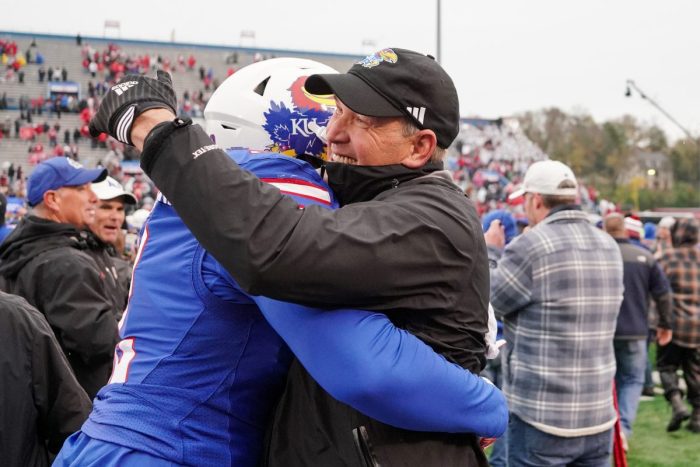 Another week has come and gone, and now we're heading into Week 10 of the 2023 college football season.
After Week 9, we've got a five-way tie for first place in the Big 12 standings and have one heck of a race on our hands heading into the final month of the regular season.
There were several key outcomes this weekend with some big winners and losers in the conference.
With that being said, the Heartland College Sports staff will take each week to name the week's biggest winner and loser. Here's a look at their answers for Week 9.
Pete Mundo
Biggest Winner: The Big 12
The Big 12 now has a five-way tie atop the league heading into the final month of the season. This was a year we thought would be filled with parity, and that's exactly what's proving to be the case. No other conference in America will come close to this level of excitement over the final month of the season. Texas, Oklahoma, Kansas State, Iowa State and Oklahoma State are all 4-1, and West Virginia and Kansas are still in the mix. This is going to be an awesome race.
Biggest Loser: The New 4 Big 12 Teams
They are continuing to lose and just get crushed. Cincinnati lost by over 30, BYU lost by nearly 30, UCF fell to WVU as a touchdown favorite, and Houston got blasted 41-0 at Kansas State. These four have a long ways to go to be competitive in the Big 12. They are a combined 3-17 in the conference, and one of those three wins is BYU's victory over Cincinnati. Woof.
Bryan Clinton
Biggest Winner: Kansas
Anytime you end an 18-game losing streak to a conference opponent, you're going to be considered to be a winner of the weekend. However, when that opponent is 7-0 and ranked sixth in the country when you finally beat them, it makes it so much sweeter. Oklahoma has dominated Kansas throughout their time together in the Big 12, and even before that in the Big 8. However, it is Lance Leipold and the Jayhawks who get the last laugh as the Sooners move to the SEC in 2024. Kansas is now bowl-eligible for the second season in a row and the Jayhawks have a ton of momentum heading into the final four games of their season at 6-2. With a 3-2 record in Big 12 play, there's a very real chance for them to make the Big 12 Championship if they can run the table, and that's something that hasn't been a reality in Lawrence for a long, long time.
Biggest Loser: Jeff Lebby
Where do I even start with this one? After a masterful game plan against Texas to take down the No. 3 Longhorns earlier this month, Oklahoma offensive coordinator Jeff Lebby had finally earned the trust of the Sooners' fan base, which is no easy task. Even when things looked sub-par against UCF coming out of a bye week, most of Sooner Nation was willing to give the play-caller a pass. However, what transpired in Lawrence this past weekend is unforgivable. Sure, Oklahoma's defense appears to have given up 38 points on the day, but the Jayhawks scored 12 points off turnovers and started two of their 12 drives inside Oklahoma territory. The OU offense, which was seen as formidable coming into this game, was totally lackluster and as conservative as I've seen since they put a goose egg on the scoreboard against Texas in 2022 when Dillon Gabriel was out. To say the fan base is out on Lebby is an understatement, and if he runs another jet sweep this season, he might get thrown out of the press box by an angry mob.
Joe Tillery
Biggest Winner: Ollie Gordon
The biggest winner of Week 9 and possibly the entire season is none other than Oklahoma State running back Ollie Gordon. The sophomore running back is putting up numbers that are unheard of rivaling the likes of one of the greatest running backs of all time in Barry Sanders. Gordon has the most rushing yards of anyone in the country right now with 1087 through just eight games. Gordon is averaging 7.7 yards per carry, 135 yards per game, and 195 yards per game in conference. Not only is Ollie Gordon the best player in the Big 12 this season, he deserves to hear his name entered into the Heisman trophy conversation.
Biggest Loser: New Additions
The caveat to this pick is that it was pretty widely accepted that BYU, Cincinnati, Houston, and UCF would all struggle in their first year in the Big 12, but it's at the point where I'm starting to feel bad for the schools. BYU seemed to have the best start of any of the four new schools, but even with wins against Texas Tech and Cincinnati, the program is severely outmatched by the top dogs. Houston is 1-4 in conference play thanks to a late hail mary against West Virginia while UCF and Cincinnati are fighting for their lives to earn a conference win. While the future will be bright going forward as each team adjusts, the present is a tough time to be a fan of the new four schools.
Derek Duke
Biggest Winner: Kansas
While Kansas is not one of the five teams tied for first place in the Big 12, their win on Saturday was huge. The Jayhawks knocked off the sixth-ranked Sooners for the first time since 1997. Even without Jalon Daniels, this team found a way to get the job done with Jason Bean at quarterback. Every time Kansas needed to make a play, Jason Bean made one by using his legs. It was a historic win for the Jayhawks and one that truly sums up the job that Lance Leipold is doing in Lawrence. Those goalposts stood no chance of staying up on Saturday.
Biggest Loser: BYU
Any hope that this team had of making a Big 12 title game is probably out the window after their abysmal loss to Texas on Saturday. BYU was dominated by a Texas team that had to play their backup quarterback. The defense wasn't good and the offense did next to nothing. In fact, they didn't even score a touchdown in Austin. Out of all the teams in the Big 12, BYU may be the toughest team to figure out.
Matthew Postins
Biggest Winner: Every Team with One or Two Losses
Thanks to Kansas, the Big 12 race has now tightened. I would still say that Oklahoma and Texas still have the best tracks to the Big 12 Championship Game in Arlington in December, but any team with one loss — Iowa State, Kansas State and Oklahoma State — now has a more legitimate shot to get there. Plus, they control their own destiny in a way. ISU and KSU play Texas and OSU plays Oklahoma, so there are other chances to ding the co-frontrunners.
Meanwhile, if you're Kansas and West Virginia, your chances are still long. But, they have a chance, and that's all that matters going into November. Thanks to Kansas beating Oklahoma, we now have a really intriguing final month of football ahead of us.
Biggest Loser: Big 12 CFP Chances
I wouldn't say they're dead yet, but the Big 12 probably saw its most realistic and attainable invitation fall when OU lost to Kansas. An undefeated Oklahoma team with a Big 12 title to its credit was likely going to make it into the last four-team playoff. Now? OU and Texas still have a realistic chance, but now OU has no margin for error, as Texas learned when it lost to OU a few weeks ago.
In the new 12-team playoff, we won't be able to write team off as easily by this time of the year. But OU's loss, while it helped make the Big 12 race more fun, certainly put a dent in the Big 12 making the playoff.