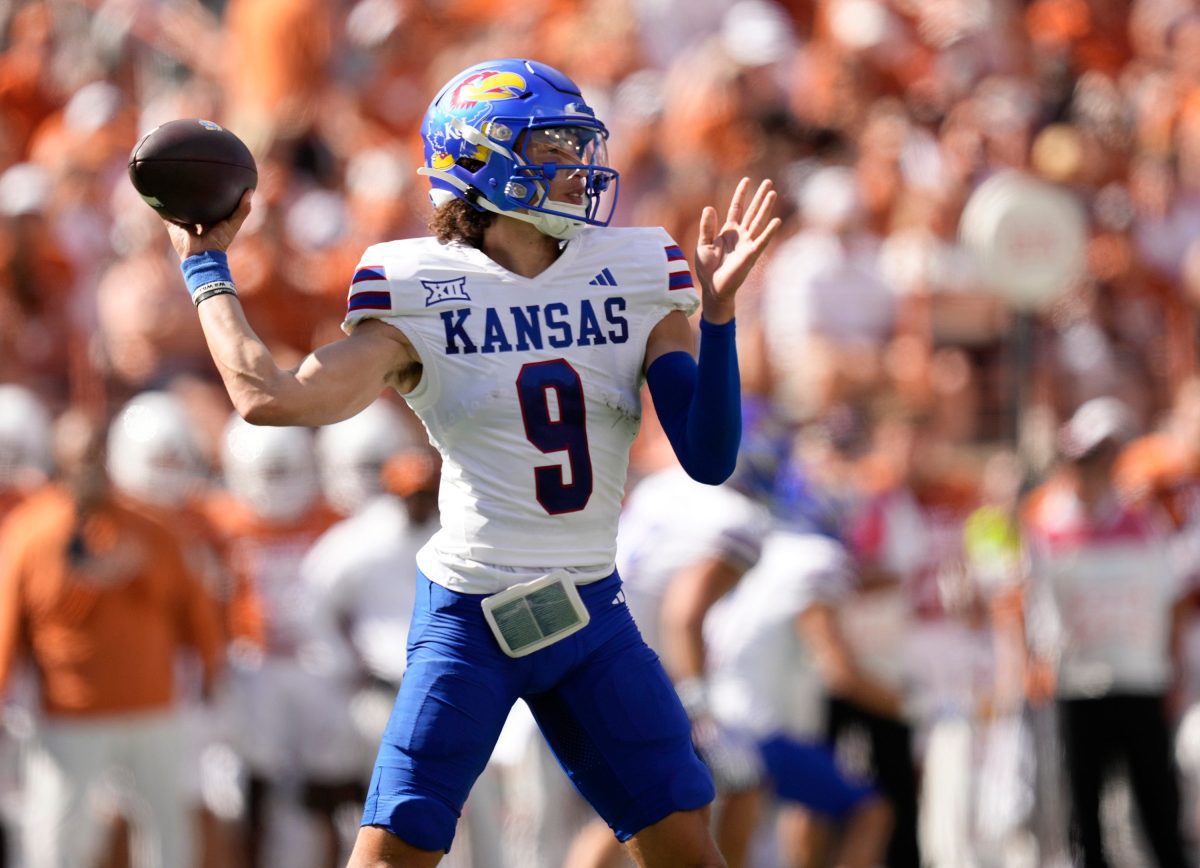 Here is everything you need to know ahead of the matchup between the Kansas Jayhawks and the Iowa State Cyclones.
GAME INFO
Saturday, Nov. 4; 6:00 p.m. CT; Jack Trice Stadium; Ames, IA
TV: ESPN
Radio: Jayhawk Radio Network (Brian Hanni, David Lawrence, Brandon McAnderson); Cyclone Radio Network (John Walters, Eric Heft, Ryan Harklau)
Records: Kansas 6-2 (3-2); Iowa State 5-3 (4-1)
Last Week: Kansas 38, Oklahoma 33; Iowa State 30, Baylor 18
Rankings: Kansas ranked No. 22 (AP); Iowa State unranked
Series History: Kansas leads, 51-45-6
Last Meeting: Kansas 14, Iowa State 11 (2022)
Line: Iowa State (-2.5)
Fun Fact: Iowa State and Kansas first met on the football field in 1898, a meeting in Lawrence (KS) that ended in an 11-6 victory for the hometown Jayhawks.
KEY PLAYERS
Kansas Jayhawks
QB Jason Bean
Coming off an emotional and monumental win over Oklahoma, Jason Bean has been the guy for Kansas to this point and until I hear that Jalon Daniels is back, I'm going to assume that will continue. While his passing statistics don't jump off the page, Bean made the plays necessary to win last week, whether it was with his arm or with his legs. Against an Iowa State defense that has improved as they year's gone one, he'll be key once again.
DB Kenny Logan
The defensive leader for the Jayhawks, Kenny Logan was one of the most excited players on the Jayhawks roster when Kansas finally took down Oklahoma for the first time since 1997. Logan logged a season-high 10 tackles against the Sooners and led the team in the effort, and he'll need to be on his game again this week. Iowa State running game has gotten much better over the year, and he'll need to be a key cog in helping slow the Clones offense down this week.
Iowa State Cyclones
RB Cartevious Norton
One of the most pleasant surprises of the season for Iowa State has been the running game's ascension over the past several weeks, thanks to guys like Eli Sanders and Cartevious Norton. Last week Sanders led the Cyclones with 90 yards on 14 carries, however, it was Norton who hit paydirt taking 10 carries for 58 yards and two touchdowns, including a 49-yard score. Against Kansas Iowa State will have an opportunity to keep the run game going and that will be key in their success this week.
DB TJ Tampa
As one of the best defensive backs in the Big 12, TJ Tampa is a guy that Iowa State can count on against any opponent. He hasn't been challenged a lot this year considering that offensive coordinators are fully aware that this is the kind of guy that will play on Sundays. However, against Kansas, he will face an offense that likes to disguise and deceive its opponents. That will lead to more pressure on the back seven to stay disciplined while needing to help in run support. Riding that line can be tricky, but Tampa and Co. will need to do just that to slow down a power KU attack.
KEY STORYLINES
Kansas Jayhawks
Last week's victory over Oklahoma was one of the biggest wins in Kansas football history. However, the challenge this week will be to turn the page and focus on Iowa State. If Kansas hopes to get to the Big 12 Championship in December, they must win this game, and likely all the games that follow. Taking things one week at a time can be hard, but that is exactly what Lance Leopold will have to get from his group if they hope to build off of such a monumental win.
Iowa State Cyclones
The last time that Iowa State faced an opponent whose offense was as lethal as Kansas', OU dropped 50 points on them in Norman. Since then this team has looked entirely different, but Kansas is still one of the most challenging offensive units to face, considering what they bring to the table I like Iowa State's running game to have success in this game, but if it becomes a shootout, can Rocco Becht keep them in it? That will be a major key and deciding who wins this game.
PREDICTION: Kansas 27, Iowa State 24
A lot of folks seem to believe that Kansas is prepared for a letdown this week in Ames, but I expect the exact opposite. What Lance Leopold is building in Lawrence is sustainable, because he's building it with the right stuff. Kansas was tougher than Oklahoma last week, and despite repeated attempts from the Sooners to regather momentum, the Jayhawks were able to find them off time and time again. This week on the road, KU will face a tough and disciplined Iowa State team, but I like Kansas's opportunity to make a statement and grab a huge road victory ahead of their homestretch of the schedule. In the end, I think this comes down to which quarterback can make more plays for their team, and Jason Bean's ability to make plays in the running game will eventually win the day for the Jayhawks, moving them to 7–2 on the year.