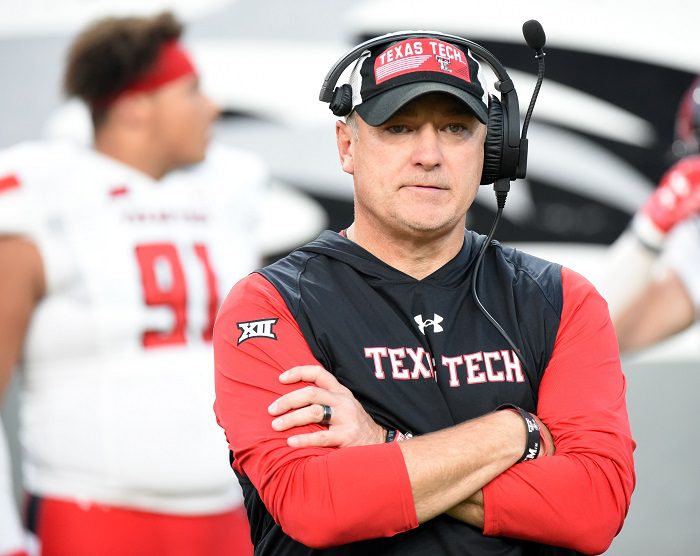 The Texas Tech Red Raiders were no where near the first edition of the 2023 College Football Playoff rankings on Tuesday night. That comes as no surprise to anyone, as the Red Raiders have been one of the biggest disappointments in college football this season.
However, based on what did happen in the rankings on Tuesday, Texas Tech remains in exclusive and horrible company.
As Brett McMurphy noted after the rankings, with Kansas coming in ranked, Texas Tech is now one of only five current Power 5 programs to have never been ranked in any College Football Playoff poll, joining Vanderbilt, Maryland, Cal and Rutgers.
With Kansas' 1st ranking Tuesday, only five current Power 5 teams have never been ranked in @CFBPlayoff Top 25 rankings:

Cal
Maryland
Rutgers
Texas Tech
Vanderbilt

— Brett McMurphy (@Brett_McMurphy) October 31, 2023
The Playoff is now in its 10th season of existence, starting back in 2014, and to think Tech is in the category with such historically awful football programs goes to show you how bad of a stretch this has been for the Red Raiders under Kliff Kingsbury, Matt Wells and Joey McGuire.
Over that 10-year stretch, Texas Tech's highest finish in the Big 12 came last season at fourth place, with their 8-5 finish being the best since 2013, when the Red Raiders also went 8-5.When looking historically, this is the worst stretch of Texas Tech football since Jerry Moore's era from 1981 to 1985 when the Red Raiders went 1-9-1, 4-7. 3-7-1, 4-7 and 4-7.
In the meantime, the Red Raiders now need to win three of their final four games to reach a bowl game.