Baylor Bears
Tuesday Takes: Lance Leipold Can Do Something Special in Lawrence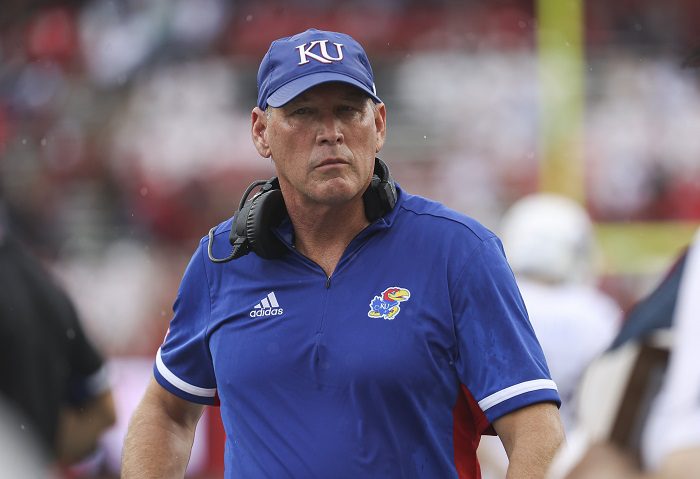 Tuesday is the final day of the week during the college football season in which it is acceptable to look back on the previous week's action and draw conclusions. When the clock hits midnight and Wednesday is officially here, it is your responsibility as a fan to start the countdown to Saturday and start getting prepared for what comes next.
But for the time being, we are going to finish up relishing, or loathing, what happened on the most recent Saturday of action, and that is just what we will do on Tuesday Takes.
Each week, I will give you three definitive facts (otherwise known as my opinions) that I've formed over the last couple of days. So without further ado, here we go.
The Last Bedlam Will be a Spectacle
Oklahoma is coming off a tough loss to Kansas this past weekend in Lawrence, dropping them to 7-1 after a 4-0 start in conference play. The loss certainly kills some of the momentum that the Sooners were set to carry into their matchup with Oklahoma State, but there's a silver lining. Everything is still in front of OU at this point, and winning out likely would still land them in the College Football Playoff. However, that will be no easy task, especially this week in Stillwater.
Oklahoma State has officially turned its season around after stumbling out the gate, winning each of its last four games and looking relatively dominant in doing so as of late. The running game has found its stride behind Ollie Gordon, who leads the FBS with 1,087 rushing yards and has 11 total touchdowns to boot. In each of his last two games, Gordon has topped 250 yards on the ground, the only other player in Oklahoma State history not named Barry Sanders to do that in back-to-back games.
To add to the drama, this will be the final Bedlam in Big 12 history and is the last scheduled meeting between the Sooners and Cowboys, who have met in consecutive years since 1910. Now after 113 straight years, the rivalry is coming to a close and only one team can win the final matchup. While Mike Gundy might feel that this rivalry isn't really a thing between the players like it used to be, it certainly is between the people of Oklahoma.
Stillwater is going to be quite a scene on Saturday afternoon, and with the added intrigue of this being the last meeting for quite some time, I expect it to be quite chippy on the field. This game always feels so important in the Panhandle State, and it's a shame to see it go. So, buckle up and enjoy it while it's here because, after this weekend, it won't be.
Week 10 is the Most Important of the 2023 Season
Big 12 fans, this is the weekend you've been waiting for all season. While it may not have been apparent at the beginning of the season, this weekend is set to provide the best slate of matchups that we've seen to this point or even after.
Starting on Thursday, TCU (4-4, 2-3) will head to Texas Tech (3-5, 2-3) in a game that could determine which team will ultimately get to bowl eligibility.
On Saturday, UCF (3-5, 0-5) travels to Cincinnati (2-6, 0-5) in a game that will finally give one of the teams their first-ever Big 12 win (not to mention that this game became a rivalry in the AAC). Baylor (3-5, 2-3) and Houston (3-5, 1-4) are both 3-5 overall and absolutely need a win this weekend if either of them hopes to find their way into a bowl game.
BYU (5-3, 2-3) and West Virginia (5-3, 3-2) are both right on the verge of bowl eligibility, and their matchup on Saturday will get one of them to that six-win mark.
Then, in the biggest games of the week, we have three matchups between the current top-six teams in the Big 12 standings. Iowa State (5-3, 4-1) will host No. 22 Kansas (6-2, 3-2) in a game which will have major Big 12 Championship implications. Kansas needs to win to stay in the race, and knocking Iowa State to 4-2 would help them jump up a spot.
No. 25 Kansas State (6-2, 4-1) will head to Austin to take on No. 7 Texas (7-1, 4-1) in what feels like a Big 12 Championship play-in game with how good the Wildcats and Longhorns have looked this season.
Finally, Oklahoma State (6-2, 4-1) will host No. 10 Oklahoma (7-1, 4-1) in the final Bedlam game scheduled after playing every year for over a century, and the final meeting is a doozy with both teams squarely in the Big 12 title race.
It's not often that a schedule works out that well, but Week 10 is going to provide all the drama you could ever want in a weekend of football, and I'm here for it.
Lance Leipold Can be Dynastic at Kansas
So often these days, we see the best head coaches in the country start at smaller, less historically successful football programs before eventually getting plucked away by a major program looking to get the next great name on the sidelines.
However, every once in a while, we see a guy fall in love with where his name caught fire and stick around to see something of an empire built. That is exactly what I hope we get the privilege to see Lance Leipold do at Kansas.
After a Week 9 win over Oklahoma this past weekend, Leipold and the Jayhawks have ascended back into the Top 25, sitting at No. 22 in the AP poll. He's now had KU bowl eligible and ranked in back-to-back seasons, which feels like an incredible accomplishment considering where the program in Lawrence was just a few seasons ago.
We've seen guys like Mike Gundy and Kyle Whittingham stick around at programs with less historical success rather than leave when the big boys come calling with bags of cash, and I have a feeling we could see similar things from Leipold at Kansas.
If he were to stick around in Lawrence for 10-15 years and turn the Jayhawks into a consistent winner, like Oklahoma State and Utah, it would be one of the best stories in college football history. And after what KU fans have been through over the last decade and a half, that kind of storybook ending is exactly what they deserve.