Big 12 News
WVU G Kerr Kriisa to Serve Nine-Game Suspension to Start 2023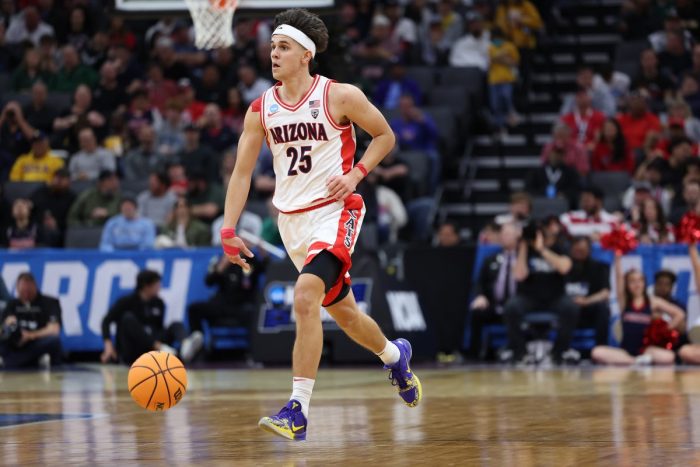 This past offseason, West Virginia landed Kerr Kriisa, a transfer guard who spent last season with the Arizona Wildcats. Kriisa was a major addition to a Mountaineers' roster that had several question marks following the 2022-23 season.
During Kriisa's 2022-23 seasons with the Wildcats, he averaged 9.9 points, 5.1 assists, and 2.4 rebounds per game last season at Arizona while shooting 37.2% from the field. 
After Bob Huggins resigned in the aftermath of DUI arrest, Kriisa entered the transfer portal for a short time but ultimately decided to stick around after Josh Eilert was named the interim head coach.
Unfortunately, it appears that wasn't the end of the Kriisa saga prior to him ending up on the court for the Mountaineers. According to a statement from West Virginia University, Kriisa will have to serve a nine-game suspension to begin the 2023 season after it was learned that he received "impermissible benefits" while at Arizona.
"In late August 2023, West Virginia University learned of a potential eligibility concern for men's basketball transfer student-athlete Kerr Kriisa, who admitted to receiving impermissible benefits while enrolled at the University of Arizona. West Virginia worked cooperatively with the NCAA Student-Athlete Reinstatement Staff to reach an appropriate resolution. As a result of his actions, Kriisa will miss nine (9) 2023-2024 regular season games as part of his eligibility reinstatement. Kriisa will be able to continue to practice and travel with the team during his suspension from competition. He accepts responsibility for his actions at Arizona and looks forward to joining his Mountaineer teammates on the floor."
The Mountaineers have already lost Jose Perez from the 2023 roster, and with Kriisa now out for the first nine games, it appears the losses are starting to mount in WVU's first season of the post-Huggins era.