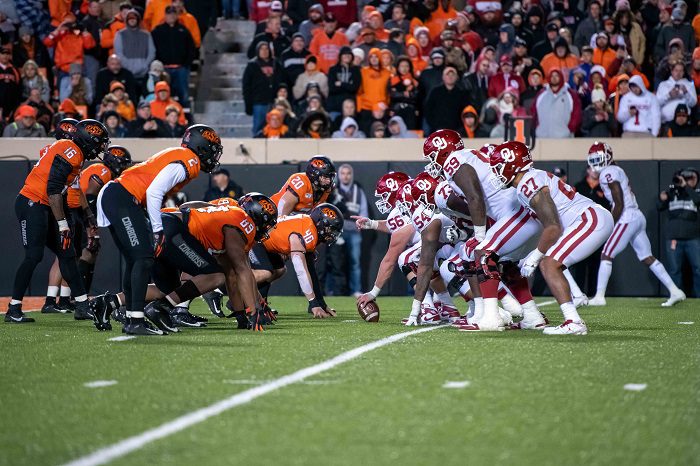 The final meeting between Oklahoma and Oklahoma State as conference foes is set for Saturday as the Sooners will travel to Stillwater for the last time in the foreseeable future.
An in-state battle that annually pits fans wearing orange against those wearing crimson always seems to see tensions rise on and off the field. All over the state of Oklahoma this week, people in the grocery store and restaurants are much less likely to hold the door open for those wearing the wrong colors, midwestern hospitality be damned.
However, there's some real disdain amongst some of the players on the field too, whether it's to the extent that Mike Gundy remembers or not.
Earlier this week, Oklahoma defensive lineman Isaiah Coe didn't even attempt to mask his feelings about the Cowboys.
"I do not like them," said Coe. "Last time we played them obviously was at home. They were the quote-unquote 'better team' and we all know how that went (OU won 28-13). Last time I played them two years ago, we were up by like eight, 12? Somewhere around that range, and they came back and we lost (37-33)."
"Obviously this being the last one and all that, it's good for the fans," Coe said, "but I'm trying to win this game. I don't like them. I'm pretty sure they don't like us. But I'm just trying to win this game. It's pretty much simple."
As Mr. Coe assumes, the feeling appears to be mutual. Oklahoma State offensive lineman Dalton Cooper took a shot at Oklahoma fans, saying they're "just a bunch of bandwagoners."
It appears there won't be any warm welcomes or farewells on Saturday, and I wouldn't expect anything less at this point. Afterall, these two teams have played for well over 100 years and there's been no love lost between them at any point along the way.
The 118th Bedlam is scheduled for a 2:30 p.m. CT kickoff on ABC, with the Sooners being favored by 6.0 points heading into the contest.