Big 12 News
Big 12 Announces Football Scheduling Matrix for 2024-27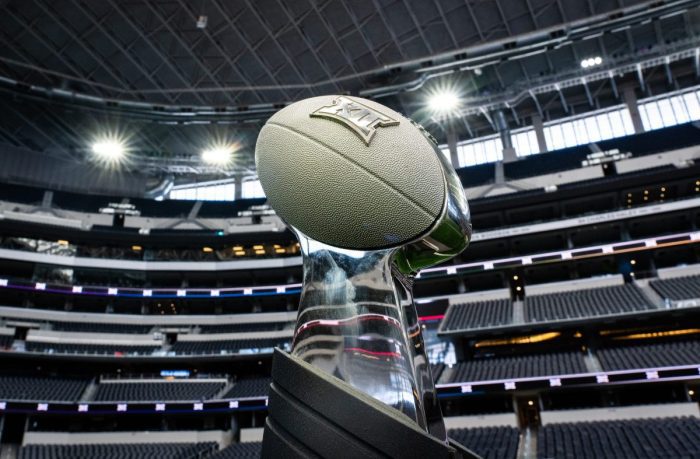 The Big 12 Conference has announced its 16-team scheduling matrix for the next four football seasons, spanning from the 2024 to the 2027 seasons. According to a press release from the Big 12, the scheduling model was developed with geography, historic matchups, rivalries, and competitive balance as the priorities.
"As we look towards the future of this Conference, we are thrilled to introduce the first football scheduling matrix for the new-look Big 12," said Big 12 Commissioner Brett Yormark. "I'm grateful to our membership for their support throughout the scheduling process. In this model, competitive balance and student-athlete wellness were prioritized. Rivalries will be protected and new matchups will be introduced – the excitement and parity this Conference is known for will continue for years to come."
During the four-year span, all teams will play one another at least once home and away. Additionally, some matchups will occur over three seasons while others take place in all four. Matchups in 2024 that were also played in 2023 will not repeat at the same site.
The Conference looked to maintain the current 5/4, 4/5 home/away rotation for all 16 members to minimize non-conference scheduling disruptions. Other important factors were balancing annual travel by distance and time zones as well as maintaining connectivity to rivalries without compromising a balanced rotation for all teams.
This will be the first time in history that the Big 12 will compete as a 16-team league with Arizona, Arizona State, Colorado and Utah becoming members in the summer of 2024, joining Baylor, BYU, UCF, Cincinnati, Houston, Iowa State, Kansas, Kansas State, Oklahoma State, TCU, Texas Tech and West Virginia.
In the link below, the conference gave a look at each team's opponents over the next four years.