Big 12 News
Jerome Tang Treating Nae'Qwan Tomlin Suspension Like Season-Ending Injury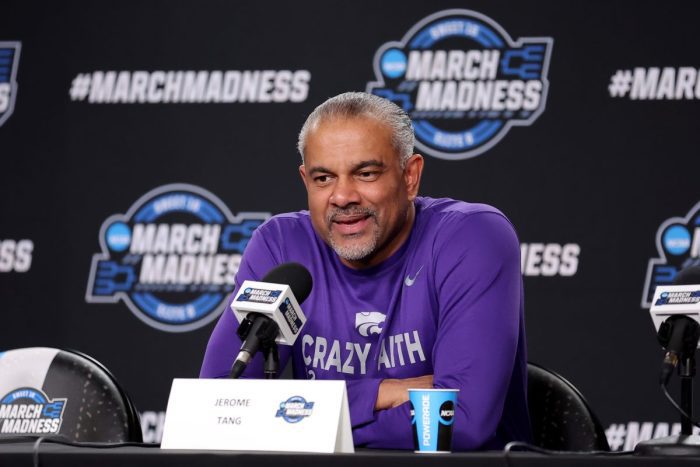 Earlier this week Kansas State star forward Nae'Qwan Tomlin was suspended indefinitely by head coach Jerome Tang after he was arrested Sunday morning for disorderly conduct; brawling or fighting" at Tubby's Sports Bar and released on $750 bond, according to the Riley County Police Department arrest report.
"I have indefinitely suspended Nae'Qwan Tomlin for not living up to the expectations we require of our players," Tang said in a statement. "Although he is not with the team, he is still part of our family, and we will do what [we] can to support him as he moves through this process."
Tomlin was set to be one of the key returning members of Kansas State's 2023-24 squad as the leading returning scorer (10.4) and rebounder (5.9). A 6-foot-10 forward from Harlem, New York, Tomlin started 36 games last season for the Wildcats and was a key to K-State's Elite 8 run last season, scoring in double figures in all four of their NCAA tournament games.
Now, with Tomlin likely not being a contributor in 2023-24, the K-State roster has taken a hit that will force them to look elsewhere for production.
The way Tang sees it, Tomlin's absence is pretty much like losing him to a season-ending injury, according to Jon Rothstein.
In case Wildcat fans were wondering what the odds of Tomlin coming back were, that seems pretty like a pretty clear indication that he's probably not going to play for Tang in 2023.
K-State took down Emporia State 102-68 in their first exhibition game of the year last night and will take on Bronny James and USC on Monday.