Baylor Bears
Separation Saturday: The Most Vital Weekend of the 2023 Big 12 Football Season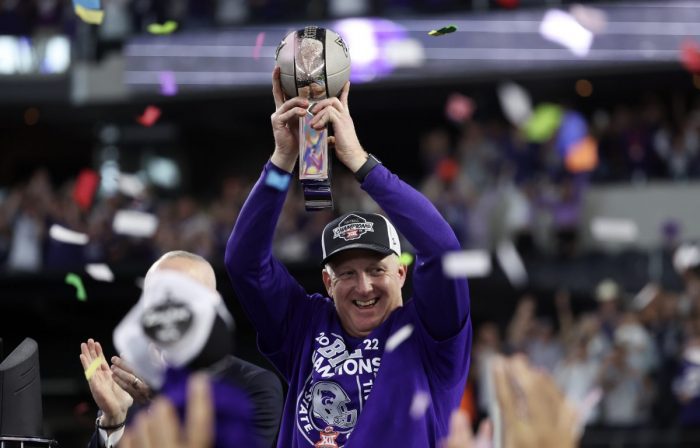 We've been hinting at this for a couple of weekends, and now it's officially upon us as Week 10 is officially here, and it's going to be glorious.
Without a doubt, we are looking at the single most important weekend of the Big 12 football season as we see significant matchups from the top to the bottom of the conference standings.
While you never know which week it will be at the beginning of the year, we typically get at least one week of action where the conference picture becomes much clearer, and that happens to be the first weekend of November in 2023.
Let's take a look at the standings, the matchups, and why this is the weekend that you cannot miss for 2023.
The Standings
Here's what the Big 12 standings look like heading into Week 10:
| Rank | Team | Conf. Record | Overall Record |
| --- | --- | --- | --- |
| T-1. | Oklahoma | 4-1 | 7-1 |
| T-1. | Texas | 4-1 | 7-1 |
| T-1. | Oklahoma State | 4-1 | 6-2 |
| T-1. | Kansas State | 4-1 | 6-2 |
| T-1. | Iowa State | 4-1 | 5-3 |
| T-6. | Kansas | 3-2 | 6-2 |
| T-6. | West Virginia | 3-2 | 5-3 |
| T-8. | TCU | 2-3 | 4-4 |
| T-8. | BYU | 2-3 | 5-3 |
| T-8. | Texas Tech | 2-3 | 3-5 |
| T-8. | Baylor | 2-3 | 3-5 |
| 12. | Houston | 1-4 | 3-5 |
| T-13. | UCF | 0-5 | 3-5 |
| T-13. | Cincinnati | 0-5 | 2-6 |
Analysis: The phrase "log jam" seems to be the only necessary way of describing what we're seeing at the top of the Big 12 standings heading into Week 10. There are five teams tied for first place in the standings and a pair of teams in Kansas and West Virginia that are there with two losses and still well within the race.
While the teams with three or more losses are likely out of the race (barring unprecedented chaos), finishing the year strong will help them when it comes to bowl selections. Plus, there are four teams sitting at 3-5 overall and need to squeeze out wins this weekend to set themselves up to get bowl-eligible.
What makes Separation Saturday beautiful is that it almost perfectly pits teams with similar standing against one another, giving us a very effective method of separating teams in the hierarchy.
The Matchups
Here's a look at all of the Big 12 matchups this week, with a full slate of seven games between all 14 members of the conference.
Thursday, November 2
Jones AT&T Stadium; Lubbock, TX | 6:00 p.m. CT | FS1
The Horned Frogs and Red Raiders are both 2-3 (T-8th) in Big 12 play coming into this game and both desperately need a win to help get them to bowl eligibility. Texas Tech is favored by 3.0 points as the home team, which means Vegas sees this as a virtual tossup game between two teams that have vastly underwhelmed to this point in the year. Both teams will start backups in this game with their starters out with injury, making this a very difficult game to predict.
---
Saturday, November 4
Darrell K. Royal Stadium; Austin, TX | 11:00 a.m. CT | FOX
This game feels like a virtual play-in game for the Big 12 Championship, as Kansas State has been playing like the best team in the Big 12 over the last several weeks, while Texas was the favorite to win the conference in the preseason and has been inside the Top 10 all year. The Longhorns and Wildcats are both 4-1 in Big 12 play and tied for first place in the standings. How Maalik Murphy looks in his second start will be the key to this game, as K-State hasn't allowed a touchdown in nine quarters. Texas is slightly favored in this game, with the line sitting at 4.0 points as of Thursday.
---
Boone Pickens Stadium, Stillwater, OK | 2:30 p.m. CT | ABC
This is the final meeting between Oklahoma and Oklahoma State as conference foes, and both are part of a five-way tie for first place in the Big 12 standings. The Sooners are coming off their first loss of the 2023 season, while Oklahoma State running back Ollie Gordon has gone over 250 yards on the ground in each of the last two weekends. OU will enter this game as a road favorite with the line currently sitting at 5.5 points.
---
McLane Stadium; Waco, TX | 2:30 p.m. CT | ESPN+
Two teams that have vastly underwhelmed in 2023, the Houston Cougars and Baylor Bears both come into this contest sitting at 3-5 and risk putting themselves in a win-or-go-home scenario. A loss will give one of these teams their sixth defeat of the season, meaning they'd need to win out just to get to a bowl. Neither of them has a cakewalk of a remaining schedule and this could arguably be their best shot at getting a win. Baylor is favored by 4.5 coming into this one and is my pick to get to 4-5.
---
Nippert Stadium; Cincinnati, OH | 2:30 p.m. CT | FS1
This game might not mean much to the other 12 schools in the conference, but one of these teams will pick up their first Big 12 victory of the season on Saturday afternoon. Cincinnati and UCF became something of rivals while sharing time in the AAC. Both of the teams have been mistake-ridden all season, and this game will likely come down to who makes the least mistakes. Despite being on the road, UCF finds itself favored by 3.5 points.
---
Jack Trice Stadium; Ames, IA | 6:00 p.m. CT | ESPN
While someone who doesn't follow Big 12 football might see this matchup and assume it means nothing, this is a massive game in terms of Big 12 title implications. Kansas is coming off a massive victory over Oklahoma, while Iowa State has quietly maneuvered to 4-1 in Big 12 play. With a win, Iowa State would be tied for first place going into Week 11, while a Kansas win would move them to 4-2 in Big 12 play and give them a leg up on the Cyclones. Additionally, a Kansas win would guarantee just two teams are 5-1 heading into next week.
---
Milan Puskar Stadium; Morgantown, WV | 6:00 p.m. CT | FS1
This one is simple: bowl eligibility is on the line. Whoever wins this game will claim their sixth win of the season, and it would be a massive feat for either program. For West Virginia, it would validate what we've already seen this season, and that's that the media was dead wrong about Neal Brown's 2023 campaign. For BYU, it would mean getting to a bowl game in their first season in the Big 12, something that appears out of reach for the other newcomers in this conference. The line in this game is telling though, as West Virginia is favored by 11.0 points.
---
What It Means
Regardless of how things play out this Saturday, we are going to have a much clearer picture at what teams have a legitimate chance of making the Big 12 Championship Game. As of now, seven teams have a real chance at making it to Arlington, but come Sunday, that list could be whittled down to as little as two or three teams. This week, the Big 12 hierarchy will change dramatically, and not just at the top. Here's why:
The Top Four Teams Play Each Other
The four favorites in Big 12 play right now are Oklahoma, Texas, Kansas State, and Oklahoma State. Those four teams face each other this weekend, which will move two of them to 5-1 in conference play, and drop the others to 4-2 and a game off the lead.
Iowa State-Kansas is a Swing Game
As mentioned above, if Kansas were to knock off Iowa State on Saturday, only two teams would be tied for first. In that scenario, the winner of Oklahoma-Oklahoma State and Kansas State-Texas would be in the catbird seat moving forward. If Iowa State were to win though, it would change things. The Cyclones would then be in a three-way tie for first place with both Texas and Kansas State left on the schedule. Talk about a fun finish.
The Bottom of the League is Decided
The UCF-Cincinnati game will give one team their first Big 12 win of the season but will drop the other to 0-6 in conference play. Additionally, the Baylor-Houston game will likely decide who finishes 11th and 12th in the final standings. These matchups also determine who is still alive in bowl contention, as the clock starts to run out on a few teams. Cincinnati, at 2-6, can be eliminated from contention with a loss.
College Football Playoff Berths on the Line
No. 7 Texas (7-1, 4-1) and No. 9 Oklahoma (7-1, 4-1) are the only viable options that the Big 12 has to make the College Football Playoff field in 2023. Both will face a pair of the hottest teams in the country with K-State and Oklahoma State surging. If both can win this weekend, they keep their hopes alive. But take a loss this weekend, and those dreams are dashed.