Big 12 News
Trace Ford on Mike Gundy: 'He Loves Being Petty'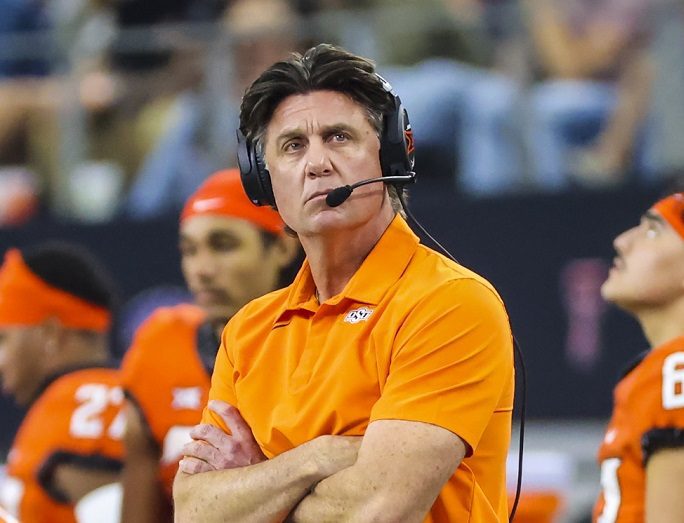 Oklahoma defensive end Trace Ford has a unique perspective when it comes to the Bedlam Rivalry, and heading into the final matchup between the Sooners and Cowboys for some time, he's making his first start on the other side.
Ford, a senior from Edmond, spent the first three seasons of his collegiate career at Oklahoma State, where he tallied 8.5 sacks, three forced fumbles, and 59 tackles over three seasons. While there, Ford was 1-2 against Oklahoma despite playing well against the Sooners when he got his chance.
Now, in his first year as a Sooner, Ford has totaled 10 tackles, one interception, and three PBUs as part of a much-improved defensive front for OU.
Ford and the Sooners will be headed into hostile territory this weekend, as Stillwater is sure to be as wild as it's ever been with Oklahoma in town one final time. In his return to Boone Pickens Stadium, it won't be the crowd that Ford is looking forward to seeing, but his former coach, Mike Gundy. However, his excitement isn't exactly about reconnecting with Gundy, who he says hasn't spoken to him since he informed the OSU staff that he was leaving.
"Not once, and he doesn't care that I left," Ford said of Gundy during an interview on WWLS radio Thursday morning. "He didn't care that I was leaving when I was about to leave. I tried to inform them, he didn't care.
"I don't think me and the staff have the best relationship. Some of the coaches still text me to this day, but not all of them. … When I was informing the coaching staff of thinking about leaving, they're like, 'OK, get on out of here.' They're pretty much like we don't want to talk to you. So that's just the life we live. It is what it is."
Gundy was asked about his former player-turned-opponent on Monday, but says he hasn't noticed Ford, nor has he been looking for him.
"I've watched a lot of tape and honestly have not paid not paid attention or noticed," Gundy said. "I look at concepts, schemes, numbers. … What to attack, what I want to stay away from, things like that more so necessarily than who it would be, so I don't really notice things like that."
When the "Sports Animal" radio show played that audio of Gundy's comments, Ford spoke his mind on the matter.
"He is really smart with the media," Ford said. "He knows exactly what to say. He's a little celebrity when it comes to that stuff. He loves being petty, and I can't wait to play him. I can't wait to see his face. If he hasn't seen me on film yet, I hope he does this weekend."
Oklahoma and Oklahoma State are set to play for the 118th time on Saturday, with kickoff scheduled for 2:30 p.m. on ABC. The Sooners are currently favored by 6.0 points and have won 15 of their 18 meetings against Gundy during his tenure.