featured
Five Big 12 Football Storylines to Follow in Week 10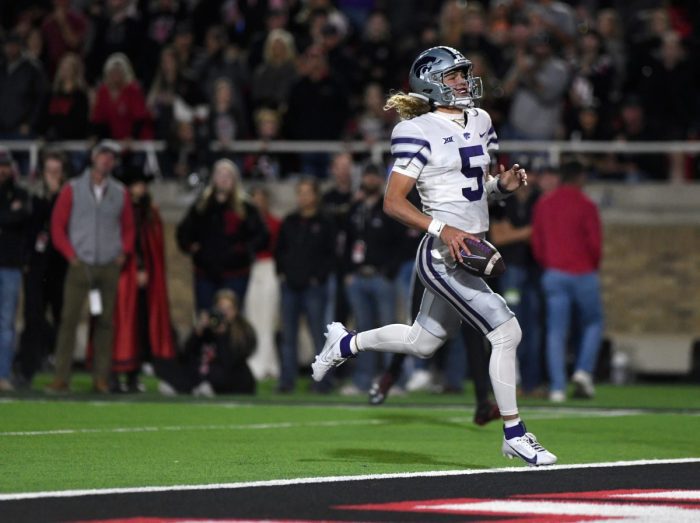 We've got a full slate of seven games on deck this weekend as the Big 12 heads into Week 10 of the 2023 college football season.
The Big 12 race has gotten very interesting over the past couple of weeks as we've now got five teams tied for first place with 4-1 records in conference play.
The last several weeks have muddied the water on who will be left standing to play in Arlington next month, but this week will provide some solid answers to that question.
Here are the top five storylines that you should be keeping up with heading into the ninth week of the season.
The Final Bedlam in Big 12 History
We've known this week was coming for two years now, and it still doesn't feel real. Saturday's game between Oklahoma and Oklahoma State represents the final Bedlam matchup in Big 12 history and the last time they'll meet on the field for the foreseeable future.
Coming into the matchup, both teams are part of a five-way tie for first place in the Big 12 standings, with this week representing a chance for both teams to put themselves in the pole position to make the Big 12 title game.
Oklahoma State would love nothing more than to win the final matchup in this in-state rivalry, while Oklahoma is coming off a loss and knows that it must win out if it hopes to keep its goals intact.
Stillwater is going to be an absolute madhouse on Saturday as OSU fans will try and do their part to send OU to the SEC with a loss, but more importantly, move one step closer to punching their ticket to the Big 12 Championship game.
Can Maalik Murphy Beat Kansas State?
In his first career start against BYU last week, Texas quarterback Maalik Murphy was serviceable but not exactly good enough to instill confidence in his ability to win this weekend without some serious help from the guys around him. Murphy made some mistakes against the Cougars that would've cost him dearly against a team like Kansas State. So, in short, he'll have to improve in that regard this weekend against Kansas State if Texas hopes to win the game.
On the other sideline, K-State is playing its best football of the 2023 season, beating its last two opponents by a combined score of 82-3 and not allowing a touchdown from its opponents over the last nine quarters.
Additionally, the balance of Avery Johnson and Will Howard at quarterback has really helped the Wildcats' offense take a leap, ranking fifth nationally in rushing offense (226.0 ypg) and 13th in scoring offense (37.4 ppg).
Make no mistake about it, Maalik Murphy will have to make some big plays in this game for Texas to come out on top, and taking care of the football will be vital to their chances as well.
Big 12 Title Swing Game in Ames
In past seasons, a November matchup between Kansas and Iowa State probably wouldn't mean a lot in terms of the Big 12 Championship race. However, their game this weekend is one of the most important of the weekend, as Iowa State (4-1) is tied for first place in the league and Kansas (3-2) has played itself into contention after knocking off Oklahoma last weekend.
The outcome of this game is going to be very important in the grand scheme of the conference race, as a Kansas win guarantees only two teams will enter Week 11 at 5-1 and tied for first place.
However, an Iowa State win would guarantee a three-way tie for the top spot and would send the Cyclones to Provo next weekend with a chance to get to 6-1 ahead of monumental games against Texas and Kansas State in Weeks 12 and 13.
With Kansas coming into Ames as the ranked team, it's a bit surprising to see them as the underdog, but playing a night game in Jack Trice Stadium isn't exactly the easiest place in the world to pick up a win.
Who Gets Their First Big 12 Win?
Coming into Week 10, there are just two teams in the Big 12 that have yet to pick up a win in conference play. Both UCF and Cincinnati enter their matchup this week with 0-5 records in Big 12 play and only one of them can come out on top this week.
The loser of this game will drop to 0-6 in conference play, and if Cincinnati is the loser, it will officially be knocked out of bowl contention. On the other hand, if UCF loses the game, the Knights will be forced to win out just to get to a bowl.
As incredible as it seems, these two teams were long considered the standard in the AAC, but their ascension into the Big 12 has been much tougher than they'd anticipated. Getting a win this week is something they can hang their hat on, and getting the monkey off their back could be something to point back to as they build their rosters for 2024.
While they've been eliminated from Big 12 Championship contention, the UCF-Cincinnati is still very important to the conference standings, as the loser is likely staring a last-place finish in the face.
Conference Standings Heading into Week 11
The log jam that is the Big 12 race is about as cloudy as it has been since the return of the Championship Game, but that will change in a big way after Week 10.
When the dust settles on Sunday, either two or three teams will be tied for the first place. Additionally, between two and five teams will be sitting at 4-2 with a chance to still make a run over their final three games.
To get a quick look at what things might look like heading into Week 11, let's say that all the favorites win this weekend (which is highly unlikely, I'll add). Here's what things would look like:
| Rank | Team | Conf. Record | Overall Record |
| --- | --- | --- | --- |
| T-1. | Oklahoma | 5-1 | 8-1 |
| T-1. | Texas | 5-1 | 8-1 |
| T-1. | Iowa State | 5-1 | 6-3 |
| T-4. | Oklahoma State | 4-2 | 6-3 |
| T-4. | Kansas State | 4-2 | 6-3 |
| T-4. | West Virginia | 4-2 | 6-3 |
| T-7. | Kansas | 3-3 | 6-3 |
| T-7. | Texas Tech | 3-3 | 4-5 |
| T-7. | Baylor | 3-3 | 4-5 |
| T-10. | TCU | 2-4 | 4-5 |
| T-10. | BYU | 2-4 | 5-4 |
| T-12. | Houston | 1-5 | 3-6 |
| T-12. | UCF | 1-5 | 4-5 |
| 14. | Cincinnati | 0-6 | 2-7 |
Talk about setting up for a photo finish! The Big 12 race is going to be quite entertaining to watch over the next several weeks, but Week 10 is going to be what separates the favorites from the rest of the pack. So, buckle in, grab a beer and a burger, and enjoy all the action.