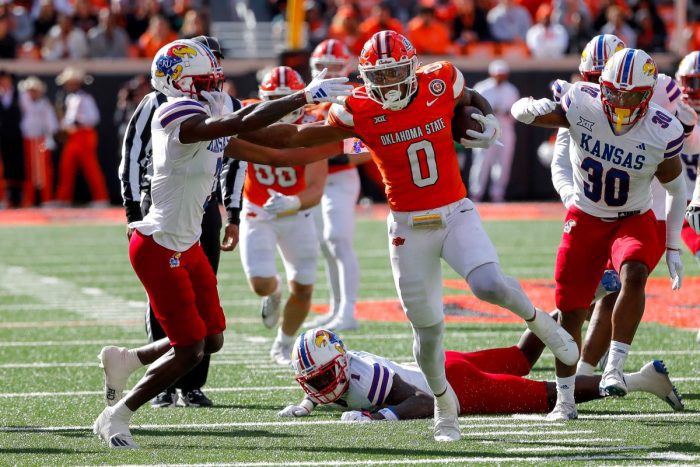 Oklahoma State running back Ollie Gordon is one of the most impressive backs in the country and has earned some major praise for his historic start to the 2023 season.
The most recent person to chime in on Gordon was Oklahoma State's offensive coordinator Kasey Dunn who compared Gordon to one of the tallest animals in the world.
Dunn recently spoke to members of the media on Thursday and was asked about Gordon which prompted the Cowboys OC to say, "It's like trying to tackle a giraffe. He's so long and he's got limbs everywhere and he's still really powerful. I hate saying it's awkward, but he's got this awkwardness that it's hard to tackle, and then he's got enough speed to put it in the end zone."
Gordon has shot up the running back rankings this season and is growing to the national spotlight as he continues to put up Heisman-level numbers each week. The Texas native is averaging an impressive 7.7 yards per carry this season and has totaled 1,087 rushing yards on 141 carries. Gordon also has a nose for the endzone as the sophomore running back currently leads the Big 12 Conference with 11 total touchdowns.
Gordon will be asked for another big performance in Week 10 as the Cowboys host the Oklahoma Sooners in the final game of the Bedlam series. Gordon and the Cowboys take the field at 2:30 PM CT to square off with Brent Venables' group in hopes of ending the five-way tie in the Big 12.