Big 12 News
Sonny Dykes on Season Struggles: 'Our Best Players Aren't Playing Well'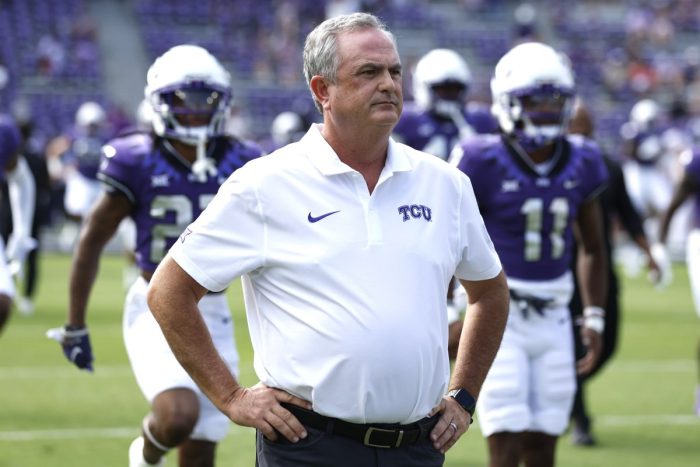 While Sonny Dykes and the TCU Horned Frogs had a meteoric rise in the 2022 season that led them all the way to the National Championship game, that magic appears to be lost in Ft. Worth.
Dykes squad has dealt with a combination of injuries, setbacks, and an overall regression which has left fans wondering what's next. Dykes responded to questions about what needs to change and mentioned, "We've got to get our guys to play good. It's like our best players aren't playing well."
The Horned Frogs currently sit in 10th place in the Big 12 Conference with an overall record of 4-5, 2-4 in conference play. The group's four wins came against Nicholls State, Houston, SMU, and BYU with losses to Colorado, West Virginia, Iowa State, Kansas State, and Texas Tech.
While injuries have played a part in the Horned Frogs' down year, things in Ft. Worth just seem to be spiraling on the field. TCU experienced a huge win in the debut game of true freshman quarterback Josh Hoover who threw for 439 yards and four scores against BYU en route to Big 12 Offensive Player of the Week honors but has since struggled in his last outings. Hoover has completed 105 passes for 1,148 yards this season and a touchdown to interception ratio of 7-7.
TCU's schedule doesn't get any easier going forward as the Horned Frogs face both Oklahoma and Texas in two of their last three games of the season. TCU takes the field next on Saturday, November 11th in Week 11 hosting the No. 7 Texas Longhorns in Ft. Worth.