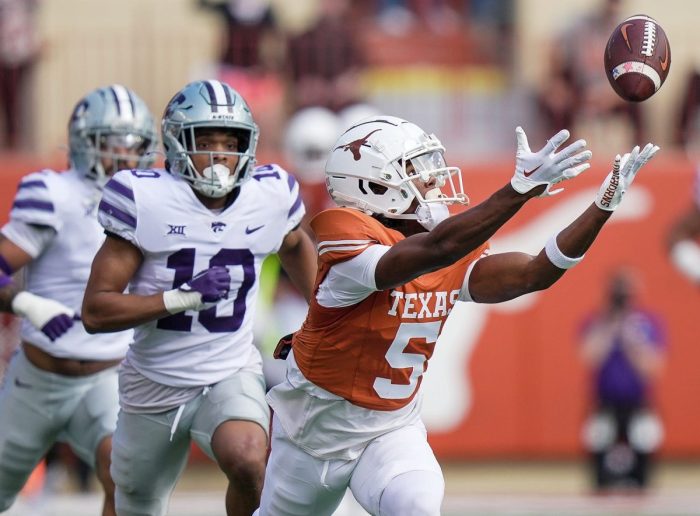 It was a battle of first place teams in the Big 12 on Saturday in Austin as the Kansas State Wildcats traveled to take on the Texas Longhorns for Big Noon Kickoff on FOX. The two programs were coming off huge victories, Texas over BYU 35-6, and K-State over Houston 41-0. The winner of the game would be in sole possession of first place in the league for a few hours, until the conclusion of Bedlam.
And on Saturday, it was a wild game between these two teams. The Longhorns jumped out to a 24-7 lead in the third quarter, but eventually the Wildcats came storming back to force overtime. However, after UT kicked a field goal on its first OT drive, while KSU came up short on a 4th-and-goal attempt, it was the Longhorns holding on for a 33-30 win in front of the home crowd.
Here are three thoughts on the game.
Texas Overcomes Underclassmen Mistakes
The Longhorns were rolling early, jumping out to a 17-7 halftime lead that could have been larger, while also taking control at 24-7 early in the third quarter. But then came the mistakes. There was the Maalik Murphy interception and then the Jonathan Brooks fumble that gave Kansas State the opportunity to get back into this game, which they did with two touchdowns off those back-to-back turnovers.
Murphy looked great in the first half, but then was missing throws, was behind receivers and was clearly more flustered in the second half. Murphy finished 19/37 for 248 yards, with one touchdown and two interceptions. If Texas wants to keep its hopes alive of reaching the College Football Playoff, it has to get more from the quarterback position. The good news for Texas is that Quinn Ewers is reportedly set to return, potentially as early as next week.
Collin Klein's Conservatism Was Problematic
Kansas State offensive coordinator Collin Klein had himself a bad game. Or, at least a rough first half, if you want to give him the benefit of the doubt. Klein spent way too long early in the game trying to establish the running game, when it was very obvious early on it wasn't going to work against UT's strong defensive line. Then, when K-State needed one yard with the ball inside the Texas 10-yard line on a 3rd-and-1 in the final minutes, Klein went back to his comfort zone, in a play that harkened back to his playing days as QB, trying a QB sneak out of the pistol formation with Will Howard. That play was stuffed immediately. This was despite the fact that the 66-yard drive was driven, in large part, by their passing game.
K-State had 88 yards in the first half before exploding for 392 the rest of the game, for a total of 488 yards. They had only 33 rushing yards on 29 attempts in the game. While Kansas State made a great comeback after being down 24-7 to force overtime, just imagine how this game might have been different had the Cats opened things up earlier in the game.
Special Teams Mistakes
Kansas State has long been considered Special Teams U. That was not the case on Saturday as the Wildcats missed an extra point, which was really an early snap from the long snapper, after tying the game at 27. Then, there was the missed field goal from Chris Tennant (27-yarder) in the final few minutes that resulted in K-State still trailing 30-27 at the time.
It's hard to say whether or not this resulted in KSU losing the game, as they made up for it in regulation to force overtime, but regardless, it was uncharacteristic for the Wildcats to have these kinds of errors on the afternoon.
That Final Play Call Decision
Chris Klieman elected to go for it on 4th and goal from inside the five-yard line rather than going for the tie in the first overtime with a chip-shot field goal attempt. Klieman said after the game, "If I had it all over again I would do it again. We had to end that game when we had the chance."
I understand going for it on the road, but all the momentum was with Kansas State. The Longhorns' last five drives of the game were as follows: Field goal, interception, fumble, punt, and field goal. Meantime, K-State's final five drives were: Touchdown, touchdown, touchdown, missed field goal and field goal. KSU's offense was humming and they had completely confused Maalik Murphy and his confidence was mostly gone.
Joel Klatt noted this point as well, and while hindsight is 20-20, I don't think he was wrong in that assessment. But as a result, the Longhorns move to 8-1 overall and 5-1 in Big 12 play, while Kansas State is now 6-3 overall and 4-2 in league play.