featured
Three Thoughts on Oklahoma State's 27-24 Win Over Oklahoma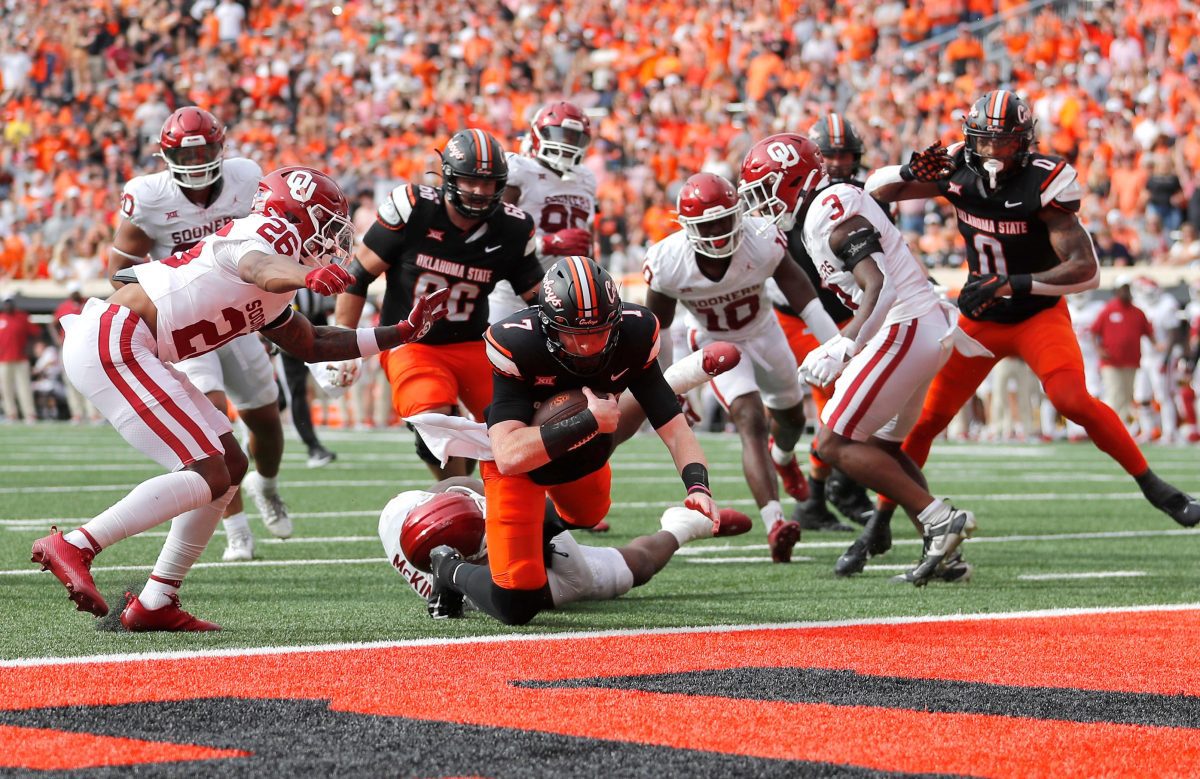 The final Bedlam is a wrap and it was Mike Gundy and the Oklahoma State Cowboys who emerged victorious, taking down No. 9 Oklahoma, 27-24.
The win gives the Cowboys the last laugh in this rivalry, as the series will come to a close with a massive victory in the confines of Boone Pickens Stadium.
Oklahoma State (7-2, 5-1) is now tied with Texas for first place in the Big 12 standings and has just three games against Big 12 newcomers standing between them and an appearance in Arlington.
Meanwhile, Oklahoma (7-2, 5-2) has now dropped two games in a row and will try and get things back on track against West Virginia next weekend.
Here are three thoughts on the game and what it means for both teams going forward.
Ollie Gordon Stays Hot
Ollie Gordon's hot streak continued on Saturday afternoon as the Cowboys' star tailback powered his way to 137 yards and two touchdowns on 33 carries (4.2 ypc). In another effective showing, Gordon's consistency continues to power an Oklahoma State running attack that is churning out wins left and right. The Cowboys' offense was well-balanced against the Sooners, with Alan Bowman playing a near-perfect game in terms of what the Pokes needed from him to win the game, going 28-42 for 334 yards and no interceptions. His ability to move the ball through the passing game allowed Gordon to get going, and it helped keep the Oklahoma State offense on the field, and Dillon Gabriel and the Sooners' offense on the sideline. OSU's offense totaled 480 yards on 81 plays for 5.9 yards per play, and it proved good enough to get the win.
Turnovers Cost the Sooners Big
In rivalry games like Bedlam, the team that wins the turnover battle is the team that typically wins the game, and that turned out to be the case again on Saturday. On their first offensive drive, Oklahoma fumbled the ball deep in OSU territory after an issue with a snap and exchange in the backfield. In the second quarter, an interception from Dillon Gabriel stopped what looked like a good drive for the Sooners, which was in Oklahoma State territory again. In the fourth quarter, Oklahoma center Andrew Raym botched a snap on the first play of a drive, which Oklahoma State covered up. In total, the Sooners had four fumbles, losing two of them, and one interception. Meanwhile, Oklahoma State had just one turnover on the day, which was an interception from Ollie Gordon.
Oklahoma State in Great Position
After taking down Oklahoma, Mike Gundy and the Oklahoma State Cowboys are set up beautifully to make the Big 12 Championship in December. The Pokes will hit the road next weekend to take on UCF, who just picked up their first Big 12 win against Cincinnati, 28-26. In Week 12, the Pokes will hit the road again to take Houston, who sits at 3-6 after an overtime win over Baylor on Saturday. Finally, they'll finish the season against BYU back at home in Boone Pickens Stadium. If they can pick up wins in each of those games, they'll be in Arlington playing for a Big 12 Championship. As of right now, it looks like Texas might be the favorite to meet them there, but with how crazy this race has been, that's far from a guarantee in a crazy Big 12 race.