Baylor Bears
Big 12 Football Week 10: The Good, the Bad, and the Ugly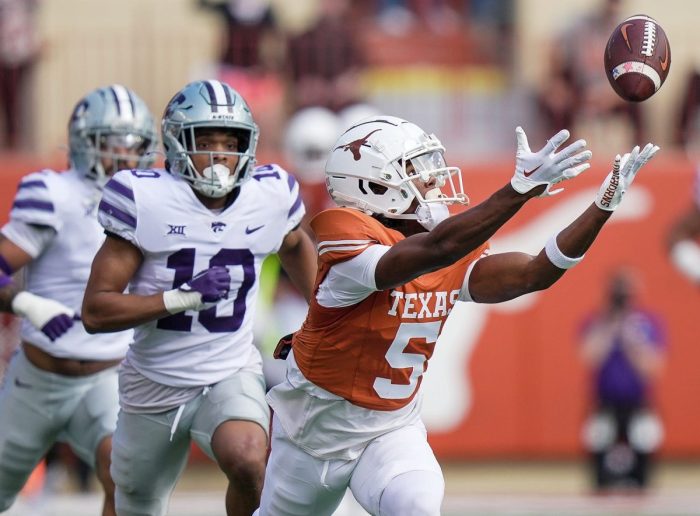 Week 10 is officially in the books as the Big 12 Conference had yet another exciting weekend. The action started on Saturday morning and ended Saturday night in Ames. Here are the good, bad, and ugly from Week 10 in the Big 12.
The Good
Welcome Back Behren Morton (Texas Tech beat TCU 35-28)
Ever since the second half of the Kansas State game, Texas Tech had been without backup quarterback Behren Morton. He went down with an injury in that game three weeks ago and made his return on Thursday night against TCU. In his absence, third-string quarterback Jake Strong filled in and no disrespect to Jake but he's not Behren Morton finished the game going 28/36 for 282 yards and two passing touchdowns. His three favorite targets were Xavier White, Coy Eakin, and Myles Price. Alongside the efficiency in the passing game, it was refreshing to see running back Tahj Brooks get 31 carries. This was a good win for Texas Tech.
Texas Held On (Beat Kansas State 33-30)
At one point in this game, Texas had a 20-point lead, and they nearly blew it. Maalik Murphy started off hot but then regressed as the game went on. He had a pair of costly turnovers that helped Kansas State get back in the game. Luckily for him, the defense stepped up. While the Longhorns did give up some points, they were put in some tough spots due to the turnovers. Texas held Kansas State to just 2/13 on third down and got the game winning stop in overtime. If not for the defense and the 230 rushing yards, Texas wouldn't have won this game. Now the Longhorns are tied for first place in the Big 12.
Houston (Beat Baylor 25-24)
Houston nearly blew this game. With less than five minutes left in the game, they had a chance to go up by ten but ended up missing a kick. Then they let Baylor march right down the field and tie the game to send it into overtime. Thankfully for them, Donovan Smith was able to move the football and convert the two-point conversion to win the game.
West Virginia's Run Game (Beat BYU 37-7)
I am surprised that West Virginia even had to throw a pass in this game because of how dominant they were in the run game. The Mountaineers rushed for 336 yards against BYU as both Jahiem White and CJ Donaldson went for over 100 yards. When you combine that with their outstanding defense, West Virginia truly controlled this game from start to finish. I also want to congratulate Neal Brown for becoming bowl eligible after being picked last in the preseason.
UCF Won Their First Big 12 Game (Beat Cincinnati 28-26)
It wasn't easy but at least UCF can finally say that they won a Big 12 game. John Rhys Plumlee didn't have his best day as a passer, but thankfully he had a solid run game to lean on as the Knights rushed for 228 yards. RJ Harvey was the lead man running for 164 yards and three scores.
Oklahoma State Took Bedlam (Beat Oklahoma 27-24)
We can talk about why they won, but does it really matter? All that matters here is the fact that Oklahoma State won. Ollie Gordon was great, Rashod Owens stepped up and the defense got some stops late in the game when it mattered most. It didn't matter if they won by one or a hundred on Saturday as long as they got the job done and they did. This game is going to be remembered for a VERY long time in Stillwater and those goalposts didn't stand a chance staying up.
And to top it all off, the Cowboys are now one of two teams tied for first place in the Big 12. What a historic win.
Kansas Made Plays (Beat Iowa State 28-21)
The box score wasn't pretty but when Kansas needed to make a play on offense or defense they did. Jason Bean made some big time throws in this game and Kansas converted almost 50% of their third downs against a good Iowa State defense. And speaking of defense, the Jayhawks were able to get a big pick six early in the game that helped set the tone and keep the momentum on their side. It's not easy winning at Jack Trice Stadium especially at night but this Kansas team is for real folks.
The Bad
TCU's Missed Opportunities (Lost 35-28 to Texas Tech)
I admire the toughness of TCU quarterback Josh Hoover. He had little to no protection from his offensive line and spent most of the game running for his life, yet he made some plays to keep TCU in this game. Josh had some excellent throws on third down to keep the offense moving but he also made some bad mistakes.
Late in the third quarter, TCU had a one-point lead and had the ball on their own 21-yard line. On the second play of the drive, Josh threw an interception to give Texas Tech great field position. Then with a chance to tie the game late, he threw another pick that ended the game.
Kansas State's Failed Comeback (Lost 33-30 to Texas)
I know Kansas State didn't play their best early on in this game, but you have to admire the comeback they made. They were down by 20 points in the third quarter and found a way to get back in the game. The defense forced a pair of turnovers, and the offense was able to capitalize. Will Howard threw four touchdown passes and didn't get much help in the running game. Unfortunately for Kansas State, they couldn't convert on fourth down. Also, what was going on with the kicking game? That was very unlike Kansas State.
Baylor's First Half (Lost 25-24 to Houston)
What is it about Baylor and playing poorly in the first half? It seems like every single week it takes them nearly three full quarters to wake up and start playing football. That is exactly what happened against Houston as Baylor failed to score a single point in the first half. Blake Shapen wasn't great, but he was the only reason Baylor was still in this game and had a chance to even win it. He converted a fourth and long by himself to help Baylor get the game to overtime. The Bears even scored in overtime but failed to stop Houston's two-point try.
Cincinnati (Lost 28-26 to UCF)
It was pretty simple why Cincinnati lost the game. They couldn't stop the run and they couldn't make enough plays in UCF territory to come up with six. The defense allowed RJ Harvey to run wild on them as he scored three times. Meanwhile the offense had to settle for a pair of field goals in UCF territory. I Thought Cincinnati did a great job running the football and they were even able to score late to pull within two. Unfortunately, they couldn't convert the two-point conversion to tie the game. With this loss, Cincinnati will not be going bowling this season and we may have a two-quarterback system going forward.
Oklahoma's Offense (Lost 27-24 to Oklahoma State)
Forget about the defense, I put this loss on the offense. Dillon Gabriel struggled throwing the ball and the amount of turnovers that this offense had was concerning. Whether it was an interception or a botched snap, the Sooners had three turnovers in this game and two of them were in the second half. Even when the defense came up with a big turnover in the third quarter to put the offense in a great spot, they couldn't do anything with it. The play calling from Jeff Lebby was head-scratching and I don't understand that fourth down call to end the game. How do you run a route almost two full yards short of the first down line going towards the sideline? It doesn't make sense to me and now it may have cost this team a trip to Jerry World for the Big 12 Championship.
Iowa State (Lost 28-21 to Kansas)
For as good as this team has been playing the last few weeks, Saturday was a letdown in the loss to Kansas. The defense had some major busts in coverage that cost them. They struggled to get off the field on third down and it was something I wasn't used to seeing. I know Jeremiah Cooper was out, but they should have been better. As for the offense, they got off to a rough start and were only able to put up three points in the first half. While Rocco Becht played much better in the second half, it was a little too late by then. He threw a pick six early on, but he also didn't get much help from his running game either. Also, I would like some clarification on this play here. Why was this play blown dead? He clearly didn't step out.
The Ugly
BYU (Lost 37-7 to West Virginia)
There isn't a better word to describe BYU's performance than ugly. The Cougars couldn't stop the run (gave up 336 yards) and couldn't run the football (67 yards) against West Virginia. The offense was absolutely pathetic and did next to nothing. I know BYU had to use backup quarterback Jake Retzlaff, but it wouldn't have mattered if Kedon Slovis was playing because BYU stood no chance in this game. This is by far the most confusing team in the Big 12.