featured
Why This Oklahoma State Fan is Glad Bedlam is Over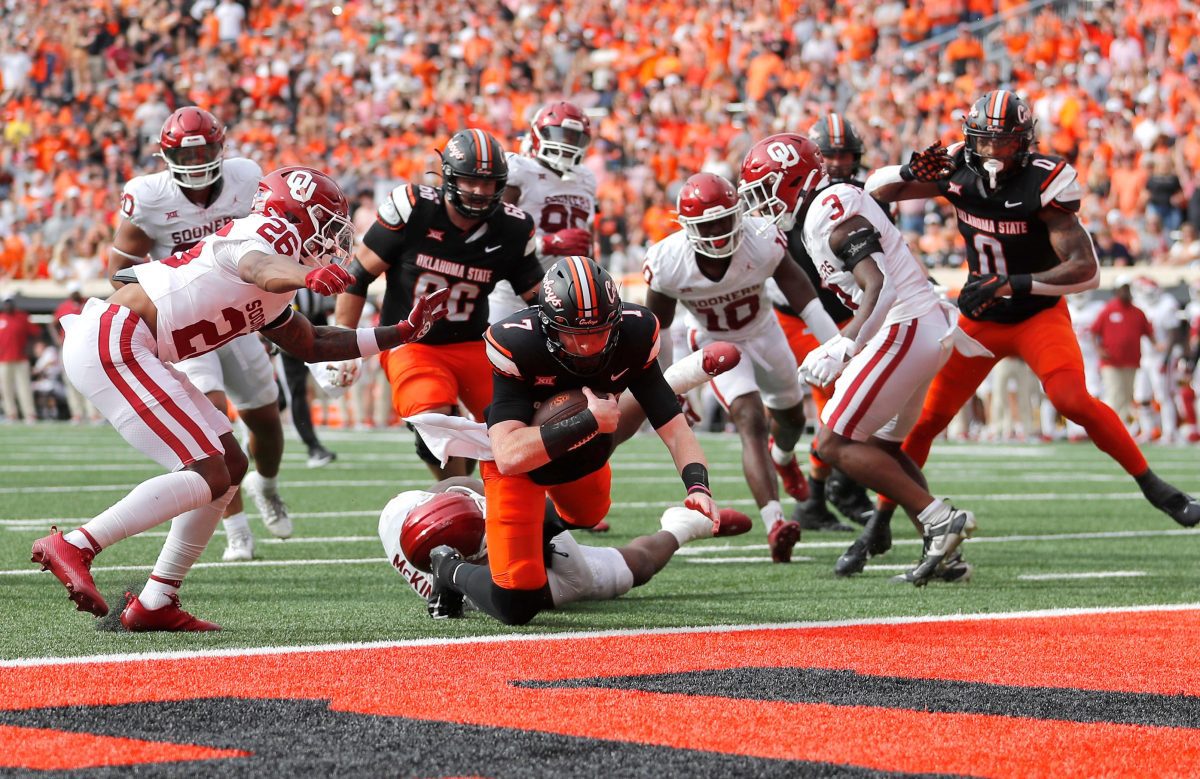 I almost didn't go to Bedlam.
Honestly, I've almost not gone to Bedlam every year when it's in Stillwater since I've been a season ticket holder. Bedlam is generally a bad experience for OSU fans; not only do the Pokes lose five out of six, but OU fans have a well-documented history of being terrible.
I won't retell any of the experiences in Stillwater because it's mostly just vile, and I do mean vile, things said to me or others that my boss probably wouldn't print anyway, but I will tell you the one time I dared go to Norman for Bedlam I was spit on and had beer poured on me. Keep in mind this is on the way out of the stadium after OU won 27-0.
So as Bedlam week approached I considered selling my seats like I always do. Not only could I get enough money for them to pay for my season tickets next year I wouldn't have to deal with them. Add in that my wife has a newfound love for football and now goes to the games with me, it made it even more worrisome. She already doesn't particularly like crowds and this one would be more intense than most. On top of that, I'm not much of a fighter so if I felt the need to defend her honor if one of them crossed a line I'd probably lose.
Eventually, though I went down the same line of reasoning I always do and ended up at the same familiar end: "I'll be so mad if we win and I wasn't there." The pull of it being maybe the last one ever piled on and the choice was made to load up in the big orange van and go, wife and all.
So of course I ended up being glad we went. Winning cures all. And honestly, they weren't that bad this year. I think getting beat by Kansas last week took some of their edge and Sooner fans weren't as confident as they'd have been otherwise.
Here I am treating this like a recipe blog and going on about my personal life. Let's move on to the game.
The final Bedlam did not disappoint. If you've never made it to a game in Stillwater you should try to. Make it a big game, preferably at night, and I promise the atmosphere won't disappoint you. I've never been to Morgantown or to Big 12 newbie UCF, both whom boast a great game-day scene, but I'll put Boone Pickens Stadium up against either of them when it's rocking.
When it's an important game and the score is tight it feels like you could light a match and the air would catch fire. The horseshoe shape with the basketball arena closing the end holds in the sound. The crowd is right on the sideline and eight feet up, hovering over the game. Whoever it is that runs the giant screen in the east end zone, I assume it's a student, does a great job with well-timed gifs and memes.
The icing on the cake though is the sing-along between the 3rd and 4th quarters where they play "Friends in Low Places" by Oklahoma State's most famous alum, Garth Brooks. It's a song everyone knows and is liked enough and infectious enough even the visiting fans join in on the serenade!
The game itself was about what was expected. What was thought to be an inevitable bloodbath a month ago with the Sooners eviscerating the Cowboys instead was pretty evenly matched. For the first four weeks of the season, the Pokes looked lost and OU looked like a National Championship contender but that was a month ago and a month is a long time. The playing field leveled out.
Let me get this out of the way first and say yes, the refs absolutely missed a pass interference call on that pass to Drake Stoops in the end zone. Does that suck for OU? Sure, but ultimately what cost them the game was self-inflicted mistakes, not a single missed call. Gabriel's interception probably happened because he got drilled as he released so the ball was under thrown but the two fumbles OSU recovered were a direct result of the atmosphere I mentioned earlier. OSU scored 10 points off turnovers. That's the game right there. If the Sooners play clean they take a happier drive down the turnpike 90 miles back to Norman. I'd feel a lot worse about that missed PI if there hadn't been multiple misses all game on both sides and if OU hadn't gotten the ball back with another chance to go win it.
Want to be mad, Sooners? Be mad at the 3-yard route called on the final 4th and 5.
Regarding the game plan, at least defensively, the Sooners got what they wanted and controlled the Cowboys' star running back Ollie Gordon. Gordon ended up with only 137 yards on the ground and two touchdowns and yes, that is controlling him. Gordon might be the best running back in the country and OU made him work hard for everything, holding him to 3 yards a carry on 31 of his 33 runs.
The problem the Sooners ran into was that Cowboy quarterback Alan Bowman played pretty well. Bowman went 28/42 for 334 yards with no TDs (he did manage to rumble in for one on the ground) and while that's not spectacular, when you factor in that he didn't throw a pick or get sacked, it's huge. In fact, six of his incompletions were throwing the ball away to avoid negative plays. It looks like Bowman has accepted his role as the guy who just can't lose the game with mistakes while Gordon is the star. His seeming acceptance of that has been a big part of OSU's turnaround this season.
The Sooners' stars shone as well. Drake Stoops had 12 catches for 134 yards and a TD. All Stoops does is make plays. He even caught the one in the end zone when he got mauled. Running backs Gavin Sawchuk and Tawee Walker combined for 170 yards and 2 TDs on just 21 carries.
Dillon Gabriel threw for 344 yards with a 71% completion rate but with just one TD and an interception. A frustrating thing for Sooner fans must be the lack of the QB run game against the Pokes. Gabriel is a good runner but if my memory serves there was just one called run for him. The Cowboys have struggled with running QBs (WVU's Garrett Greene went for 117 against them) so I expected between five and ten called runs for him and just kept expecting that 50-yard QB draw he seems to pop every game.
When you look at the box score you can see just how closely played the game was. There was only a 12-yard difference in total yards in favor of OU. They had ten more passing yards and two more rushing yards than OSU but ultimately the stat won the day was turnovers.
OU: 3, OSU: 1.
You can't lose the turnover battle on the road in a hornet's nest of a stadium against your in-state rival and win very many times. Not when it's the last one, the last Bedlam. Not when winning this game gives the team that has lost 90 and only won 19 (now 20) the ability to say "Yeah, but we won the LAST one" for decades to come.
The Sooners are probably a better team than the Cowboys, but not by as much as people thought. They definitely have more talent, but OSU had more heart Saturday.
Personally, I'm glad Bedlam is over. I'm not one of those fans who wants to talk about how it's good for the state or traditions or any of that stuff. I mostly hated it. I'm glad I don't have to wrestle with whether I want to deal with it again.
I do have other reasons for thinking OSU is right to not play OU anymore. Rational, thought-out arguments that maybe my boss will have me lay out for you sometime, but for right now I'm just going to say I'm super happy I no longer have to deal with them in person again.
I almost don't go to Bedlam but I'm sure glad I did.