Baylor Bears
Preseason Big 12 Basketball Betting Power Rankings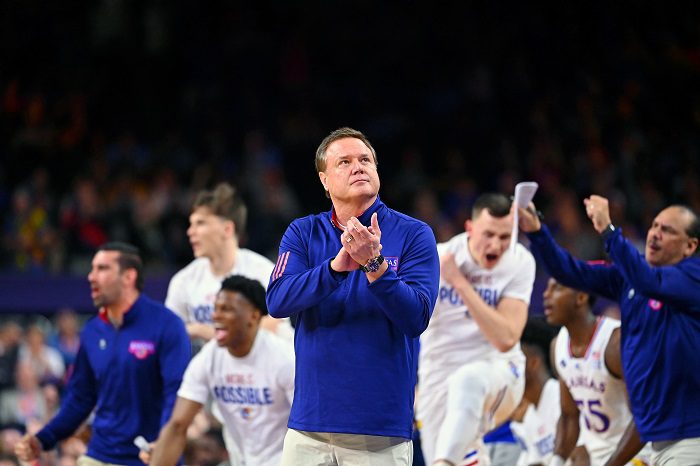 Welcome to the 2023-2024 College Basketball season! We'll check in from time to time on these rankings but here are my power rankings for the Big 12 as the season begins!
1.) Kansas Jayhawks
Bill Self has the best team in America. Veteran-laden, high-end talent and the most talented big guy in the country in Hunter Dickinson will likely lead to yet another 1 seed in the NCAA Tournament for the Jayhawks. It is tough to see anyone knocking off the Jayhawks in the Big 12, I would bet Kansas to win the Big 12 Regular Season Title at +200 at DraftKings Sportsbook.
2.) Baylor Bears
Scott Drew once again has high-end talent in Waco. The Bears will be a very difficult matchup throughout as I expect their defense to improve after a surprising down year on that side of the court last season. The large amount of athleticism will lead to another 25+ win campaign in Waco with the possibility of making it to the third weekend of the NCAA Tournament.
3.) Texas Longhorns
The next three teams are basically rated the same in my book but I give Texas the edge over Houston and TCU because of the amount of returning talent the Horns have in the frontcourt. Dillon Mitchell, Dylan Disu, and Christian Bishop should all have a large hand in the Horns being a second-weekend team yet again. I do have concerns about Rodney Terry long term but for his first season as the permanent coach, Terry should have an elite team yet again.
4.) Houston Cougars
There is no doubting Kelvin Sampson, he's a Top 3 coach in America and turned a dormant basketball program into a National Power. I am concerned about how the Cougars handled the step up in competition as they were playing conference games against mediocre teams in the AAC the past few seasons. The backcourt of Baylor Transfer LJ Cryer and Jamal Shead will give Houston a chance to compete at a high level yet again.
5.) TCU Horned Frogs
The Horned Frogs are going to be a hard-nosed tough out yet again. Jamie Dixon was able to get a great replacement for Mike Miles in Jameer Nelson Jr. I expect Emanuel Miller to take a huge step forward and it would not shock me if Miller ends up being in the conversation for Big 12 player of the year. The Horned Frogs will once again be a good NCAA Tournament that will have a chance to make the second weekend.
6.) Kansas State Wildcats
Entering the middle of the league with Kansas State. A magical first season for Jerome Tang in Manhattan ended one step short of the Final Four but now the Cats have to replace the great backcourt of a year ago. If K State is going to be at the top of the league, North Texas transfer Tylor Perry is going to need a massive season like Nowell had a year ago.
7.) Iowa State Cyclones
Iowa State will play elite defense yet again like they did last season but they should have a better offense than they had a year ago. The new-look offense should be able to vault the Cyclones into being a legitimate threat to beat anyone in the league on any given night. Expect the Cyclones to be in the NCAA Tournament and have a chance to really scare a top seed in Round 2.
8.) Texas Tech Red Raiders
A new era in Lubbock as Grant McCasland comes over from North Texas. McCasland's teams in Denton were known for playing an absurdly slow pace but they were usually efficient on offense and played some of the best defense in the country. Texas Tech will have good guard play thanks to transfers Devan Cambridge and Joe Toussaint but I have concerns about the rest of the roster.
9.) Oklahoma State Cowboys
Teams 9-12 in the Big 12 are very similar but I give Oklahoma State the slightest of advantages over Oklahoma, West Virginia, and Cincinnati due to the fact that I think Mike Boynton is the most underrated coach in the Country. I would like to see the Pokes be a little more consistent on a game-to-game basis but I like their upside to be a tournament team in 2024.
10.) Oklahoma Sooners
Year three in Norman is going to be critical for Porter Moser as his first two years have been a bust. For the Sooners, they got more athletic in the transfer portal this offseason but anything short of Moser's first NCAA Tournament appearance with OU will lead to his seat being very hot this offseason.
11.) Cincinnati Bearcats
I would have the Bearcats as the highest team in this group if Aziz Bandaogo had won his NCAA appeal but unfortunately for Cincy, he did not. I like Wes Miller and I expect UC to be a hard out in the conference but they just don't have the talent to finish off games against the great competition in this league.
12.) West Virginia Mountaineers
The Mountaineers are talented but it is hard to go through all of the turmoil that the program went through this offseason and come out the other side well. I am a fan of Jesse Edwards and he should have a huge year but any team that has to rely on Kerr Kriisa is asking for problems. Kriisa was a human blackhole at Arizona and the Wildcats were a better and more efficient team when he wasn't on the court.
13.) BYU Cougars
The final teams on the list are just not up to playing in a league of this quality. BYU had a very disappointing season last year and going from the WCC to the Big 12 will not help the Cougars for this year. Maybe Mark Pope will improve the team and have them in better shape for 2024-2025 but I see an under .500 campaign for 2023-2024.
14.) UCF Knights
UCF went 8-10 in AAC play last year and they look to replace half of their roster and lottery pick Taylor Hendricks. It will likely be tough sailing for the Knights and anything about a Top 12 finish would be a surprise.