Baylor Bears
Big 12 Football Week 10 Power Rankings: Oklahoma State Rising, Sooners, BYU Keep Falling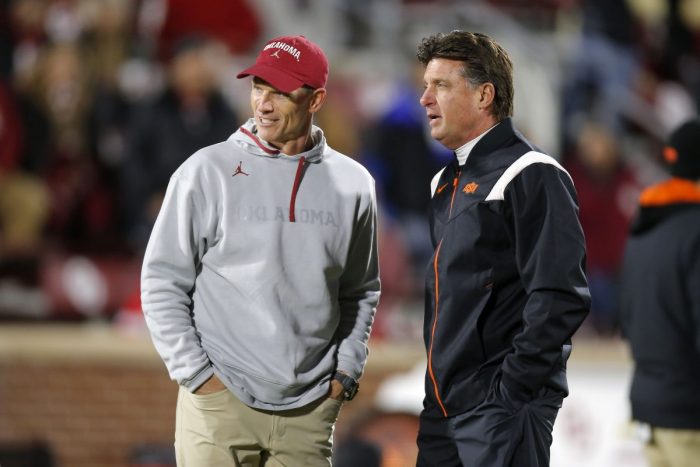 The 2023 college football season is underway with the Big 12 Conference having some wild games to highlight Week 9, including an 18-game losing streak coming to an end between Kansas and Oklahoma.
So now it's time for our Big 12 Power Rankings. Here's a reminder on how I've done this for years: It's about how your team looked and how it played, not always about if your team won or lost. Plus, last week's rankings have little impact on this week's. That's what makes this fun. These are also not predictions for the way the season will end, just Power Rankings based on the most recent performances.
So with that being said, here are our Week 10 Big 12 football Power Rankings.
1. Oklahoma State Cowboys (Last Week: 5)
Yes, there's a new No. 1 this week! Wow. What a win for the Cowboys. It's really this simple: Oklahoma State is playing the best football in the league right now. They've won five in a row, just beat a Top 10 Oklahoma team (who beat Texas), and are in a great position to end up in Arlington for the Big 12 Championship. Yes, they lost to South Alabama. It was an awful loss. But that was nearly two months ago now. Times have changed.
2. Texas Longhorns (Last Week: 1)
Texas didn't do anything wrong to get bumped out of the top spot. It's more about what the Cowboys are doing. Also, UT nearly blew their game against K-State on Saturday and Maalik Murphy looked more and more like a freshman as the game went on. These are the reasons I'm giving Oklahoma State the edge for the top spot. But of course, UT has the strong defensive line unit in the conference and at 5-1 are tied for first place in the league with three games to play. But the sooner they get Quinn Ewers back, the better.
3. Kansas Jayhawks (Last Week: 2)
Kansas keeps rolling after a solid victory in Ames on Saturday night. Those are never easy to come by. They did it with strong play from Jason Bean through the air and defense, highlighted by a pick-six that put the Jayhawks up 14-0 early. KU has now won back-to-back Big 12 games for the first time since 2008, which is also the last time they reached the seven-win mark.
4. Oklahoma Sooners (Last Week: 3)
The Sooners have now lost two games in a row against Kansas and Oklahoma State. The offensive play calling remains perplexing, the defense isn't what many thought it would be earlier in the season, and the penalties continue to pile up (including from the head coach, which is inexcusable). OU's hopes of a CFB Playoff appearance are over, but they still can reach a Big 12 Championship Game. However, they will need some help.
5. Kansas State Wildcats (Last Week: 6)
Kansas State came storming back against Texas on Saturday in a game they could have won had they adjusted their game plan earlier than they did. Collin Klein insisted on trying to establish the running game against Texas' stout defensive line, which was an abject failure. Once they opened it up with the passing game, they mounted a big comeback. Imagine how the game might've gone had Klein changed his game plan earlier?
6. Iowa State Cyclones (Last Week: 4)
The Cyclones saw their three-game winning streak come to an end on Saturday against Kansas at home. Some want to point to the officiating. Unfortunately, there was a pick-six and an inability to run the ball (2.5 ypc) against a suspect rushing defense that resulted in Iowa State losing this game. It's a tough final stretch for the Cyclones, with a road trip to BYU, followed by Texas and Kansas State. This is when we will find out who this team really is.
7. West Virginia Mountaineers (Last Week: 7)
West Virginia just might be the team we still aren't talking enough about after their dominant win vs. BYU improves them to 4-2 in league play with a road game at Oklahoma this week. The loser is out of the Big 12 title race, the winner stays in the mix. Who predicted this back in August? Congrats to Neal Brown, this team has been fun to watch and the RB duo of CJ Donaldson and Jaheim White is coming on strong.
8. Texas Tech Red Raiders (Last Week: 10)
The Red Raiders are still one of the more disappointing teams in the Big 12, but heck, they got back in the win column this week with Behren Morton back at quarterback, which they desperately needed. Alongside the efficiency in the passing game, it was refreshing to see running back Tahj Brooks get 31 carries. This was a good win for Texas Tech.
9. TCU Horned Frogs (Last Week: 8)
TCU is a team that is now on the outside looking in on making a bowl game one season after playing for a National Championship. The Horned Frogs fell to Texas Tech on Thursday night and have to win two of three against Texas, Baylor, and Oklahoma to reach bowl eligibility. TCU had a lot of transfer portal talent come in this offseason that just hasn't met expectations. We'll see if they can finish strong.
10. Houston Cougars (Last Week: 11)
Credit to Dana Holgorsen and the Cougars. They got blasted by K-State last week 41-0 and bounced back with an overtime road win against Baylor. Granted, Baylor stinks, but Houston needs to build confidence in its first Big 12 season and every win does that. And heck, this team is a 2-1 finish away from getting to a bowl game. That would be huge for the program in Year 1 in the league.
11. BYU Cougars (Last Week: 9)
BYU has lost its last two games against "old" Big 12 teams by a combined score of 72-13. It's a mess in Provo. Even in the two Big 12 games they won, they were outgained in total yards and had to take advantage of mistakes. They don't have Big 12 quarterback play right now needed in the league, and the line play is bad on both sides. They've only racked up three sacks in six Big 12 games and have given up 11.
12. UCF Knights (Last Week: 13)
UCF is in the win column after heading to Cincinnati on Saturday. The Knights can certainly run the ball, that hasn't been an issue all season, the problem is they don't really know how to stop it. And now, they have Ollie Gordon coming to town this weekend. That should be interesting.
13. Baylor Bears (Last Week: 12)
Baylor is officially in dumpster fire mode after their loss to Houston at home in front of an embarrassing home crowd for the Bears. Baylor stinks in the trenches and is potentially starring down the barrel of a 3-9 season. Dave Aranda's seat should be warming, if nothing else.
14. Cincinnati Bearcats (Last Week: 14)
Cincinnati remains the only winless team in the league after falling to UCF at home 28-26 on Saturday. The Bearcats simply don't have the QB play to compete in the league right now. On top of that, they're undisciplined, which Coach Satterfield alluded too after the game, saying, "It pointed to a very undisciplined football team and that pisses me off. We've been that way and that's on me and we're gonna get that fixed." Cinci has a long ways to go.