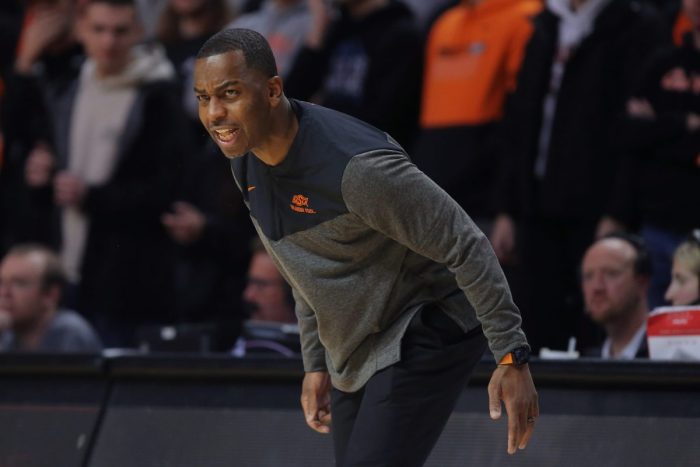 The Big 12 Conference is set to begin its men's basketball season on Monday and that means 14 coaches get to work trying to get to March Madness.
This highly competitive league features 14 of the best coaches in the country. Every year, we talk about the hot seat. Frankly, in this league there are no coaches that have a piping hot seat like a Neal Brown for West Virginia football.
But, there are four coaches whose job status are worth watching as this season unfolds.
Porter Moser, Oklahoma
Yes, Oklahoma won't be the Big 12's problem after this season. But, Moser is not off to the best start in Norman. Hired to replace Lon Kruger based on his decade of excellence at Loyola-Chicago — including a Final Four run in 2018 — the Sooners are 34-33 in two seasons under Moser. He led them to the NIT in his first season but finished in a tie for ninth in the Big 12 last season.
His biggest problem has been an inability to hang onto talent. Kruger's retirement led to an exodus. But, in his last two roster cycles, Moser has lost talent and depth to the portal. His own gets in the portal have been solid — including Jordan Goldwire — but retaining roster depth has been his biggest challenge.
His job status is complicated by the Sooners' move to the SEC next season. OU doesn't want to enter its new league with a middling basketball program, one that, at the moment, is lagging behind the women's program. If the Sooners are under-.500 again, keep an eye on Moser.
Josh Eliert, West Virginia
Let's be honest. He's already in trouble. He had to replace Bob Huggins, he lost Omar Silviero (transfer waiver denied), Jose Perez (transferred out), RaeQuan Battle (transfer waiver denied for now) and Kerr Kriisa (nine-game suspension for violations that happened at Arizona). Eilert has his work cut out for him as a first-year coach at West Virginia.
He's on a one-year contract and WVU president E. Gordon Gee said this in August to the Daily Anthenaeum:
"Well, I told our basketball coach, if he wins the national championship, we'll extend him another year," Gee said. "I think that he is an interim coach, but I will say, he has hired a young staff, and they've been doing great things. And I have high hopes that they're going to do very well. But you know, our intent is to hire a permanent basketball coach at the end of the season."
It almost seems as if Eliert is set up to fail, even if he succeeds.
Johnny Dawkins, UCF
Of the four coaches of the new Big 12 teams, he's probably the closest to feeling the heat. He's entering his eighth season at UCF, where he's led the Knights to one NCAA Tournament berth and two NIT berths. He's only won 20 or more games twice and he suffered a lot of roster turnover from last season, including losing Taylor Hendricks to the NBA Draft.
The Knights might be the team that struggles the most with the transition to the Big 12. I'm not sure that costs Dawkins his job as he's only suffered one losing season (2020-21). But the Knights want to make a good first impression.
Mike Boynton Jr., Oklahoma State
Find me someone that doesn't like the OSU coach and that will be the first one. Boynton has shepherded the Cowboys through choppy waters since he took over from Brad Underwood and it was seven years ago. He's taken the Cowboys to one NCAA Tournament, two NITs, endured scholarship restrictions and saw his Cowboys banned from the postseason in 2021-22.
But, through it all, Boynton has proven an excellent recruiter as he nailed down Cade Cunningham for a year and has put together an impressive recruiting class this year. But, it's also time for that to translate into consistent success that leads to regular NCAA Tournament appearances. And that's something that wasn't happening before the postseason ban.