Baylor Bears
Kansas State vs. Baylor: Preview, Prediction, and Game Odds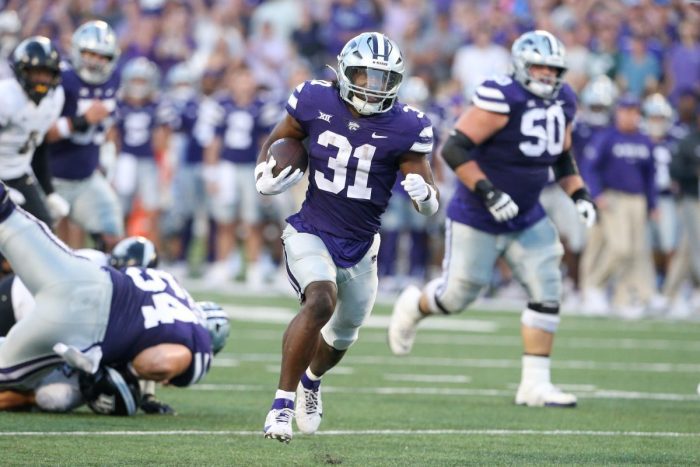 Here is everything you need to know about the upcoming matchup between the Kansas State Wildcats and the Baylor Bears.
GAME INFO
Saturday, November 11th, 2023 2:00 p.m. CT; Bill Snyder Family Stadium; Manhattan, Kansas
TV: ESPN+
Radio: K-State Sports Network (Wyatt Thompson, Stan Webber); Radio: Baylor Sports Network (John Morris, J.J. Joe, Ricky Thompson)
Records: Kansas State (6-3, 4-2); Baylor (3-6, 2-4)
Last Week: Texas 33, Kansas State 30; Houston 25, Baylor 24
Rankings: N/A
Series History: Series tied 10-10
Last Meeting: Kansas State 31, Baylor 3 (2022)
Line: Kansas State (-20.5)
Fun Fact: Both Kansas State and Baylor played in overtime games in the previous week with both squads narrowly losing to Texas schools.
KEY PLAYERS
KANSAS STATE WILDCATS
QB WILL HOWARD
Kansas State senior quarterback Will Howard rediscovered himself after a rocky start to 2023 and now looks like the passer Big 12 fans expected. Howard lit up Texas' secondary in Week 10 throwing for 327 yards and four scores against one of the nation's best defenses. Howard has totaled 1,955 yards and a touchdown to interception ratio of 18-8 in 2023 as he continues his pursuit of the Kansas State single season passing record.
DE KHALID DUKE
The Wildcats pass rush has been nonexistent lately from the defensive line and the player tasked to change that is defensive end Khalid Duke. Duke currently ranks fifth in the Big 12 with five sacks this season but after recording 4/5 through the first four games the unit has been struggling to get to the quarterback. Duke stepped in after the loss of Big 12 Defensive Player of the Year Felix Anudike-Uzomah, and as the next man up at the position, he will need to find some pressures if the Wildcats look to handle business this season.
BAYLOR BEARS
QB BLAKE SHAPEN
The Bears' offensive attack has been disappointing this season, but Blake Shapen has looked pretty good over the last few games, accounting for six total touchdowns. Baylor's offensive line has been bad all season, allowing a Big 12-high 27 sacks on the year. If Baylor is going to have any sort of chance in this game, they'll need to keep Shapen clean, and that'll be easier said than done against a K-State defense.
CB CADEN JENKINS
Baylor has a special talent on the defensive side of the ball with freshman cornerback Caden Jenkins who leads the team with three interceptions. The Texas native has been a turnover machine this season and has a chance to record another turnover in Week 11 with Kansas State having some inconsistencies on offense. Jenkins adds 23 tackles, a fumble recovery, and two pass breakups on the season and will be heavily relied on to slow down K-State's passing attack.
KEY STORYLINES
KANSAS STATE WILDCATS
While a Big 12 title game appearance seems a little tougher following the loss to Texas, will Kansas State sneak their way into the conversation? The Wildcats are currently one game back on the lead but with both Oklahoma State and Texas holding the tiebreaker over the Wildcats the path is a little unclear. Kansas State joins Kansas, Oklahoma, Iowa State, and West Virginia in a five-way tie for third place in the Big 12 Conference behind Texas and Oklahoma State.
BAYLOR BEARS
Will Saturday's game have a big impact on the future of Dave Aranda? While Baylor head coach Dave Aranda is less than two seasons removed from winning a Big 12 title, the Bears have been closer to awful than good for the better part of the past two seasons. While Aranda's seat may not be as scalding hot as West Virginia head coach Neal Brown's was at the start of the year, Baylor needs to figure out what the future of the Bears football program looks like.
PREDICTION: KANSAS STATE 48, BAYLOR 13
Now I'm not a big moral victory guy, but I am a big believer in playing pissed off. Kansas State lost a heartbreaker against Texas in Week 10 which would have put them in the driver's seat back to Arlington. The Wildcats lost in a close contest and while Baylor suffered an overtime loss of their own, I fully expect Kansas State to show up in a big way at home. 20.5-point spread is no problem in my eyes as the Wildcats enter the week a perfect 5-0 at home and have one of the top defenses in the league.