Iowa State Cyclones
Overreaction Monday: Mike Gundy for Big 12 Coach of the Year, OU Has Major Problems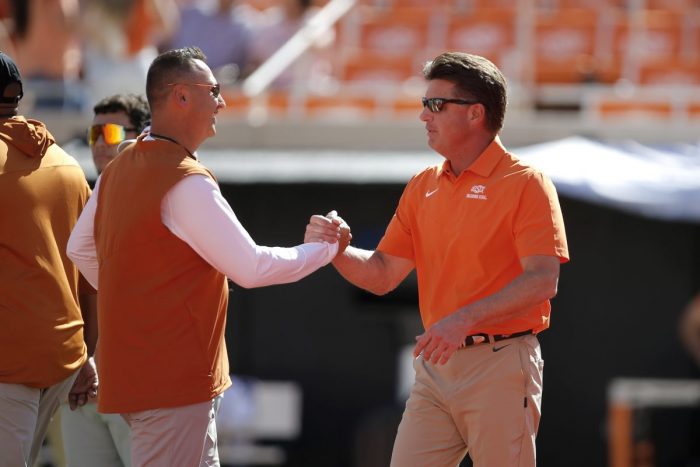 Week 10 provided a great look at what the Big 12 is going to look like at the end of the regular season, and that is one epic conference race.
Oklahoma State and Texas prevailed in huge games this weekend and are now alone at the top of the Big 12 standings a 5-1 in conference play. However, there are still three weekends of action left, and five teams below them at 4-2 just waiting to pounce at a chance to sneak into Arlington.
There are a lot of questions that still need to be answered, but right now isn't the time to think logically.
Let's overreact to what we saw in Week 10.
Mike Gundy is Big 12 Coach of the Year
Not an Overreaction
What a season it has been in Stillwater. Oklahoma State was all but written off in the Big 12 race after its loss to South Alabama, and deservedly so. It appears we were a bit too hasty though, as Mike Gundy has pulled off yet another incredible season after the expectations were low coming into the year.
Gundy said after the South Alabama game that he didn't feel his team had any "major" issues, and, well, it's hard to argue his point now. The Pokes kept their heads down and kept working after that game and found success when they started handing Ollie Gordon the ball 30 times per game.
All he's done since then is become the nation's leading rusher with 1,224 yards and 12 touchdowns on the ground this season, averaging exactly 7.0 yards per carry. Following Gordon's emergence, quarterback Alan Bowman has morphed into the perfect game manager for the Pokes, and an opportunistic defense has forced 13 turnovers in the last five games, including three in their 27-24 victory over No. 9 Oklahoma this weekend.
All of that has combined to give Oklahoma State a tie for first place in the Big 12 standings heading into Week 11. All that stands in their way of a Big 12 Championship berth are wins over UCF, Houston, and BYU, who are 3-14 against Big 12 competition this year.
At this point in time, Mike Gundy should be the frontrunner for Big 12 coach of the year, just ahead of Lance Leipold, considering what he's done in 2023 compared to the expectations coming into the year.
Oklahoma Has Major Issues
Not an Overreaction
My how things have changed in Norman over the last several weeks. Around a month ago, Oklahoma was sitting on top of the world following a win over third-ranked Texas. The Sooners were being ballyhooed as national title contenders in Brent Venables' second year and it seemed inevitable that they would play their way into the Big 12 Championship next month.
Now, heading into Week 11, the Sooners have dropped back-to-back games against Kansas and Oklahoma State, and very well could've lost to UCF the week prior to that. Oklahoma, which had taken care of the football so well in the first six weeks of the year, has lost six turnovers in the last three weeks and all of them have come in the worst possible moments.
Despite sitting at 7-2, it feels like things are on the verge of unraveling in Norman after such a promising start to the season, and the vast majority of Oklahoma's problem has been self-inflicted mistakes. Between penalties, turnovers, questionable personnel decisions, and bad situational play-calling, the Sooners are finding new ways to beat themselves on nearly every drive.
The worst part about it is that the Sooners have played good football in stretches. In Saturday's loss to Oklahoma State, OU's defense held the Cowboys to 6-19 on third and fourth down, 3.8 yards per rush, and averaged a season-best 5.5 yards per carry. Brent Venables has some things to clean up if Oklahoma is going to finish the season on a high note, but there's still plenty to play for in 2023.
The Big 12 Championship is a Two-Team Race
Overreaction
For the first half of the season, it looked as if the Big 12 Championship was going to be a rematch of the Red River Rivalry, but that's become very unlikely at this point, as Oklahoma is plummeting by the week. However, Texas is with Oklahoma State for first place, with everyone else at least a game back with just three weeks to go. So, is that thing all but decided?
It certainly looks like both teams have a manageable path to Arlington, but let's not get ahead of ourselves. Kansas, Oklahoma, Kansas State, West Virginia, and Iowa State are all at 4-2 in Big 12 play, and just one loss from either team throws us into one heck of a race to the finish line.
Both Texas and Oklahoma State are going to be favored in the remainder of their games, but the Big 12 has been one of the most unpredictable conferences in America this season and that's not likely to change.
Oklahoma State travels to UCF, to Houston, and then hosts BYU to finish the year. Meanwhile, Texas will go to TCU, to Iowa State, and finish their season against Texas Tech at home.
With so many teams still vying for one of two spots, the race to the finish line is going to be epic, so it's probably better to just buckle in and enjoy the ride because the one thing that we know about this conference is that the race is never over 'til it's over!