Big 12 News
Kansas Looks Worthy of No. 1 Ranking with 99-56 Win over NC Central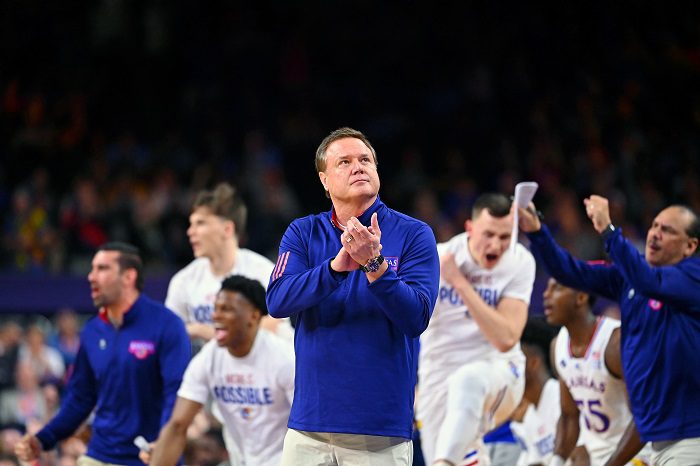 The top-ranked Kansas Jayhawks tipped off their basketball season on Monday night as they welcomed North Carolina Central to Lawrence, Kansas in front of a sold-out crowd at Allen Fieldhouse. There was no mistaking who the better team was early and often in this game as the Jayhawks ran away with a 99-56 win.
Hunter Dickinson, the 7'2" transfer from Michigan, showed why he was the #1 recruit in the transfer portal this past offseason. Dickinson scored seven points, had two rebounds, and one block in the first 90 seconds of his KU career and didn't stop there. Dickinson finished the first half 6-for-7 from the field, including a perfect 3-for-3 from behind the arch. He finished the game with 21 points, eight rebounds, and five assists. His versatility was on full display throughout the game. Kansas head coach Bill Self's new big man looks primed for a huge season and Dickinson's preseason All-American status looks well deserved.
The "Returning Three" (DeJuan Harris Jr, K.J. Adams Jr, and Kevin McCullar Jr) put the rest of the country on notice. Self knew the success of this team would go as far as these three returning starters would take them and one game in, we've seen what this group of guys can do. McCullar led the team in scoring with 22 points. That's something that is different this year as McCullar was more of a roleplayer on offense in the past and focused more on his defensive dominance and as a big effort guy, going after offensive rebounds and loose balls. This year, he's been instructed to be more of a scorer and it showed in the first game of the season.
On the flip side, Harris showed he will once again be one of the best facilitating point guards in America. Harris didn't take a single shot in the Jayhawks dominating win, but he led the team with 10 assists. He added 4 rebounds and a steal as well. While it was unusual Harris didn't shoot the ball, or even get to the free-throw line, it proved that the Jayhawks don't need him to be a scorer. It proved Self can continue to play to his strengths, watching him make incredible passes, and leading the team on and off the court. Adams continues to be a ball of energy and finished with 12 points and five rebounds. His ability to shine as a role player continues to be a positive for this team.
Self decided to run with an eight-man rotation throughout the contest, and the newcomers looked well-adjusted to what was given to them during their first regular season game with the team. Freshman Elmarko Jackson got the start but got into early foul trouble. He finished the game with 8 points and five assists in 21 minutes. Senior transfer guard Nick Timberlake was the first sub off the bench for Jackson and contributed 13 points, including 3-for-4 from behind the arch. Parker Braun, former Jayhawk and current Denver Nugget and NBA Champion Christian Braun's brother, has stepped into the role as direct backup to Dickinson. The 6'10" big man transfer played 20 minutes and finished with 10 points, five rebounds, and three assists. The final piece to the puzzle in this rotation was freshman guard from Australia, Johnny Furphy. Many wondered if Furphy would get into the mix early and he did, getting 17 minutes of playing time and finishing with six points, five rebounds, and two assists. He was 2-for-4 from beyond the arch.
The Jayhawks were even able to get their non-scholarship players into the action late in the game, including former basketball team manager Patrick Cassidy, who was able to log his first five minutes of game time since joining the team. Early in the season, Kansas fans have come to expect the ability to see some of these walk-on players in blowout games, and in the home opener, a 99-56 win was no different.
Yes, it was a big win over a smaller-profile team. This game isn't indicative of what Kansas will look like against tougher competition. However, it does show what Kansas can look like this season when they are clicking on all cylinders. Self has his eight-man rotation ready to go and each player has a role that will serve this team well going forward. Their next game is this Friday, November 10, at 7:00 p.m. CT. The Jayhawks will host Manhattan, who won a 61-59 thriller to open their season over Bryant on Monday night. We'll see if Kansas can put together another performance like they did in the opener. It wouldn't surprise me to see another dominant victory for the Jayhawks and prove once again why they are the No. 1 team in the nation.