Big 12 News
Kansas Makes Bill Self Highest-Paid CBB Coach Ever with Amended Lifetime Contract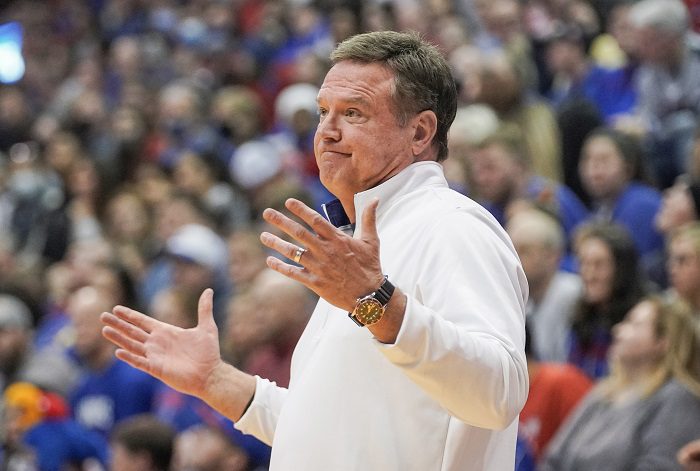 Kansas head basketball coach Bill Self is coming off a challenging year in 2022-23 in which his team fell short of repeating as national champions but also saw Self have to abandon the bench in the postseason after some serious health concerns.
However, Self appeared to be a man of renewed energy and mindset this offseason and his top-ranked Jayhawks were utterly dominant against North Carolina Central on Monday in a 99-56 win.
With Self back where he belongs, and no pressure of an NCAA investigation over his program, the sky is the limit for what KU can do in 2023-24, and it appears the athletic department is fully aware of just how important the head man is to basketball in Lawrence.
On Tuesday, Kansas University announced that the Naismith Hall of Fame coach has signed an amended lifetime contract with the Jayhawks, making him the highest-paid public college basketball coach ever.
According to Steve Berkowitz of USA Today, Self is set to make $9.44M in his first year of the new contract, which surpasses Kentucky head coach John Calipari's $8.5M this season.
"Bill Self is undoubtedly the most consistent coach in college basketball, and a restructuring of his contract terms were long overdue," Kansas Athletic Director Travis Goff said. "In an ever-changing collegiate athletics environment, our strong commitment to Coach Self positions KU basketball to maintain and enhance its status as the most storied program in the country. Over his 20 years at KU, our men's basketball program has been a primary source of positive alumni engagement, strong university enrollment, and revenue that has helped fund all other Kansas Athletics programs and invest in all 500 student-athletes every year. With him and his staff at the helm of our basketball program, the future of Kansas Athletics has never been brighter."
Over the course of his illustrious career, Self has 773 career wins, two national championships, 20 conference championships, 18 first-round NBA Draft picks at Kansas, and four National Coach of the Year honors. There's no doubt that he will go down as one of the greatest to ever do it, and his future with KU looks as bright as it ever has.
"I am very appreciative to Chancellor (Douglas) Girod, Travis Goff and the entire KU leadership team for their continued belief and confidence in me and my staff to lead this storied program," Self said. "I know the Chancellor and Travis are as excited as I am about the future of Kansas Basketball. There has never been a better time to be a part of our athletic department and this program. My family and I are so proud to be at this university, and I am looking forward to many more seasons representing the most passionate fan base in the country.
"There's no place like Kansas."