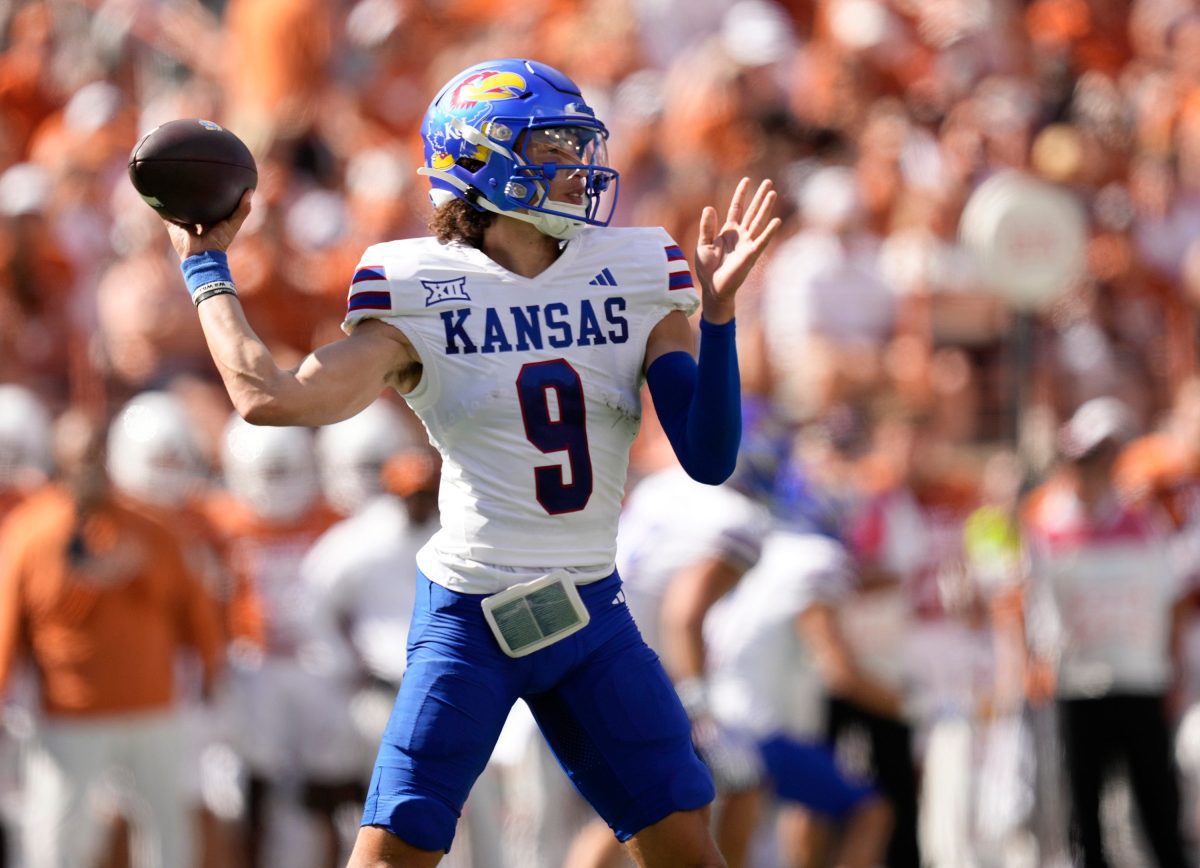 Here is everything you need to know about the upcoming matchup between the Kansas Jayhawks and the Texas Tech Red Raiders.
GAME INFO
Saturday, November 11th, 2023 11 a.m. CT; David Booth Kansas Memorial Stadium; Lawrence, Kansas
TV: FS1
Radio: Jayhawk Radio Network (Brian Hanni, David Lawrence, Brandon McAnderson); Texas Tech Sports Network (Brian Jensen, John Harris, Chris Level)
Records: Kansas (7-2, 4-2); Texas Tech (4-5, 3-3)
Last Week: Kansas 28, Iowa State 21; Texas Tech 35, TCU 28
Rankings: Kansas No. 16 (CFP); Texas Tech unranked
Series History: Texas Tech leads 22-2
Last Meeting: Texas Tech 43 Kansas 28 (2022)
Line: Kansas (-3.5)
Fun Fact: While Texas Tech has a commanding lead in the head-to-head series, Kansas has a chance to record their first eight-win season since Mark Mangino in 2008.
KEY PLAYERS
KANSAS JAYHAWKS
QB JASON BEAN
While Kansas fans have been eagerly awaiting the return of Jalon Daniels, backup quarterback Jason Bean is beginning to look more and more comfortable as the team's main signal-caller. While the injury to Daniels has been a bit quiet in terms of weekly updates, Bean has made the most of it and has the Jayhawks well on their way to the best season since 2008. Bean has thrown for 1,418 yards this season and a touchdown to interception ratio of 10-4. The Texas native continues to make strides in the passing game and should be a player to watch against Texas Tech.
DE AUSTIN BOOKER
Sophomore defensive lineman Austin Booker has been incredible for the Jayhawks defense this season and could become a game-wrecker against Texas Tech. Booker currently ranks fourth in the Big 12 Conference in sacks with six on the season. The Minnesota transfer has helped to reform the Jayhawks' defense, alongside a veteran secondary, with one of the better pass-rushing units in the Big 12. Booker now looks to Texas Tech and their reworked offensive line in Week 11 and has a serious chance to impact the game.
TEXAS TECH RED RAIDERS
QB BEHREN MORTON
Injuries at the quarterback position have plagued the Red Raiders all season long with three different quarterbacks taking the field, but with sophomore signal caller Behren Morton back in the lineup, Texas Tech should find a bit more consistency. Morton has completed 96 passes for 978 yards this season and a touchdown to interception ratio of 10-2 in six games of action. The Texas native had an impressive day against TCU in Week 10 and has a chance to make headlines again in Week 11.
LB BEN ROBERTS
True freshman linebacker Ben Roberts has been a huge bright spot for the Red Raiders defense this season and currently checks in as the league's fourth-ranked tackler. Roberts' 72 stops this season only trail Nikolas Martin (92), Jason Johnson (80), and Danny Stutsman (73). While Roberts has been an impressive sideline-to-sideline tackler this year he's also forced three total turnovers with an interception and two forced fumbles. The freshman linebacker will have a tough task in Week 11 attempting to slow down Kansas' solid rushing attack.
KANSAS JAYHAWKS
How far can this team go? The Jayhawks have already recorded the most wins since the 2008 season with an overall record of 7-2, and while the team continues to make headlines for their impressive turnaround, seven wins is hardly their ceiling. The Jayhawks check in as the 16th-ranked team in the country with two losses coming against Texas and Oklahoma State who both rank inside of the top 15. Lance Leipold and the Jayhawks have a shot at an incredibly special season this year and will now have to get over their struggles against Texas Tech in order to keep the momentum rolling.
TEXAS TECH RED RAIDERS
Will Texas Tech make a bowl game? The Red Raiders currently sport an overall record of 4-5 on the season and will need to win two of their last three games to earn a bowl game appearance. The only issue with the Red Raiders earning bowl eligibility is that two of their last three opponents are ranked inside the top 25. Texas Tech takes on Kansas, UCF, and Texas to close out the season and will have to make some big plays in order to take down the three remaining tasks.
PREDICTION: KANSAS 48, TEXAS TECH 31
Kansas finally gets in the win column against the Red Raiders taking home their first win against the program since 2019. The powerful rushing attack continues to impress with big days from Devin Neal, Daniel Hishaw, and Jason Bean. Texas Tech should start off a bit better out of the gates with their quarterback continuing to get healthier but I just don't believe that this team has the talent to match Kansas. Leipold and company earn their eighth win of the season.