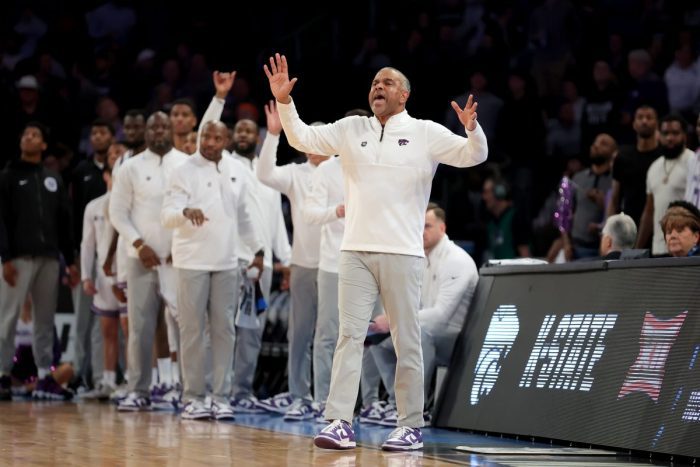 The Kansas State Wildcats lost to the USC Trojans, 82-69, in the season opener for both teams at the Hall of Fame Series in Las Vegas, Nev., on Monday.
The Wildcats (0-1) underperformed shooting the ball on Monday, but transfer guard Tylor Perry led with 22 points, while Cam Carter had 15 points and forward David N'Guessan added 10 points.
The No. 21 Trojans (1-0) got 24 points from guard Boogie Wells, while highly-touted freshman guard Isaiah Collier added 18 points before fouling out.
Here are three thoughts on the game.
K-State's Cold Shooting Touch
Kansas State had one significant problem on Monday — shooting. Field goal shooting, 3-point shooting, free throw shooting — it didn't matter.
Well, I take that back. The free-throw shooting was solid. The Wildcats were 70 percent and early on that kept them in the game.
But the field-goal shooting and the 3-point shooting never came around.
Kansas State shot 31 percent from the field and 24 percent from the 3-point line. The shooting only got marginally better in the second half, and both Perry and Carter sparked a quick mini-run for Kansas State down 10. But it didn't last long.
USC's shooting also got better from half to half, and it operated more efficiently from the start. The Trojans shot 52 percent for the game, and that included a 55 percent clip from the field in the second half. The Trojans made fewer 3-pointers (five) than Kansas State (eight) but because the rest of their shots fell, it didn't matter.
Even if Kansas State had been able to turn it around in the second half, in retrospect the hill was already too steep. Here's the proof. After Collier left the game due to fouls, Kansas State went on an 11-1 run. It only cut the USC lead to eight points with 2:21 left.
The good news is that these Wildcats should be much better shooters this season. This seems like more of an aberration than a trend.
Board Work
One impressive part of the game on Monday was Kansas State's work on the glass.
The Wildcats outrebounded the Trojans, 44-41 overall. But, on the offensive end the Wildcats were superior, outboarding the Trojans 23-10. That bodes well given the Wildcats were shorthanded inside on Monday.
N'Guessan had a double-double with 10 rebounds. Arthur Kaluma, in his Kansas State debut, had nine rebounds. Perry had six and Carter had five.
In spite of the poor shooting, it was a great team rebounding performance against a USC team that outscored Kansas State, 50-28, in the paint.
Who Wasn't There
You want to have your entire team together for the first game of the season. But neither team was at full strength.
The Wildcats knew forward Nae'Qwan Tomlin would not play. He's been suspended indefinitely after an off-campus incident at a bar last month led to his arrest. But, hours before tip-off, it was reported that Ques Glover, who transferred to K-State just after the start of the semester, is now out six to eight weeks with a knee injury.
That's 25 points per game from a season ago not in the game. Kansas State could have used that. But you just want them back, even if you have to wait a while.
Meanwhile, USC freshman guard Bronny James was out of the game after he suffered a cardiac arrest in the summer due to a congenital heart defect. ESPN reported during the game that James could has a check-up coming at the end of November and, if cleared, could start practice with USC in December.
Perhaps we can get a March Madness matchup between these two teams when they're at full strength? One can only hope.
iframe src="https://app.e2ma.net/app2/audience/signup/1986400/1964875/" width="510″ height="500″ frameborder="0″>
You can find Matthew Postins on Twitter @PostinsPostcard.