featured
Tuesday Takes: The Big 12 Race, CFB Playoff, Big 12 Coach of the Year Candidates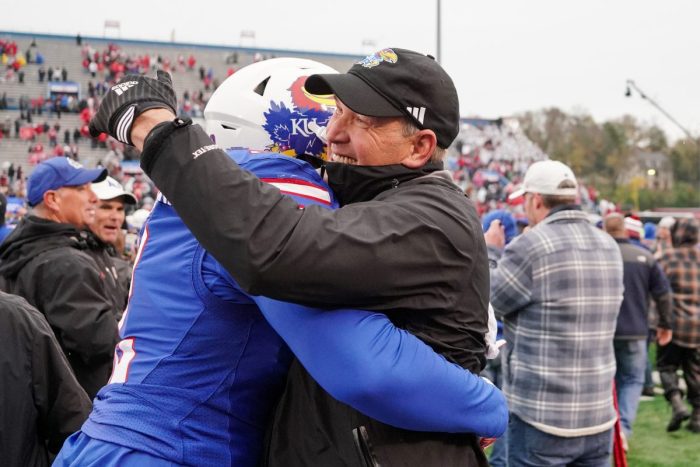 Tuesday is the final day of the week during the college football season in which it is acceptable to look back on the previous week's action and draw conclusions. When the clock hits midnight and Wednesday is officially here, it is your responsibility as a fan to start the countdown to Saturday and start getting prepared for what comes next.
But for the time being, we are going to finish up relishing, or loathing, what happened on the most recent Saturday of action, and that is just what we will do on Tuesday Takes.
Each week, I will give you three definitive facts (otherwise known as my opinions) that I've formed over the last couple of days. So without further ado, here we go.
The Big 12 Race Ain't Over
In a monumental Week 10, we saw Texas and Oklahoma State pick up massive wins over Kansas State and Oklahoma to separate themselves as the top two teams in the Big 12 standings heading into Week 11. Texas held off K-State after the Wildcats stormed back from a 27-7 deficit to send the game to overtime, with the Longhorns holding on a 4th-and-goal try when Chris Klieman opted to go for the win.
Oklahoma State took down Oklahoma in the final Bedlam matchup in Big 12 history with a terrific game from Alan Bowman. The Sooners had several chances to take control of the game, but made several critical errors throughout the game and the Cowboys were able to capitalize.
So, with both UT and OSU sitting at 5-1 in league play, and with manageable schedules ahead of them, this race is starting to wind down, right?
Not so fast my friend. With what we've seen from the Big 12 in past years and to this point in the 2023 season, I'd say nothing is set in stone until the two teams get off the bus in Arlington. There's not a dominant team in this league, and that means that for the next three weeks, there's a chance that one of the two teams in the lead could fall. If that happens, watch out.
Five teams are sitting at 4-2 in Big 12 play, and with one loss from either Oklahoma State or Texas, a two-horse race becomes a seven-team race once again. Buckle up guys, it's going to be a fun finish!
The Big 12 Gets Left Out of the Playoff
If Texas loses a game, this is a moot point, but I'm going to go out on a limb and say that the Longhorns are getting left out of the Playoff regardless, as insane as that might sound. Here's why.
Let's just say that Texas wins out and picks up a Big 12 Championship on the way out the door. There they sit, at 12-1, looking undeniably like one of the four best teams in the country, especially with a nonconference win over Alabama. However, Texas hasn't looked dominant at any point and has won a lot of close games to finish the year.
Meanwhile, Georgia just finished running the table and beats Alabama in the SEC Championship. At 13-0, they're in. Florida State runs the gauntlet and gets to 13-0. They're in. Michigan/Ohio State gets through the season unscathed and is in as an undefeated Big Ten Champion.
Now, the Pac-12 Champion is in consideration. Washington enters the game undefeated and ranked inside the Top 4, but faces an 11-1 Oregon team that has been on a roll. The Ducks beat Washington, negating their only loss of the year, and moves to 12-1 on the season.
Now, the debate is down to Oregon and Texas. Texas' best win is undoubtedly over Alabama, while wins over Kansas, Kansas State, and Oklahoma State (Big 12 Championship) look good. The Ducks on the other hand have wins over Utah, USC, and Oregon State, plus a win over a Top 4 Washington team. When comparing losses, Oklahoma's plummet hurts the Longhorns, and Oregon's three-point loss to the Huskies has now been avenged.
Texas gets the No. 5 spot and is on the outside looking in, and the Pac-12 sends a team to the CFP in its final swan song, making ESPN and its executives so, so happy.
There are Plenty of Big 12 "Coach of the Year" Candidates
Man, what a year it has been in the Big 12. We've seen 10 weeks of action, and a lot of ups and downs throughout the conference. However, there are some big time coaching performances happening around the league, and it's due time that they start getting some recognition for it.
First and foremost, Oklahoma State head coach Mike Gundy has commandeered one hell of a turnaround in Stillwater. Back in September, South Alabama came into Boone Pickens Stadium and walked all over the Cowboys, and now Gundy's got this team playing with confidence and swagger heading into the home stretch. If he can get them to 10-2 and into the Big 12 Championship after what happened this past offseason in the transfer portal, I don't think there's any question that his name should be at or near the top of every ballot for Big 12 Coach of the Year.
Another coach that would deserve credit if he were to get his team to 10-2 this season is Lance Leipold at Kansas. The Jayhawks are 7-2 heading into Week 11 and have been without their starting quarterback, Jalon Daniels, for the majority of the season. It hasn't mattered much though, as Jason Bean has stepped in and done a wonderful job keeping the offense rolling in Lawrence. There's a 10-2 finish in the cards here, and if KU can get there, Leipold might be the most deserving candidate.
How about West Virginia's Neal Brown? The Mountaineers were picked to finish dead last in the Big 12 this preseason and they find themselves in a five-way tie for third place entering Week 11. WVU is 6-3 overall and has a couple of tough games remaining on the schedule, but getting to eight or nine wins after many thought he'd be gone by new certainly warrants attention.
Steve Sarkisian's Longhorns can get to 11 wins and pick up a 12th in the Big 12 Championship game, which would put his name up there. Matt Campbell's Cyclones are one win away from bowl eligibility after an offseason filled with turmoil. Oklahoma can get to 10-2 after going 6-7 in Brent Venables' first season.
There have been so many great coaching performances this season, and it just goes to show you how incredibly lucky this conference is to have such a strong group of head coaches, which is arguably the best in the country.