Trending Now
Watch: Lincoln Riley Claims Defense was the "Strength of the Program" During His Time at OU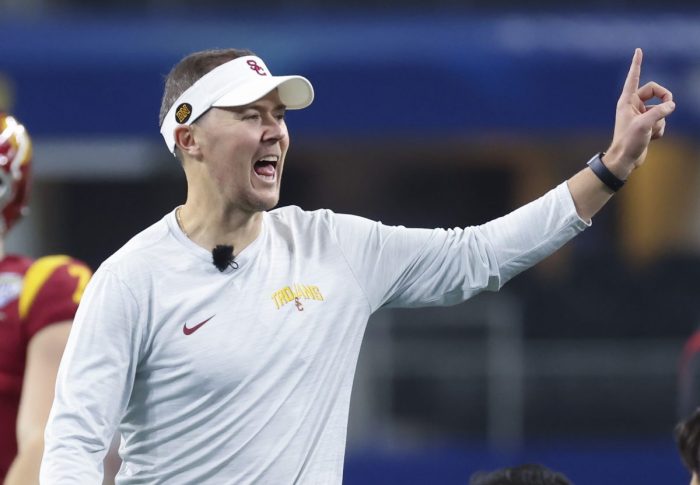 From the time that Lincoln Riley succeeded Bob Stoops as the head coach at Oklahoma in 2017 to today where he is in the middle of his second year at the helm at USC, his name has been synonymous with two things: great offense and bad defense.
During his time with both the Sooners and Trojans, Riley has navigated both teams to plenty of victories but has also been responsible for truly historically bad defensive performances.
During his time at OU, the Sooners ranked 67th (2017), 114th (2018), 64th (2019), 29th (2020), and 76th (2021) in total defense. His defensive coordinator there from 2019-21 was Alex Grinch, who followed him to USC. In the last two seasons at USC, Grinch's defenses ranked 94th (2022) and 124th (2023) before he was dismissed after a 52-42 loss to Washington.
Riley has been able to win so many games though, because he's an offensive mastermind, leading his teams with scoring offenses that ranked as follows: 3rd (2017), 1st (2018), 6th (2019), 6th (2020), 8th (2021), 3rd (2022), 2nd (2023)
With that information in mind, perhaps you'll be as shocked as I was to hear Riley suggest that the "strength of the program" during his time at Oklahoma was the defense, and not a historically great run of offenses.
"I know what it looks like," Riley said about what it will take to have that kind of defense at USC. "I know what the change can look like. And like I said, ironically, Alex [Grinch] was a huge part of that. I mean, I watched a defense when we took over at OU (in 2017), that was not the strength of the program and then I watched in a matter of several months it became the strength of the program. And the chief reason why the last three years of the majority of those wins came on the heels of how well we played defensively."
I'm sorry, but I just don't buy it. Riley won those games at Oklahoma despite his defense, not because of them.
There's no way that Lincoln Riley possesses a brain that can revolutionize the way offenses attack the field while also being delusional enough to believe that defense is what won him games at Oklahoma. I think that credit goes to guys like Baker Mayfield (Heisman '17), Kyler Murray (Heisman '18), Jalen Hurts (Heisman runner-up '20), and Caleb Williams (Heisman '22).
Getting rid of Alex Grinch was absolutely necessary for USC to improve on that side of the ball, and maybe this is Riley's way of trying to help him land a job somewhere else. However, there's simply no truth to that answer.
Riley and USC will head to Eugene to take on No. 6 Oregon on Saturday, with a 9:30 p.m. kickoff scheduled on FOX. The Ducks are favored by 16.5 points at home.