Big 12 Previews
West Virginia vs. Oklahoma: Preview, Prediction, and Game Odds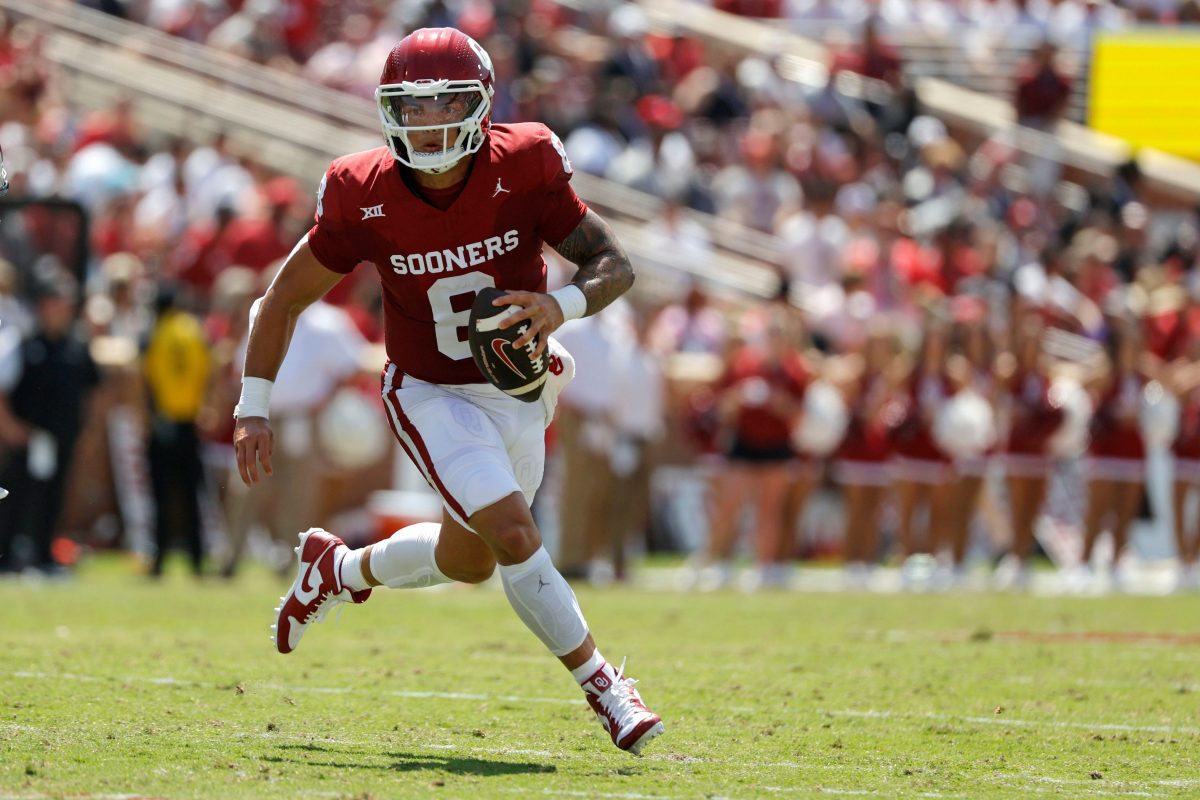 Here is everything you need to know ahead of the matchup between the West Virginia Mountaineers and the Oklahoma Sooners.
GAME INFO
Saturday, November 11; 6:00 p.m. CT; Oklahoma Memorial Stadium; Norman, OK
TV: FOX
Radio: Mountaineer Sports Network (Tony Caridi, Dwight Wallace, Jed Drenning); Sooner Sports Radio (Toby Rowland, Teddy Lehman, Gabe Ikard)
Records: West Virginia 6-3 (4-2 Big 12); Oklahoma 7-2 (4-2 Big 12)
Rankings: West Virginia unranked; Oklahoma ranked No. 17 (AP)
Last Week: West Virginia 37, BYU 7; Oklahoma State 27, Oklahoma 24
Series History: Oklahoma leads series, 11-3-0
Last Meeting: West Virginia 23, Oklahoma 20
Line: Oklahoma (-13.0)
Fun Fact: West Virginia's 23-20 victory over Oklahoma last season was the first win over the Sooners since the Mountaineers joined the Big 12 conference.
KEY PLAYERS
WEST VIRGINIA MOUNTAINEERS
QB Garrett Greene
Last season against Oklahoma, quarterback Garrett Greene led the Mountaineers to an upset victory in Morgantown, passing for one touchdown while rushing for a season-high 119 yards and two touchdowns in a 23-20 victory. This season, the Sooners' defense has taken several steps forward but has shown some holes in the secondary over the last few weeks. Can Greene make things work through the air and pull off another victory?
CB Beanie Bishop Jr.
West Virginia cornerback Beanis Bishop has been one of the best cover corners in the nation this season, leading the Big 12 with 17 pass breakups and is second in the conference with four interceptions. With 21 total passes defended, Bishop leads the Big 12 by a wide margin, with K-State's Jacob Parrish second with 12. Against Dillon Gabriel and Oklahoma, Bishop will be tested downfield and will need to be on his best game to keep the Sooners' offense from getting back on track.
OKLAHOMA SOONERS
QB Dillon Gabriel
Oklahoma quarterback Dillon Gabriel has been excellent this season but has an interception in each of the Sooners' last three games. With five interceptions on the year, that points to a bit of a dip in efficiency for the OU passing game. Still, Gabriel has completed 71.3% of his attempts for 2,646 yards and 20 touchdowns to five interceptions, adding a career-high eight rushing touchdowns on the ground this year. Getting back on track offensively will be key to Oklahoma's success for the rest of the season, and it's got to start with Gabriel.
LB Danny Stutsman
Last week, Oklahoma was missing its best defensive player with Danny Stutsman sidelined with an ankle injury. In his stead, freshman Kip Lewis stepped in and had a game-high 15 tackles and looked terrific throughout. In the wake of that performance, it appears that Lewis might've earned a lot more playing time as we advance, and with Stutsman likely back in the fold, that means Jaren Kanak might see fewer snaps than he's seen to this point. With Lewis and Stutsman on the field going forward, the OU linebacker group looks strong, as long as they can stay healthy.
KEY STORYLINES
WEST VIRGINIA MOUNTAINEERS
The West Virginia offense has exploded over the last four games, averaging 37.8 points per game in that stretch. However, those four games have been against Houston (14th in Big 12), Oklahoma State (6th), UCF (12th), and BYU (9th), who haven't been among the best in terms of scoring defense in the Big 12. This week, they'll face Oklahoma, who is allowing 19.8 points per game, which ranks third in the Big 12 and 27th nationally. Can the offensive firepower keep going for West Virginia, or will they find it more difficult against a much-improved defensive unit in Norman?
OKLAHOMA SOONERS
The Sooners' offense has been very inconsistent over the last few weeks, and a vast majority of it has been self-inflicted mistakes. Over the last two weeks, Oklahoma has had six turnovers and six false starts, which both attributed in big ways to back-to-back losses. In terms of efficiency, the Sooners have been fantastic all season, but the mistakes have absloutely killed them as of late. If OU can get back to playing clean football and nix the turnovers and pre-snap penalties, they'll have a great chance of finishing strong in 2023. However, they'll need to get that started this week to avoid a third straight loss.
PREDICTION: Oklahoma 33, West Virginia 20
The last couple of weeks have been tough for Oklahoma, and getting back in front of a home crowd on Saturday night feels like a chance for this team to recenter themselves and get back on the horse. West Virginia is coming in with a ton of confidence though, and will be a tough out for the Sooners. This is going to be a physical game, and the team that sets the tone early is likely the one that will come out on top. Oklahoma hasn't forgotten that it let one slip away against West Virginia last season, and after back-to-back losses, I think they show up with a fire that's been missing for a couple of weeks that will fuel them to a much-needed win.