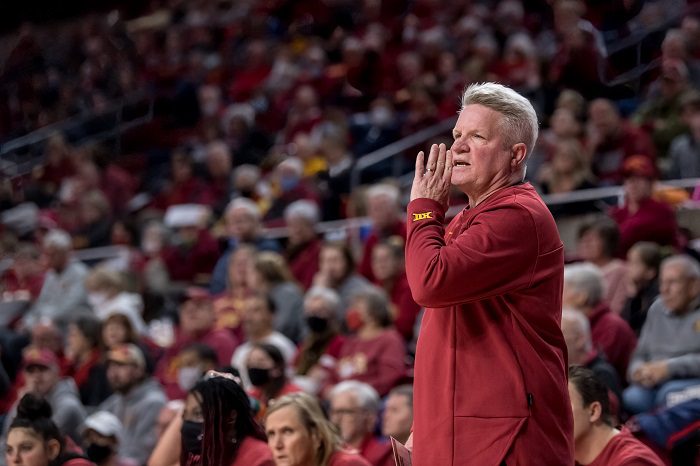 Iowa State women's basketball added two players to its backcourt on the first day of the early signing period for the Class of 2024 on Wednesday.
Both Aili Tanke and Reagan Wilson had previously committed to the Cyclones.
Their signings come a year after the Cyclones and coach Bill Fennelly signed one of the best classes in the country and perhaps the best in ISU history with a five-player Class of 2023.
Tanke is an in-state recruit, a 5-foot-11 guard from Johnston, Iowa, and the only member of the two-player class ranked in ESPNW's Top 100. She checked in at No. 98.
During her junior season at Johnston she averaged 15.5 points and 9.3 rebounds per game as she earned First Team All-State and All-Conference honors as she led her team to a state runner-up finish. Johnston has been to the state championship game all three years Tanke has played and won the title her sophomore year.
Five members of Tanke's family have attended Iowa State.
Wilson is a 5-foot-8 guard from Noblesville, Ind. A two-time All-State and three-time All-Conference selection, she averaged 16.9 points, 4.0 assists and 3.4 steals per game her junior season.
Two of her family members have played Division I basketball. Her father, Dean, played two seasons at Alabama and her brother, Evan, is a junior at Akron.
Iowa State defeated Butler in its season opener on Monday, 82-55. The Cyclones don't play again until Sunday when they travel to Drake for a matinee in Des Moines.
The Cyclones host Southern on Nov. 20 before going to the South Point Shootout in Las Vegas during Thanksgiving weekend to face Vanderbilt and Syracuse.