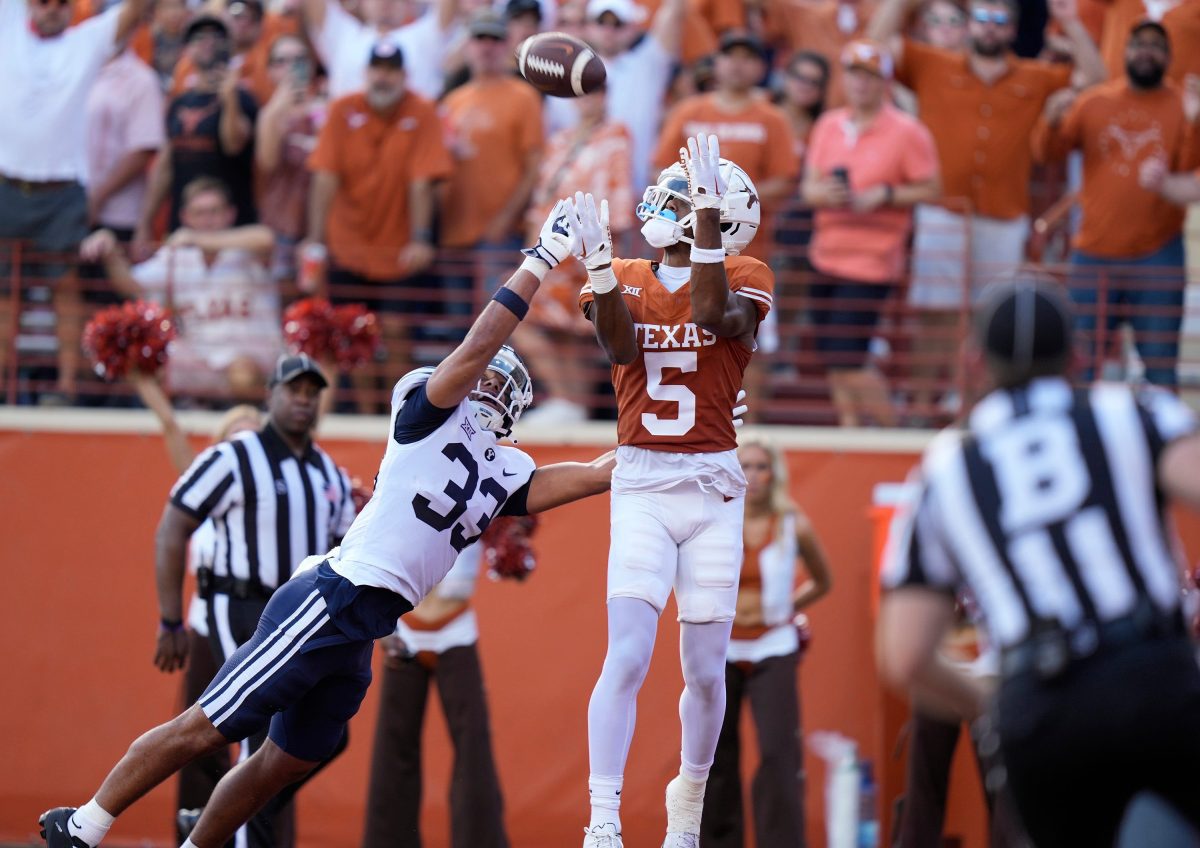 Here is everything you need to know about the upcoming matchup between the Texas Longhorns and the TCU Horned Frogs.
GAME INFO
Saturday, November 11th, 2023 6:30 p.m. CT; Amon G. Carter Stadium; Fort Worth, TX
TV: ABC
Radio: Longhorn Radio Network (Craig Way, Roger Wallace, Will Matthews); Horned Frogs Sports Network (Brian Estridge, Landry Burdine, Chris Blake)
Records: Texas (8-1, 5-1); TCU (3-5, 2-3)
Last Week: Texas 33, Kansas State 30 F/OT; Texas Tech 35, TCU 28
Rankings: Texas No. 7 (CFP); TCU not ranked
Series History: Texas leads 64-28-1
Last Meeting: TCU 17, Texas 10 (2022)
Line: Texas (-10.0)
Fun Fact: Texas and TCU have played in each of the last three centuries and in 14 consecutive decades, with the Longhorns dominating long stretches of the rivalry. However, it's been the Horned Frogs' game as of late, with TCU winning eight of the last 11 matchups.
KEY PLAYERS
TEXAS LONGHORNS
QB Quinn Ewers
Quinn Ewers will make his return to the field against TCU this week after missing each of the last two games with an AC joint sprain. Getting him back is a massive upgrade for the Longhorns' offense, which has been wildly inconsistent with Maalik Murphy at the reins. Ewers has been steady this season when he was healthy, and that's exactly what UT needs to get through the next three games and into a Big 12 Championship.
DT T'Vondre Sweat
The Texas defense line continues to be formidable with defensive tackle T'Vondre Sweat at the middle of it all. Sweat gobbles up blocks in the middle and allows Texas linebackers to roam free and make plays in the running game that will be key against a TCU offense that tries to employ its attack through Emani Bailey. With the offense being up and down under Murphy, UT's defense will need to be the strength of the team until Ewers can get healthy.
TCU HORNED FROGS
QB JOSH HOOVER
it doesn't sound like Chandler Morris is going to be quite ready for this game, which means the Josh Hoover show continues. With just three starts under his belt, Hoover has completed 60% of his passes for 1,148 yards and seven touchdowns, but also seven interceptions. Turnovers are not something TCU can overcome in this game, which means Hoover needs to have a clean game. Unfortunately, Hoover has had at least one interception in every game he's appeared in this year, including two picks in two of their last three games.
LB NAMDI OBIAZOR
Serving as TCU's leading tackler with 72 stops on the season, linebacker Nambi Obiazor has been all over the field for the Horned Frogs, adding 4.0 sacks and two PBU's to his tally. The 6'3″, 225-pound junior out of Eden Prairie, Minnesota, has worked in nicely with Johnny Hodges and Jamoi Hodge this season, and has a very bright future in Fort Worth. This week, his assignment is to keep tabs on Jonathan Brooks, who has a bright future of his own.
KEY STORYLINES
TEXAS LONGHORNS
Can Texas hold on to win a rivalry game without Quinn Ewers? While many outside the state of Texas might not think of this as a rivalry, don't tell the Longhorns or Horned Frogs that. Maalik Murphy will be making his first road start in what should be a hostile environment at Amon G. Carter Stadium. Turnovers and self-inflicted errors have cost Texas in this series in recent years, and those are the kind of things that would get them beat on Saturday. Play a clean game, and go back to Austin at 9-1. Make mistakes, and you could fall into a multi-way tie for second place with as many as four other teams after Friday.
TCU HORNED FROGS
can TCU continue their domination of this rivalry for one more matchup? The Horned Frogs have won all but two matchups since 2014, and more often than not, the wins have come in dominant fashion. there's no doubt that this Texas team is better than the ones we've seen over the last decade, but they are without their starting quarterback and have looked inconsistent on offense without him. If there's anything that can turn around Year 2 under Sonny Dykes, it would be a win over the Longhorns. It will take one hell of a performance, but in this league, who knows what will happen.
PREDICTION: Texas 27, TCU 24
With Quinn Ewers out for this game and Maalik Murphy making his first road start, I smell a potential upset here. TCU is going to need to find a way to limit Jonathan Brooks and CJ Baxter if they have any hope of winning this game, and I think they'll do just enough to stay in it. However, a late mistake from Josh Hoover will seal a Texas victory, as the Longhorns escape Fort Worth with a three-point victory and keep pace to make the Big 12 Championship and their hopes for a College Football Playoff berth alive.