Kansas Jayhawks
Three Big 12 Coaches Listed as Names to Watch During Coaching Carousel Season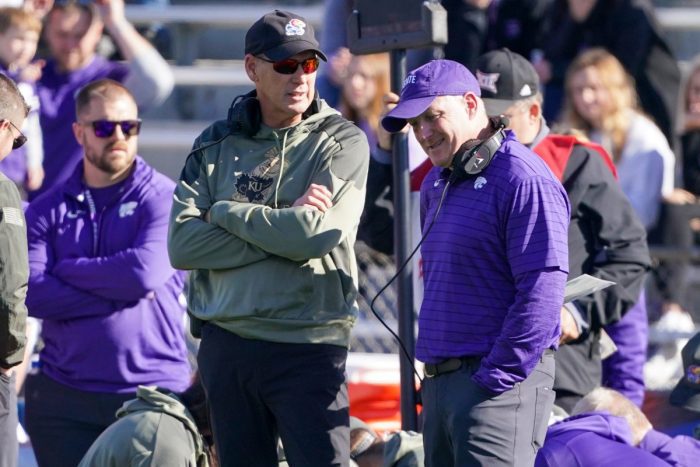 There are three weeks of the 2023 regular season left in college football, which means that Championship Weekend and bowl season are right around the corner.
When the conference championships are wrapped up and the bowl games are set, the transfer portal will open up (Dec. 4) and the offseason will officially begin for some teams. As rosters and coaching staffs change all over the country, there's a very good chance that some major jobs come open somewhere.
When that happens, Big 12 fans get nervous that their coach might be a candidate to take a job somewhere else.
Matt Hayes of Saturday Down South recently shared a list of five "splurge-worthy coaches" to watch when coaching carousel season gets underway in a few weeks. Interestingly, three of the five coaches on his list reside in the Big 12.
According to Hayes, Oklahoma State's Mike Gundy, Kansas' Lance Leipold, and Kansas State's Chris Klieman are all coaches who could move, should the right job come open.
Gundy has been offered the Tennessee job three times during his tenure at Oklahoma State but has stuck around Stillwater for what is now his 19th season. Is there a chance that the 56-year-old would leave his alma mater to take another job? Hayes says there are plenty of believers out there that could see Gundy win big in the right recruiting footprint.
As for Leipold, there's been some smoke concerning the Michigan State job, although he just signed a contract extension with the Jayhawks that promises $100M in upgrades to the facilities Lawrence. Now, at 7-2, Kansas is in the middle of a Big 12 race and could very well find themselves in Arlington is a couple of things bounce their way.
Then you have Chris Klieman, the man over in Manhattan, Kansas, who has brought back the feel of a Bill Snyder-led team. Is there a job out there that could lure him away? According to Hayes, at least one Big Ten athletic director thinks its a possibility.
"[Chris Klieman is] The most intriguing guy out there," a Big Ten AD told Saturday Tradition this summer. "I can see him retiring (at K-State), but I could also see him wanting more. I haven't met a football coach yet who isn't, in one way or another, looking at what's next."
While Hayes' story offers little more than speculation at this time in the cycle, he's absolutely right about that trio of coaches. If and when a job like Michigan, Texas A&M, or Clemson were to come open down the road, there's no doubt that one of those three guys would be on a short list of the top candidates. The biggest question is, can you get one of them to leave a place where they've grown comfortable?