Baylor Bears
What-If Wednesday: Texas vs. Oklahoma State Big 12 Title Happens or Jim Harbaugh Leaves Michigan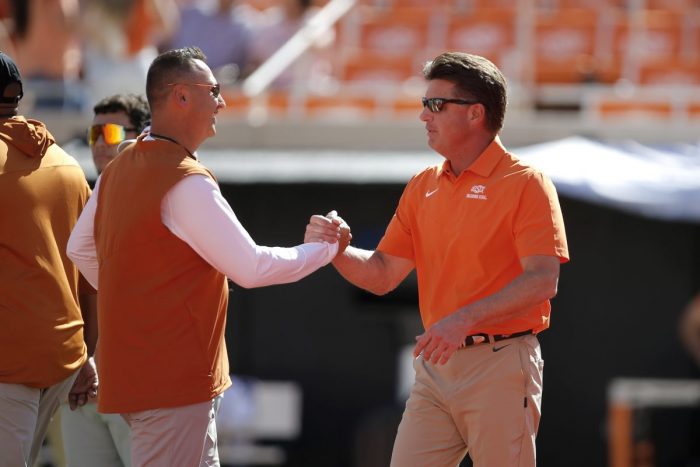 Welcome into our newest feature, we're calling, "What-If Wednesday". In this column, I'll propose a handful of questions that, at this point, have not come to fruition. But IF they do, what will come out of it? What's the end game?
Join us for this one and let's have some fun.
What if Texas plays Oklahoma State in the Big 12 Championship Game?
It will be a dream come true for ESPN.
Now last year, the Big 12 Championship game between Kansas State and TCU drew an average of 9.41 million viewers, which ranks them third out of the conference games, just behind the SEC (10.89M) and Big Ten (10.70M).
For comparison's sake, 2018's Oklahoma vs. Texas Big 12 Championship Game had 10.16 million viewers on ABC.
But, if we get the Texas Longhorns, in their last game in the Big 12, against Mike Gundy and an Oklahoma State team that has become one of the wildest turnaround stories in recent college football memory, the ratings are going to be enormous.
Since the Big 12 has the 11:00 am CST time slot to itself, I could easily see that matchup being the most-viewed conference championship game this season, because also, if Texas is there, it likely means they are still a one-loss team and could be playing for a College Football Playoff berth.
That would be incredible television and drama.
What if Baylor loses the rest of its games?
Then Dave Aranda is officially on hot seat watch.
And it would be well deserved. Aranda has now underachieved in two straight seasons at Baylor. In 2021, he won a Big 12 title, but at this point, it feels like forever ago. Baylor
Baylor has Kansas State, TCU and West Virginia left on the schedule. A 1-2 finish puts them at 4-8 on the season. 0-3 is obviously 3-9. That's brutal. And it's not just the record, it's the fan base bailing on the program, and the lack of enthusiasm that is apparent when watching any Baylor game.
Dave Aranda should not lose his job if the team goes 3-9, but it should mean that 2024 is a season he must turn it around.
What if Jim Harbaugh parts ways with Michigan?
Then expect some Big 12 coaches to enter the rumor mill as potential future head coaches of the Michigan Wolverines.
I'd expect Lance Leipold, Chris Klieman, and Matt Campbell to all be a part of that conversation. I'd rank the order of those three as: Leipold, Campbell, and Klieman.
I think it's better than 50-50 that Harbaugh is still at Michigan next season, but in college football, you just never know what the future holds. What Lance Leipold is doing at Kansas, now No. 16 in the College Football Playoff rankings is just unbelievable, and not getting nearly enough attention. Meanwhile, Campbell has turned it around this season with a young team and is still technically in the Big 12 title hunt with three games left. Plus, he's three years removed from reaching the Big 12 Championship Game. And we know what kind of success Klieman has had at K-State, but of the three, he seems most likely to stay.
That being said, I think all three have strong cases to remain where they are. Leipold has embraced Lawrence, he's gotten KU to open its wallet for football, he's 59 years old and he has a kid playing local high school ball. Campbell has proven every rumor about him dead wrong and remains committed to Iowa State.
So it's not likely for any of them, but if Michigan were to call one of the three, if and when that time comes, it would be hard to turn down.