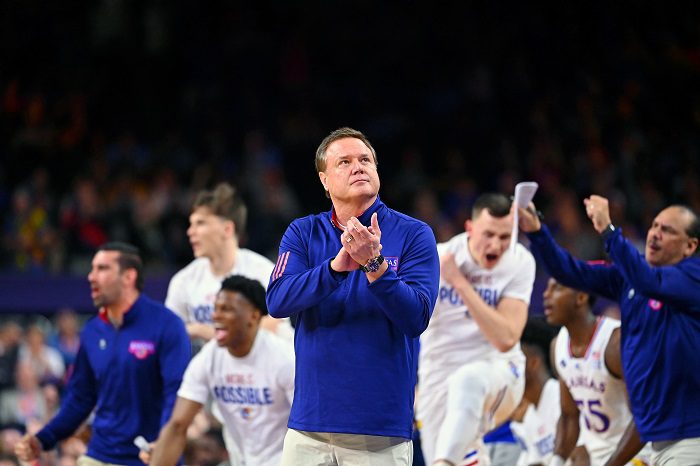 We're just four days into the first week of college basketball season and we already have some Big 12 winners and some losers to sift through.
We've had teams hit the century mark in points, watched a freshman wow the country on national TV, and seen a Big 12 team take a big hit at home.
Every Thursday I'll break down the biggest winners and the biggest losers for the first half of the week. Every weekend, we'll hit the Good, the Bad, and the Ugly in Big 12 basketball.
Winner: Bill Self
He beat the NCAA, just got an amended lifetime contract that pays him more than any college basketball coach ever and his team pile-drived North Carolina Central at home. His future is so bright he's gotta wear shades, you know?
Seriously, 'Payhawks' fans, you're stuck with him. And you might get stuck watching a national championship run come late March and early April.
Loser: Oklahoma State Cowboys
For the second straight year, a WAC team strolled into the Sooner State and beat a Big 12 team. This time, it was Abilene Christian, which upset Oklahoma State in the Cowboys' opener. Last year, it was Sam Houston beating Oklahoma in Norman.
ACU was 13-17 last year and 7-11 in the WAC. So, this was a nice get for the Wildcats.
The Cowboys don't hide from mid-majors, so give them credit for that. Sam Houston hits Stillwater on Sunday (Sam is now in Conference USA). But for a Cowboys team trying to prove it can be more than just an 'average' Big 12 team, this wasn't a good start.
Winner: Yves Missi
Ja'Kobe Walter got the attention during Baylor's game with Auburn on Tuesday. When you drop 28 in your debut and no Baylor freshman has done that, you tend to get attention.
But Missi shouldn't be overlooked. He's a freshman, but he's also a season early. He was supposed to join Baylor in 2024, but he reclassified for the Class of 2023 and is playing for Baylor now.
I honestly wasn't sure what to expect. When a player reclassifies, you almost expect them to redshirt, like JT Rock did at Iowa State.
Missi came off the bench and had a great debut. He played 18 minutes, scored 10 points and blocked two shots. He also had two steals.
At 7-foot, he could give the Bears something they didn't have last season — a legit big man who can score, rebound and protect the rim. Flo Thamba gave them the latter two but not the scoring. A lot of what Missi did Tuesday night was in the flow of the game, so a legit post-up game wasn't immediately clear.
But, these days, big men are running the floor like never before. If Missi can duplicate that every game for the Bears, the trajectory of their season changes a little bit.
Loser: Kansas State
No one should overreact to Kansas State's loss to USC on Monday night. Overall, the Wildcats had a bad shooting night and they're down two players — Nae'Qwan Tomlin and Ques Glover.
Kansas State was one of the few Big 12 men's teams to test themselves in their opening game and while the Wildcats played well in spots, they got a better read on what they need to improve on than where they are. That's useful.
But that's a game the Wildcats would like to have back, especially since the only thing that really stood between KSU winning that game was their shooting.
Winners: Coaching Debuts
If you were a Big 12 coach making their debut with their new team, you had a good opening night.
On the men's side, new West Virginia coach Josh Eilert led the Mountaineers to a 67-59 win over Missouri State on Monday night. It wasn't just his first win at WVU, it was his first win as a head coach.
Then, on Wednesday, new Texas Tech coach Grant McCasland led the Red Raiders to a 73-46 win over Texas A&M-Commerce. He migrated over from North Texas during the offseason.
On the women's side, TCU's Mark Campbell won his first game with the Horned Frogs, leading them to a 76-56 win over Oral Roberts. Campbell is in just his third season as a head coach after two seasons at Sacramento State.
Then, on Tuesday, West Virginia's Mark Kellogg claimed a win in his debut, beating Loyola (Md.), 76-39. Kellogg was formerly at Stephen F. Austin.
The only Big 12 coach that lost in their debut was Katrina Merriweather. The former Memphis coach took over her alma mater, Cincinnati, and the Bearcats lost to Louisville, 77-59. Of course, Louisville was also ranked.
Losers: Big-Time Matchups
Aside from the Baylor men, the Kansas State men, and the Cincinnati women, no other Big 12 team really tested themselves in the season's first three days.
Frankly, we need more of that early in the season. Everyone is going to get their 'buy games' in before Big 12 play begins. We need a lot more impact in non-conference scheduling the first week or two of the season.
Those are the types of things that can generate buzz early in the season when football is still in full swing.
iframe src="https://app.e2ma.net/app2/audience/signup/1986400/1964875/" width="510″ height="500″ frameborder="0″>
You can find Matthew Postins on Twitter @PostinsPostcard.