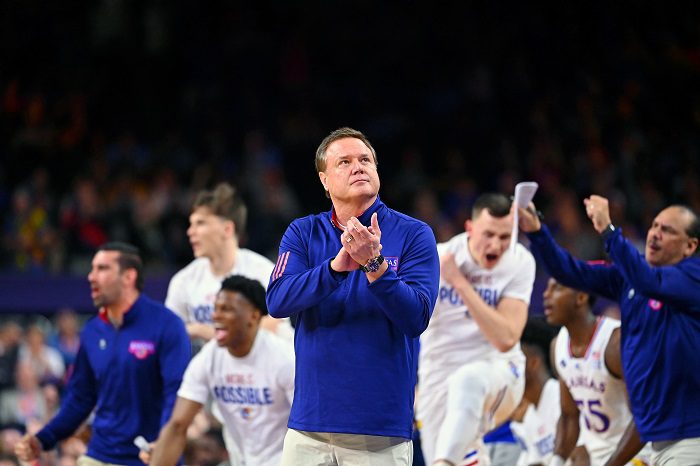 The Kansas Jayhawks men's basketball team finalized its Class of 2024 with the announcement of the signing of center Flory Bidunga on the second day of the early-signing period.
Bidunga was considered a Top 10 recruit by both ESPN and 247Sports.com. He is also considered a five-star player.
The 6-foot-9 center is originally from the Democratic Republic of the Congo and now attends Kokomo High School in Kokomo, Ind.
Bidunga was the 2022-23 Gatorade Player of the Year in Indiana where he averaged 20.2 points, 13.8 rebounds and 4.5 blocked shots last season. He led Kokomo to a 24-5 record and the Indiana 4A state title game.
His sophomore year he averaged 17.5 points, 13.3 rebounds and 5.3 blocked shots per game. He now has 1,059 points, 759 rebounds and 274 blocked shots for his career.
He joins guards Labaron Philon and Rakease Passmore in the Class of 2024, both of who announced their signings on Wednesday.
With Bidunga's signing, the Jayhawks now has the No. 3 class in the country.
The signings come the same week that head coach Bill Self got an amended lifetime contract that makes him the game's highest-paid coach.
Philon, a 6-foot-4 guard, was ranked No. 27 by 247Sports.com and No. 35 by ESPN.com. He will play his final year of prep basketball at Link Academy in Branson, Mo. In three seasons at Baker High School in Montgomery, Ala., he scored 2,334 points.
Passmore, a 6-foot-5 guard, is entering his second season at Combine Academy in Lincolnton, N.C., where he averaged 13.9 points, 4.6 rebounds and 2.7 assists per game.
Kansas beat NC Central, 99-56, in its opener on Monday. The Jayhawks host Manhattan on Friday and then travel to Chicago to play Kentucky in the State Farm Champions Classic next week.