featured
Fact or Fiction Friday: Ollie Goes Over 300 Yards, Texas Makes the CFP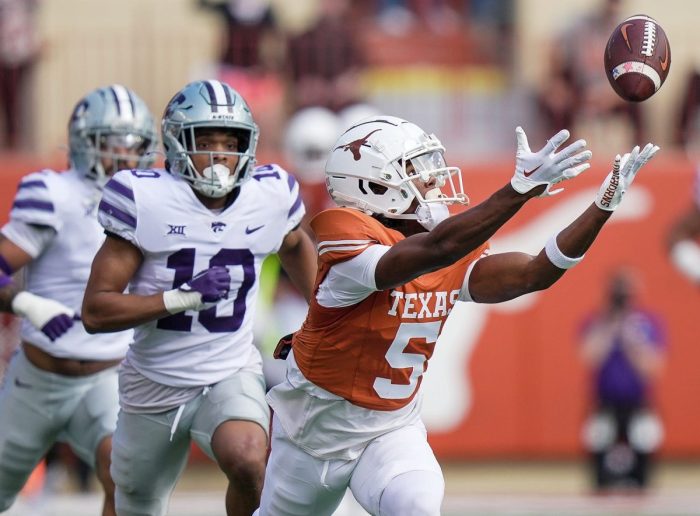 Welcome to Fact or Fiction Friday. Each Friday, I give our Facebook fans an opportunity to ask the most intriguing questions in the Big 12 Conference, and I will tell you whether they come true or if they are set to fail. crack it open and see what we have in store this week.
Kansas Will Win a Big 12 Title Under Lance Leipold
Fiction: If Lance Leipold stays in Kansas for the next five years then I would probably change my answer here. The problem with this is that I am not sure if Lance will be in Lawrence for much longer. Bigger schools are going to knock down his door after this season and at some point, he will make the jump.
Ollie Gordon Will Break the 300-Yard Mark
Fiction: If we are talking about rushing and receiving yards then yes. But if we are talking about just rushing yards then no. I know that UCF has the worst rush defense in the Big 12, but 300 yards is a lot. Ollie Gordon is without a doubt a superstar and he is capable of breaking that. However, I am not willing to go that high. If I had to guess, I would say he goes for at least 180 on Saturday.
Texas Wins Out and Makes the College Football Playoff
Fact: Texas certainly has one of the easiest paths left to reach a conference championship game and it looks like they will play Oklahoma State if everything goes to plan. While I do think the Cowboys are getting better each week, I would have a tough time seeing them take down Texas. The Longhorns are the real deal and that defense of theirs is capable of slowing down a guy like Ollie Gordon. I am expecting Texas to win out and find a way into the playoff.
Changes Will Be Made at Baylor After the Season
Fact: I think Dave Aranda has to make some changes if he plans on keeping his job and shaking things up isn't the worst idea in the world for Baylor right now. I don't wish for a man to lose his job, but I think there should be a serious conversation in Waco about offensive coordinator Jeff Grimes. Baylor averages the lowest amount of yards per game in the Big 12 and has the second-worst rushing offense in the conference as well. It feels like those days of "Reliable Violent Offense" are over in Waco.
The UCF/Oklahoma State Game Will Have Over 900 Combined Yards
Fact: As crazy as it sounds, there is a good chance that this will happen. Both teams are averaging over 434 yards per game and if both teams reach their average, then it will go over 900 yards. Plus, neither defense is that great either. In fact, both of them are in the bottom four in the conference when it comes to yards allowed. Oklahoma State will win this game, but I am expecting a good old-fashioned Big 12 shootout in Orlando on Saturday.
Oklahoma Makes it to Arlington
Fiction: Prior to the Kansas game, I would have said yes without a doubt. But after back-to-back losses, the Sooners Big 12 title hopes are almost completely gone. They are in a mix with four other teams that have a 4-2 record in conference play. And with just three games left in the season, they are on the outside looking in. Not only would Oklahoma have to win out, but they would also need some help getting to Jerry World. I just don't see that happening right now.