featured
HCS Roundtable: Big 12 Championship Chaos Scenario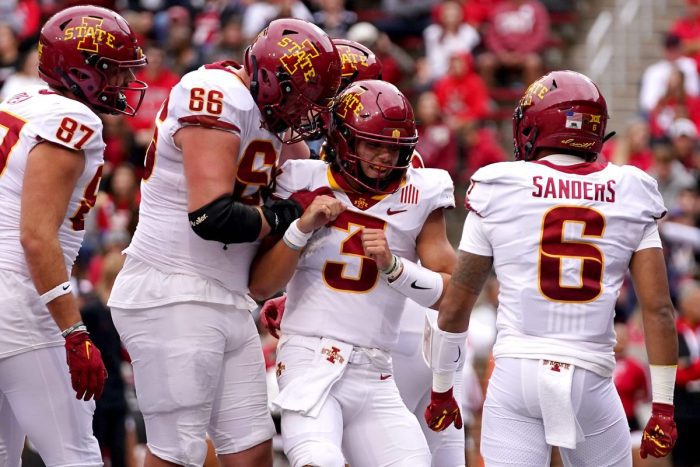 Another week has come and gone, and now we're heading into Week 11 of the 2023 college football season.
After Week 10, we've got a tie for first place as both Texas and Oklahoma State are 5-1 in Big 12 play, plus a cluster of five teams tied for third at 4-2. Besides Oklahoma State, each one of the seven teams in contention plays at least one other school in the top seven between now and the end of the season.
In short, have one heck of a race on our hands heading into the final month of the regular season. Heading into Week 11, the Longhorns and Cowboys have the inside track to Arlington, but with the chaos that we've seen in the Big 12, there's no telling what might happen.
With that in mind, which team is most likely to make the Big 12 title game if Texas or Oklahoma State were to slip up? The Heartland College Sports staff shares their thoughts in this week's roundtable.
Pete Mundo
Oklahoma and Iowa State
No, I'm not predicting this, but here's the problem for Kansas and Kansas State: They have both lost games to Oklahoma State and Texas, the two teams who are tied for first place in the Big 12. So those teams hold tiebreakers over both Kansas teams.
But, Oklahoma has a win over Texas already, which gives them a tiebreaker there, and if Iowa State was to win out, that would mean they would have to beat Texas in Week 12. So a lot of these conversations have to be based around various tiebreakers around the Big 12 Conference.
So if anyone is going to get to Arlington, if Texas and/or Oklahoma State trip up the next three weeks, my money is on these two to have the best chance to break through.
Bryan Clinton
Oklahoma
Let me be 100% clear. I do not expect Oklahoma to work their way into the Big 12 Championship with Oklahoma State and Texas having very manageable schedules remaining. However, if there's a team that is set up to make some sort of run outside of the Cowboys and Longhorns, it's got to be the Sooners. For any of the teams tied for third place to make the title game, winning out is the first thing they must do. From there, each of the teams sitting at 4-2 in conference play needs some help from the teams above them.
For OU to make it, they need both Texas and Kansas to drop one game. With a tiebreaker over the Longhorns, Oklahoma would get in over the Longhorns if they both finished with two losses. They could also get in if OSU were to lose two games and Kansas were to drop one. The rest of the contenders would need either the Longhorns or Pokes to drop two of their last three, outside of Iowa State, who would need one loss from Oklahoma, Oklahoma State, Kansas, and a win over Texas as well. In short, the odds are just better with OU than anyone else, even if they've looked terrible the last two weeks.
Joe Tillery
Iowa State
While there are five teams with a shot at ending up in Arlington outside of Texas and Oklahoma State, the one with the easiest path in my eyes is Iowa State. While I do believe that Kansas State and Oklahoma are the best two teams amid the five-way tie, things get a little trickier when dealing with tiebreakers. Both K-State and Kansas have already lost games to Texas and Oklahoma State while Oklahoma has lost to OSU but beaten Texas. West Virginia lost to Oklahoma State earlier this season and will not get a shot at taking on Texas. Iowa State makes the most logical sense to emerge as they recorded a win over OSU earlier this season and will get a shot to take on Texas in Week 12.
Derek Duke
Oklahoma and Iowa State
There are five teams that have a 4-2 record in Big 12 play. Those teams are Kansas, Kansas State, Iowa State, Oklahoma, and West Virginia. I believe Oklahoma will beat West Virginia which would take the Mountaineers out of the picture. And while Kansas has been a great story this season, Kansas State will beat them.
I know Iowa State lost to Kansas but they still have to play Texas and Kansas State. If they win those games, then they would be ahead of both of them. Plus, Oklahoma State may trip up one more time, and guess who has a head-to-head win over Oklahoma State? The answer is Iowa State.
Matthew Postins
Iowa State
I took about 10 minutes to look at that and, to some degree, every team with two losses is semi-screwed. I think Oklahoma State has a great path to win out. Texas has a solid path, but the single two-loss team left on their schedule is Iowa State. I think back to 2011 and Oklahoma State visiting the Cyclones when they were undefeated and thinking about the BCS. It was right around this time of year. The Cyclones were right around this kind of good. Plus, it's at night. The Cyclones are as good a choice as any.