Trending Now
Ole Miss, Lane Kiffin Facing $40M Lawsuit After Teaching Player a Tough Life Lesson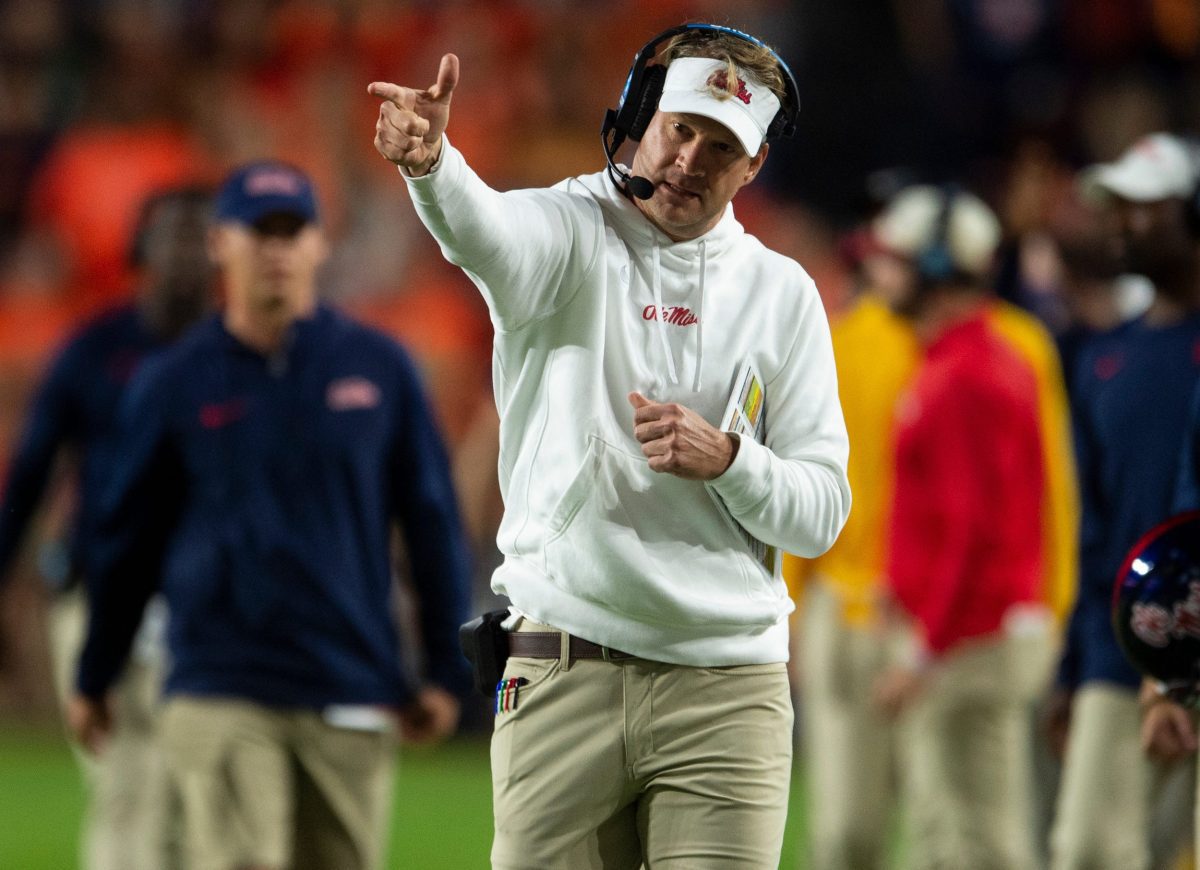 Imagine you work for a company that is providing you a once in a lifetime opportunity. Because of your God-given talent, this imaginary company is fronting the bill for your travel, your room and board, and all of your meals. They also provide you with free health care, a free college education (complete with free academic support), and, on top of it all, allowing you to profit off of your name, image, and likeness, which has value based on your employment with them.
In return, you're expected to show up, do your job, and answer the phone when the CEO of the company calls. Sounds easy enough, right?
Apparently, Ole Miss lineman DeSanto Rollins doesn't feel that this was a fair trade-off. Back in February, Rollins had a meeting with Rebels' head coach Lane Kiffin that involved moving Rollins from his defensive tackle position to the scout team on the offensive line.
Near the end of that meeting, Rollins notified Kiffin that he would be taking a mental health break and proceeded to ghost his head coach. Despite several attempts from Kiffin to set up a meeting in the weeks that followed, Rollins didn't meet up with his head coach again until the end of March.
It was in this meeting when things reached a boiling point and, unbeknownst to Kiffin, Rollins recorded the entire exchange.
The audio, which has been obtained by Front Office Sports and ESPN, shares the teaching of a tough life lesson: If you don't show up to work, you are subject to losing the job.
ESPN's Heather Dinich shared the full extent of the conversation in a report on Thursday, giving further details on what transpired.
"OK, you have a f—ing head coach. This is a job. Guess what? If I have mental issues — and I'm not diminishing them — I can't not see my f—ing boss," Kiffin said in the audio recording. "When you were told again and again the head coach needs to see you, [it] wasn't to make you practice, [it] wasn't to play a position you don't f—ing want to, OK? It was to talk to you and explain to you in the real world, OK? So I don't give a f— what your mom [says], OK, or what you think in the real f—ing world, you show up to work. And then you say, 'Hey, I have mental issues. I can't do anything for two weeks. But if you change my position I won't have mental issues.'
"I guarantee if we f—ing called you in and said you're playing defense, would you have mental issues?"
Answered Rollins: "I definitely would."
During the audio exchange, Rollins is heard saying, "I mean, you're acting like my issues aren't real."
"I didn't say they're not real," Kiffin responded. "You show up when your head — when your boss — wants to meet with you. It wouldn't have been like this … if you would've come here when you kept getting messages [that] the head coach wants to talk to you. And you say, 'I'm not ready to talk to him.'"
Said Rollins: "I wasn't."
"What f—ing world do you live in?" Kiffin asked.
Answered Rollins: "I don't see why you have to be disrespectful, honestly."
"Get out of here," Kiffin said. "Go. You're off the team. You're done. See ya. Go. And guess what? We can kick you off the team. So go read your f—ing rights about mental health. We can kick you off the team for not showing up. When the head coach asks to meet with you and you don't show up for weeks, we can remove you from the team.
"It's called being a p—y. It's called hiding behind s— and not showing up to work."
With the audio recording serving as the primary piece of evidence, Rollins filed a lawsuit against Kiffin and Ole Miss, alleging a "hostile educational environment" and is seeking a total of $40 million in damages — $10 million in compensatory damages and $30 million in punitive damage.
The lawsuit also alleges that Kiffin took adverse action against Rollins based on race, saying that Kiffin "never kicked a white football player off the team for requesting or taking a break."
Ironically, despite the lawsuit and turmoil caused by this situation, Rollins was never officially removed from the team and remains on scholarship at Ole Miss, according to a statement from the university.
"DeSanto was never removed from the football team and remains on scholarship," Ole Miss wrote in a statement issued through a school spokesperson. "In addition, he continues to have the opportunity to receive all of the resources and advantages that are afforded a student-athlete at the university."
Attorneys representing Ole Miss and Kiffin filed a motion for dismissal of the lawsuit on Wednesday, according to court documents.