Football
Three Thoughts on Texas' 29-26 Win over TCU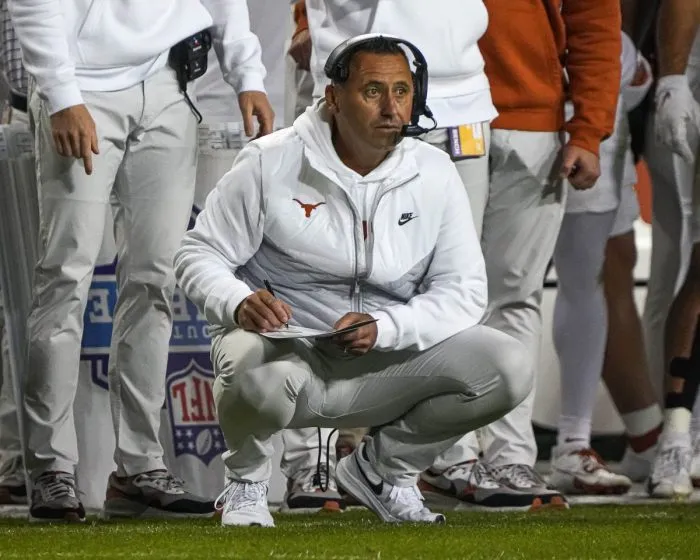 The Texas Longhorns defeated the TCU Horned Frogs, 29-26, in a Big 12 Conference game in Fort Worth, Texas, on Saturday.
The Longhorns (9-1, 6-1 in Big 12) saw their starting quarterback return, built a 20-point halftime lead but ended up in danger thanks to TCU's furious fourth quarter. But, by game's end, Texas had sole possession of the Big 12 lead.
The Horned Frogs (4-6, 2-5) lost their third straight game, committed two key first-half turnovers and scored 20 points in the fourth quarter to make it hard on Texas to finish off the game.
Here are three thoughts on the game.
Texas is a Meat Grinder
The return of quarterback Quinn Ewers from injury was the headline, and aside from that one interception (we'll get to that), he played well. He threw for more than 300 yards.
But the reality is that Texas won on Saturday because of its run game and its defense, a formula that has sustained them with Ewers and without Ewers.
With Jonathon Brooks and CJ Baxter running the ball, the Longhorns' offensive line wore down a game TCU front four. Brooks is an intuitive runner who chooses the right seam and knows just when to bounce out or cut inside to get a few extra yards. The body control on his late first-half touchdown was all about him knowing where the pylon and sideline were in relation his body.
Brooks was hurt in the fourth quarter, something that could be a big blow to the Longhorns' stretch run, depending upon its severity. He needed help to get to the injury tent. By then, he had 104 yards rushing with two touchdowns, along with 74 yards receiving.
The Texas defense just creates all kinds of havoc. The unit makes few mistakes, tackles well and creates mistakes. Both first-half turnovers led to points, and the interception by Terrance Brooks was a great example of reading a quarterback's intentions perfectly and disguising your own.
Yes, you need a great quarterback to be successful at a national level. Yes, Texas has lost some leads away from home. Sometimes this meat grinder doesn't look pretty.
But if Texas manages to crash the College Football Playoff it will be on the back of its running game and one of the best Texas defenses we've seen in a while.
But TCU was Resilient
For three quarters TCU looked dead in the water. And you could go back to one play late in the first quarter that seemed to sap all the momentum from the Horned Frogs. If you watched the game, you know the one.
That was WILD pic.twitter.com/iGdO2E2v1N

— Derek Duke (@DerekDuke25) November 12, 2023
TCU's Millard Bradford picked off Ewers' underthrown ball and was on his way to a big return in a game in which TCU was down 7-6.
Jordan Whittington wasn't having it. The long-time Texas wide receiver trailed the play, ran down Bradford and forced him to fumble. Texas' Xavier Worthy recovered it.
Looking back that should have sealed the deal. Texas scored 19 points in the second quarter. TCU managed just 46 yards on offense in the second quarter and didn't score. The reality is any momentum TCU had died on that play.
But, in the fourth quarter, the Horned Frogs got things moving. Emani Bailey scored a rushing touchdown, JP Richardson caught Josh Hoover's touchdown pass and then Savion Williams caught a Hoover touchdown pass to cut the lead to 29-26 with 3:28 left.
Insane, right? Well, TCU stopped turning the football over, which killed them in the first half. Texas, trying to salt the game away, took its foot off the gas. Texas didn't score any points, barely gained 100 yards and lost Jonathon Brooks, their best running back.
But, when Texas needed a big play, it got one. Ewers' pass to Adonai Mitchell on 3rd-and-12 from the Longhorns 13 gained 35 yards to put the ball at their own 48 put them in a position to finally salt the game away.
Can TCU Get to a Bowl Game?
We all knew TCU was in for a much longer season than it played a year ago. But with two games left I was left to wonder if TCU could get to a bowl game?
The odds don't look great. The next game is against Baylor at home and while the Bears are awful, this is the "Revivalry" (or is it the Bluebonnet Battle? Check out Postscripts on Sunday because I think I figured it out). Baylor could win it.
If TCU beats Baylor, then it has to figure out a way to beat Oklahoma on the road. I'm not taking that action. If you're looking for a culprit, it's those close games. The Horned Frogs are losing the ones they won a year ago.
This team has a lot to figure out. The Horned Frogs finally showed up in the fourth quarter with a couple of touchdowns, but they were still 10 points behind with five minutes to play. It was too little, too late.
But, at least it Bailey and Williams. The pair of juniors had fine games for TCU on Saturday, with Bailey rushing for 98 yards and a touchdown while Williams caught 11 passes for 164 yards and a touchdown.
Now, TCU has to make sure it can keep the pair. Bailey has transferred once so he's more likely to stay. They're both NFL Draft-eligible.
If both return, and TCU can quickly rebuild its offensive line and Hoover can progress fast, Texas' blueprint for success this season could be theirs in 2024.
As for that defense? Well, it needs help. Too many penalties, too many mistakes, too many big plays given up on Saturday night and, in reality, most of this season.
iframe src="https://app.e2ma.net/app2/audience/signup/1986400/1964875/" width="510″ height="500″ frameborder="0″>
You can find Matthew Postins on Twitter @PostinsPostcard.