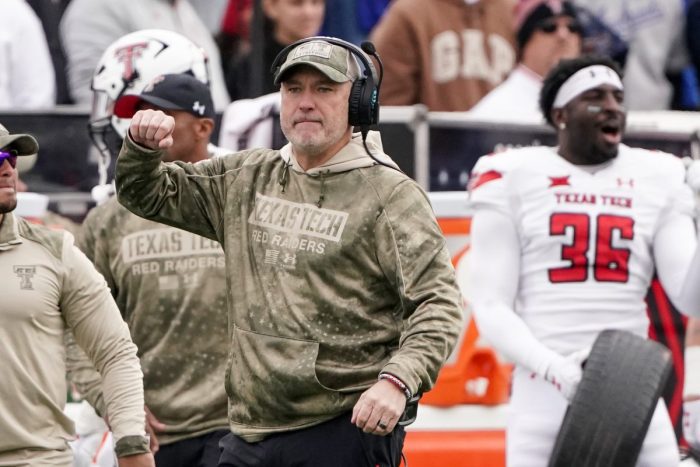 The Kansas Jayhawks and Texas Tech Red Raiders met in Lawrence on Saturday in Week 11 of the Big 12 football season. Kansas was looking for a third-straight win in league play, something the Jayhawks had not done in 16 years. Meantime, Texas Tech was coming off a mini-bye following their win over TCU last Thursday night. KU entered the game still in contention for a Big 12 title appearance, while Tech came in needing to win two of their last three games to become bowl eligible.
In a low-scoring affair on Saturday, it the Red Raiders blowing a 13-0 lead, but going on a game-winning drive in the final minute to beat the Jayhawks 16-13. Here are three thoughts on the game.
Ballard Replaces Bean
It was a brutal loss for Kansas when quarterback Jason Bean left the game in the first half with a leg injury. Enter: True freshman Cole Ballard. He performed well given the situation. The third-stringer with no college experience finished 9/20 for 124 passing yards, while rushing for 20 more. He led KU to 13 points in the fourth quarter, including three drives of at least 70 yards in the fourth quarter to tie the game with less than a minute to play.
It was questionable as to whether or not Kansas made the right call going for the field goal down 13-7 with five minutes left. KU had a 3rd and goal from the six-yard line and after an incomplete pass, KU had to kick it. The only thing I would question is going away from the running game after having so much success on that drive, including six-straight runs that took them from the 44 of Tech down to the six-yard line.
A field goal put the KU defense back on the field, and after forcing a punt, the Jayhawks took the ball, once again, down inside the 10-yard line. The goal-line play-calling from KU can again be questioned here, as on a third-and-goal from the three-yard line, KU went with a trick play in a Devin Neal pass attempt to Jared Casey that fell incomplete and forced KU to go for the field goal and tie the game.
Texas Tech Still Owns Kansas
Texas Tech has now won 16 of its last 17 games against Kansas, as Joey McGuire gets his first Top 20 win of his career as head coach of the Red Raiders. And he did it in front of Patrick Mahomes, who was in the house on Saturday in Lawrence (the Chiefs are on a bye week).
Daddy's in the house. #wreckem pic.twitter.com/B3Qd0HwBZF

— Heartland College Sports (@Heartland_CS) November 11, 2023
The Red Raiders fed Tahj Brooks, who carried them throughout most of the afternoon. While Brooks appeared to tire as the game went along, he gave this team the boost it needed early in the game and finished with 33 carries for 133 yards and one touchdown.
On the final drive, with the game tied at 13 and less than a minute to play, Behren Morton aired it out and had a ton of success, going 63 yards in four plays, highlighted by a 33-yard completion to Jerand Bradley, which set up the game-winning field goal. He finished with 176 passing yards and 19 completions. It wasn't his best performance, but he was solid when it was needed late in the game.
Big 12 Implications
With the loss, Kansas is effectively eliminated from the Big 12 title race, which was already a long shot since their two losses had come against Oklahoma State and Texas, the two teams tied for first place in the league. But the fact that we were even talking about KU still in the Big 12 race with three weeks left is a testament to what Lance Leipold has built in just three seasons on the job in Lawrence.
Meantime, Texas Tech, who has had a disappointing season thus far, gets a huge win to get closer to bowl eligibility. The Red Raiders have now won two in a row to get to 5-5 on the season and just need to win one of their final two games against UCF or Texas to get to a bowl game. That would soften some of the blow in what has been a season that has not come close to meeting expectations in Lubbock this fall.