Baylor Bears
Big 12 Basketball Week 1: The Good, The Bad and The Ugly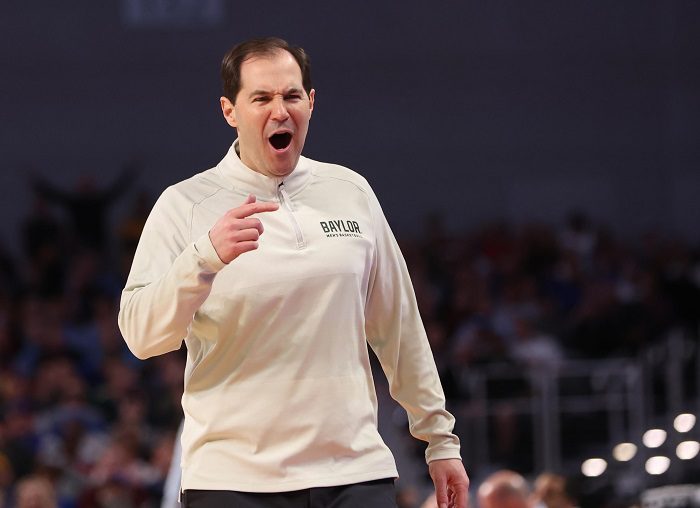 Week 1 is officially in the books as the Big 12 Conference started both the men's and women's basketball seasons for 2023-24.
The action started went all week, with Big 12 teams wrapping up action on Sunday.
Here are the good, bad, and ugly from Week 1 in Big 12 men's and women's basketball.
The Good
TCU Women's Strong Start
Mark Campbell is taking over a program that won eight games last season. With a handful of returning players, these Horned Frogs are mostly a new team. One should always temper long-term expectations for a first-year coach, but TCU got a lot out of this first week.
First, three wins. TCU ran the table. No one will confuse their opponents with a Big 12 team, but the goal is to build confidence going into Big 12 play in late December.
Second, Sedona Prince looks healthy. That's really good news because the 6-foot-7 center can be a difference-maker. She averaged a double-double — 16.3 points and 11.3 rebounds — for the week.
Third, guard Madison Conner erupted for a TCU debut record 30 points in the opener and averaged 23.7 points.
Finally, the 3-pointer might be TCU's friend this season. They made 33 in three games. Granted, Conner had 14 of them. But Agnes Emma-Nnopu also had 10 of them. Unlike last season the Horned Frogs appear to have a couple of legit threats from distance.
All good vibrations in Week 1 for TCU. Now, build on it in Week 2 and beyond.
Baylor Finds Its Groove Early
Baylor is 3-0 to start the season. The Bears scored the biggest win of the week, defeating Auburn on Tuesday in Sioux Falls, S.D.
The week has proved a coming out party for their two talented freshmen, JaKobe Walter and Yves Missi.
Walter's 28 points against Auburn was the best debut of any Baylor freshman. For the week he averaged 16.3 points and 4.7 rebounds.
Missi cracked the starting lineup on Sunday, a reward for some great play off the bench in the first two games. The early enrollee averaged 10.3 points and 5.0 rebounds for the week. He also blocked 10 shots.
For the first three games, the only returning players among the Top 5 scorers was Langston Love, who looked like a new player himself as he averaged 13.7 points for the week.
If the freshmen and the transfers are going to come together and play this well this fast, well then Baylor will be tougher to deal with than I originally anticipated.
The Bad
Oklahoma State's Tepid Start
I believe this is a big season for Oklahoma State and coach Mike Boynton Jr. They brought in another great recruiting class and are finally free of their postseason ban and scholarship limits. It's time, I believe, for the program to take a step forward and contend
That's why the loss to Abilene Christian in the opener was so disappointing. ACU is a solid mid-major program but was a team the Cowboys should have beaten at home. Instead, OSU lost by five points to a team that may not even win its conference.
It's reminiscent of how Oklahoma lost to Sam Houston last season and it ultimately set a tone for their season, which ended up with them under-.500 and out of postseason play.
If there's any good news it's that OSU played Sam Houston on Sunday and beat them soundly. But the ACU loss wasn't a sharp start for a team hoping to get back into the top half of the Big 12 by season's end.
Merriweather's Unfortunate Homecoming
Cincinnati women's coach Katrina Merriweather is back at her alma mater, where she was a point guard and a four-year letterwinner. It's hard not be to be excited about the opportunity.
So what did she get for an opener? No. 17 Louisville.
Geez, thanks. The Bearcats lost, 77-59.
Perhaps worse than that is the fact that Cincinnati doesn't play again until Wednesday and has to live with that bad taste in its mouth for more than a week.
First plane trip the schedule-maker flies coach.
The Ugly
West Virginia's Quad 4 Loss
Last year TCU lost a Quad 4 game at home early in the season, falling to Northwestern State. It was jarring, but it didn't impact the Horned Frogs' NCAA Tournament hopes.
Can West Virginia expect the same?
Their loss to Monmouth on Friday was a Quad 4 loss. In NCAA NET parlance, that's bad for a school that is likely to be a Quad 1 team.
WVU is playing without Kerr Kriisa, who is serving a nine-game suspension; forward Akok Akok, who collapsed during an exhibition game; and RaeQuan Battle, who is fighting with the NCAA over his waiver. This team is strapped for depth and had a hard time beating a 2-3 zone in the loss.
One doesn't want to jump to conclusions too early. But I've had a bad feeling about this WVU team ever since this summer and I don't feel any better after one week.
Cyclones' Early Struggles
No Ashley Joens. No Lexi Donarski. No Morgan Kane. No Emily Ryan (for now).
Yep, it's a different Iowa State women's team, that's for sure.
It's normal to expect transition after losing the program's all-time leading scorer. But the transfer of Donarski was unexpected (the same could be said of Denae Fritz's transfer to Baylor) and the injury to Ryan leaves one wonder when she'll return.
How new a world is it? One of their highly-respected freshman recruits, Audi Crooks, is their leading scorer with 15.5 points per game. Holdover Nyamer Diew is averaging 14 points and newcomer Isnelle Natabou is averaging 10 points.
The last time Iowa State had a losing record was 2017-18, when they went 14-17. It's not time to overreact, but the longer Ryan's absence is — and it's "indefinite" for the time being — the faster these young players will have to grow up.
iframe src="https://app.e2ma.net/app2/audience/signup/1986400/1964875/" width="510″ height="500″ frameborder="0″>
You can find Matthew Postins on Twitter @PostinsPostcard.